Affordable print management for SMEs
24/08/2022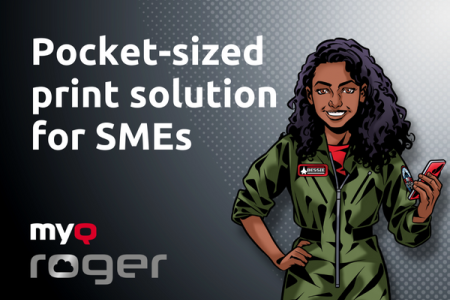 Despite the hype about digitization, printing is still critically important among administrative processes in companies of all types and sizes. The unanswered question is how and where companies and their employees will do this printing.
Even as text on paper slowly loses popularity, IDC market research estimates that up to 4.4 million pages per minute will still be printed globally by 2025. Regardless of whether it is a large corporation or a smaller company, people will still continue to turn to printers for creating published notes and their accounting documents.
When it comes to the how, small and medium-sized enterprises (SMEs) that don't want to invest in expensive IT infrastructure now have the option to put their security and printing in the hands of a flexible cloud solution. Then there is the question of where, as a mobile and hybrid workforce tests the limits of the traditional office network.
Get those printers under control
When a company wants to be in control of its printing, it often puts the management of print jobs into the hands of a print solution. This software ensures the smooth running of document processing on (multifunction) printers, simplifies their control, secures print jobs, and helps account for costs and maintenance. These on-premise print solutions often require an investment in a print server and a more robust IT infrastructure. This can make SMEs hesitant about whether it is worth investing in such a system.
However, taking an ad hoc approach to printing can lead to significant other costs. These can be in the form of leaked data from insecure printers or the lost man-hours spent by users tediously setting up, for example, printing and scanning parameters instead of doing more productive activities. The answer to inexpensive secure and flexible document processing lies in cloud technologies (not only) for smaller businesses.
Mobile movement into the cloud!
The popularity of the cloud continues to rise and no wonder. It allows companies to transfer work processes and data over onto someone else's servers, saving them headaches and costs in the IT department. With cloud migration, they eliminate some of the costs of print infrastructure and can subscribe to print management as a service. And as hybrid work arrangements – with people both in and out of the office – become increasingly common, it's easier to understand the logic of a digital office where you can "unpack" your office and collaborate with colleagues in an instant. All you need is an internet connection.
This is where MyQ Roger, the Smart Digital Workplace Assistant, comes in. It's a SaaS (software as a service) that uses your mobile device as its platform. As an intuitive app for mobile devices and printer dashboards, it provides users with flexible printing and scanning but without the need for local infrastructure and servers. It runs 100% in the public cloud and can directly connect to your cloud storage.
It's mobile and seamless
So what could a cloud-based document handling process look like at an SME?
Imagine a small consumer goods manufacturer with daily pickup. The back office prepares the necessary delivery notes in the afternoon, which the driver prints out the next morning on the warehouse printer. The driver hands over the goods to the customer, who signs off on the delivery note. Normally, the driver would keep this in a folder somewhere and hand over everything in the office in the afternoon. But now, he can open the MyQ Roger app, trigger a pre-set scanning action with one click, capture the document with his mobile phone and save it to a specific online folder, for example, the company's OneDrive. From there, the accounting department gets an automatic notification (they can easily set it up with Power Automate) of the new file and can process it straight away.
That's just the start. The manufacturer can also use MyQ Roger to scan a supplier's invoice when receiving goods. The app's optical character recognition (OCR) can convert text into searchable PDF and save it to a cloud folder. The accounting department can simply copy the information from the PDF to the accounting system. Sales representatives can also send scanned paper documents (receipts or confirmed orders) to the company's cloud storage while on a business trip. It's even possible to search for a specific term in the scanned file, in the cloud storage, or directly in the mobile app.
Printing is also no problem. People can put documents in a print queue directly with MyQ Roger – files from a computer or even taken directly from the cloud, e.g., Google Drive – and send them to the printer. They can choose whether to have the files printed directly or pick them up securely with pull printing by logging into the printer panel via the app. Integrating is an integral part of the package as MyQ Roger dovetails with paid-for services such as Microsoft 365 as well as free ones such as Google Drive or Dropbox.
MyQ Roger represents a completely new and flexible way to process documents from anywhere – and a way to do it without requiring infrastructure or demanding regular support from IT experts. The mobile app is free and there is no limit to the number of users or connected devices. The only financial costs are for the data used and a monthly subscription fee for each connected printer. Digitization or print, the choice is yours.