MyQ's Company Culture
v. 2.0
01/02/2022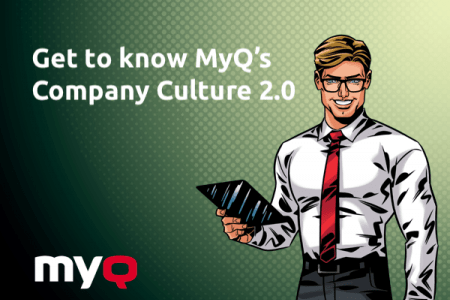 The MyQ products are not the only aspect the firm is focusing on when moving the print industry forward. At 2022 doorstep, after a year filled with innovation, new releases and awards, the dynamic Czech software development company introduced a big level up for its company culture.
At the end of 2021, MyQ introduced an extraordinary benefit – Unlimited Paid Time Off. Unlimited PTO is just one piece of much bigger puzzle – MyQ's new company culture version 2.0. Its updated concept confirms the company's position as a modern workplace that takes good care of both its products and its people. What are the main four pillars it is built on?
TRUST: Believing in one another
You know MyQ always has your back

You care for MyQ, it's your company as well

You push MyQ forward with your bold ideas

You have an unbounded mindset
MyQ is not a property of the C-management, it belongs to each and every MyQ hero it employs. This means there is a mutual trust between the company and its employees – both parts are doing their best for their company. This confidence gives employees opportunity to give a full swing to their creativity and be open-minded. MyQ doesn't want robots to fulfill monotonous tasks – it needs open people that come up with innovative ideas that are always welcomed in the trustful work environment.
OPENNESS: No holding back
You communicate openly to move things forward

You can talk to any colleague, no matter their position

You present your feedback and suggestions with respect

You are your honest self
Open communication is key, and no MyQ employee is expected to sit in silence whenever there is an issue that needs to be addressed. Not presenting (even uncomfortable) ideas that might contribute to the company's advance would be a great loss. MyQ's flat hierarchy gives space for delivering an open and constructive feedback to any colleague – be it a fellow worker or a manager. Debates might be heated but always respectful – everyone's pulling together towards a same goal: Helping people focus on what they do best. Additionally, the employees are encouraged to be authentic and real – no need to wear any masks. Except, of course, the MyQ Superhero one.
DRIVE: Turning work into a mission
You don't work, you're doing things you're passionate about

You align your tasks with MyQ's mission

You do everything you can to do your projects efficiently and creatively

You come up with new approaches to deal with issues
MyQ employees' work shouldn't be just an eight-hour window of duty they have to fill before they go on with their life. First comes passion for the tasks they are troubleshooting. It is then followed by making these tasks in MyQ with the added value of MyQ's mission. The first two pillars make sure all MyQ Heroes' hard work is well appreciated and their ideas heard out – no good effort goes in vain. This provides them with a deeper meaning to their workload, motivates them to be creative, to suggest alternative approaches, and tirelessly seek what's best for MyQ. They will collect the fruits of the firm's prosperity as well.
BALANCE: Taking only as much as one can bear
You exert your strength when workload intensifies

You take time off when you need it – Unlimited PTO is there for you

You don't end up overworked, you come to the office well-rested

You keep your personal and work life in balance
A well-rested employee = a happy employee. Sure, when working in software development, things can get intense e.g., before a major release, and everyone needs to give all they can. However, this must not be considered a standard that can lead to overworking, or even burnout. The unlimited paid time off is a tool that brings the desired work/life balance philosophy into life. MyQ team members are motivated to take a break when they feel like it, not only when they must e.g. because of a family emergency. After a week of intense coding, what's better than taking two days off to simply relax with a book or going into a forest. The option to recharge powers when needed gives the MyQ squad the possibility to arrive to the office relaxed, sharp and ready to take on any task.
Effective and Laid-back Workplace
On top of these pillars, there is a vibrant contemporary workplace that is prepared for any challenge the industry brings. Despite MyQ's constant growth, the firm still keeps the dynamics of a start-up. MyQ belongs to the top players in the print solutions field, yet there's no corporate-style hierarchy or strict procedures with rigid workflows. There is always space for improvements and fresh points of view to see the issues from. This situation is rather special given the fact that MyQ's software is running on millions of print devices.
However, company culture is not something that's just printed out and hammered to the office hallways. It should also be immediately recognizable from the outside. In MyQ, you can feel it within minutes. Confirmed by numerous visitors, when one sets foot at MyQ's headquarters in Prague 8, the relaxed and open vibe starts working almost instantly.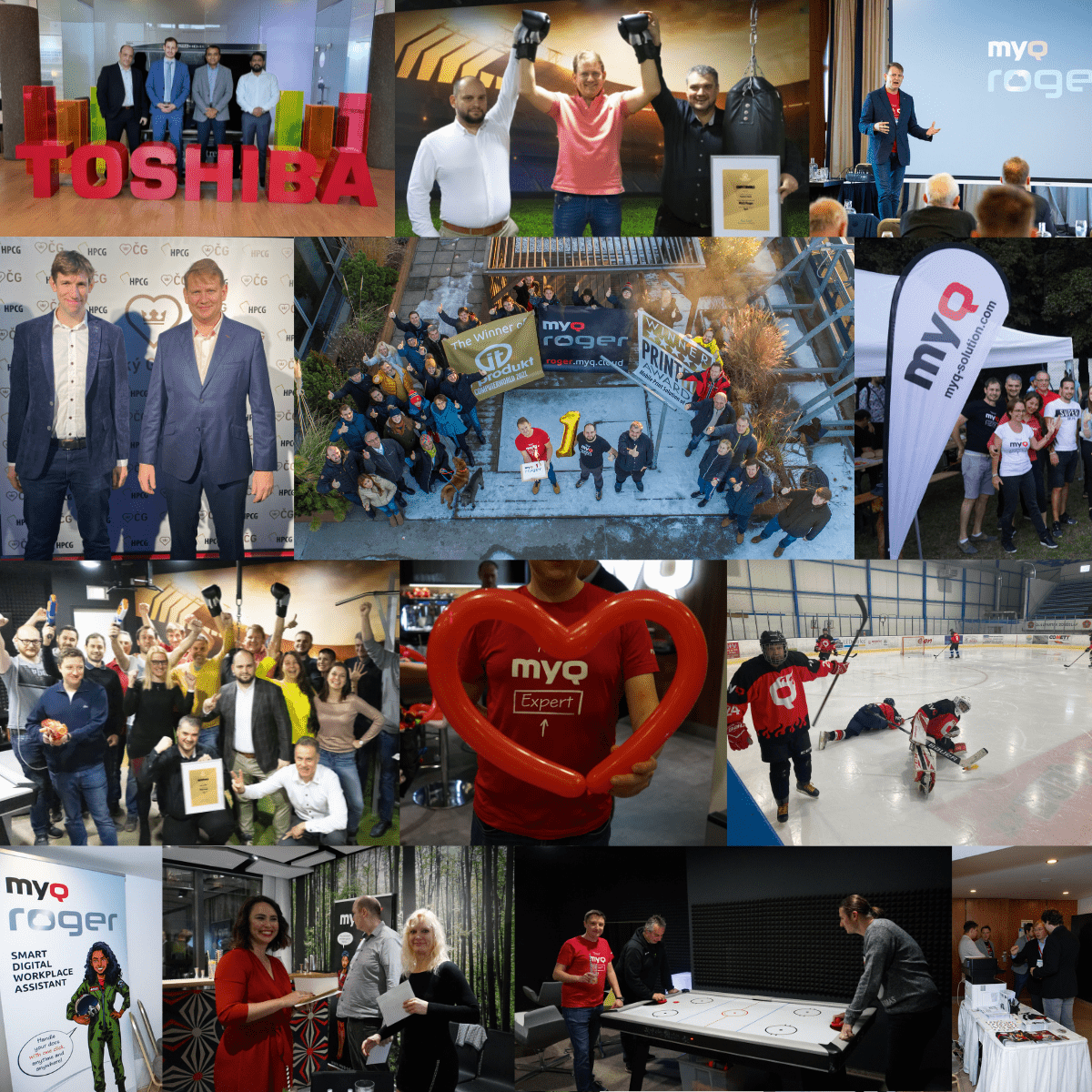 There's always someone chatting in the kitchen, holding a coffee and sweets that some colleague brought from their travels. The meeting rooms are filled with teams trying to crack any issue at hand. Open communication between MyQ Heroes and relaxed atmosphere runs through the whole office – from the QA departments stacked with countless MFPs, following the "focus" zone for developers, marketing, all the way to the customer support. And as a bonus, there are various activities that weld the teams together – be it Friday Beers under the baton of CTO Radek Tetík or weekly Stretching in the relax room lead by Barbora from logistics.

In the end, MyQ's CEO Martin Januš made one thing very clear: MyQ is not his company. It belongs to each end every MyQ Hero, as they all take part in making it the marvelous company it is. And that's what the new company culture represents.
17/01/2022
Openness, cooperation, responsibility, and trust. Those are the basic principles of MyQ's company culture. This approach has recently been supported by a new pillar – "Unlimited Paid Time Off (PTO)."