Major Release of
MyQ X 8.2
09/04/2021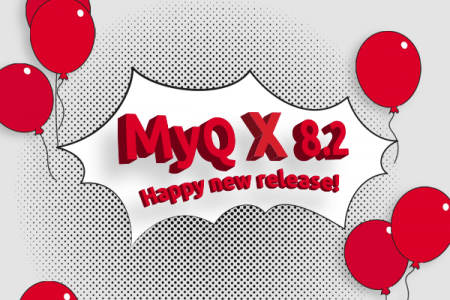 MyQ X 8.2 is an essential new product version which answers modern-day challenges of working out-of-office, as well as growing demand for touchless MFP operation and equal opportunity for people with disabilities.
MyQ customers can look forward to web application accessibility compliant to BITV 2.1 (WCAG 2.1 AA), unprecedented flexibility in accounting and managing costs, secure remote printing thanks to a connector to Universal Print by Microsoft, an all-new MyQ X Mobile Client for completely touchless printing and much more.
Compliance with Web Content Accessibility Guidelines
Web accessibility refers to the inclusive practice of removing barriers that prevent people with disabilities (visual, auditory, motor, cognitive) from quality interaction with websites. MyQ started working on the Accessibility project in July 2020, working towards a BITV certification which confirms that MyQ web interfaces for users and admins are fully accessible and comply with WCAG 2.1 standards, level AA.
Significantly Enhanced Accounting and Reporting Options with MyQ X 8.2
Per-job accounting has been a crucial change in MyQ ever since version 8 was released with rewritten architecture. Information regarding each accounted job is stored with a higher level of detail (paper format, color, simplex/duplex) and is now replicated from Site servers to the Central server database, where they are also available for connecting with and visualizing in various BI tools, such as Microsoft Power BI.
New Accounting Mode
In the existing Accounting Group mode, each user can be a member of a user group and any job they perform on the MFP is automatically accounted to their group. On top of that, users can select from 3 charging options (v8 terminals):
MyQ credit
External credit account
Quota
The Cost Centers mode, on the other hand, allows the user to choose under which account to release their job. This mode can also track up to 5 different accounting options, which the user can also select from before submitting their job at the MFP:
MyQ credit account​
External credit account​
Personal quota​
Cost center with quota​
Cost center without quota
Customer segments that will benefit from the new Cost Centers mode most are Education, Legal, Healthcare, but general public institutions as well. There are several practical advantages that these customers get with MyQ, e.g. the chance to have different quota accounts for different campuses under the same university, and allow the user to choose between using quota or credit as they wish.
New MyQ X 8.2 Mobile Client
MyQ X 8.2 has also become the new LTS (version with long-term support) and has replaced version 7.1 in this function.
As a MyQ Partner, you can download the new MyQ X 8.2 version from the Partner Portal.
Find more details about 8.2's new features and game-changers, accompanied with practical use cases, in our Product Change Log:


28/01/2021
MyQ's connector Universal Print by Microsoft expands its capabilities as a cutting-edge cloud print service to accommodate devices of any age and boosts it with a vast array of MyQ X features.
News & Updates
3 min read