Quocirca on Cloud Printing: The companies
have spoken
13/05/2021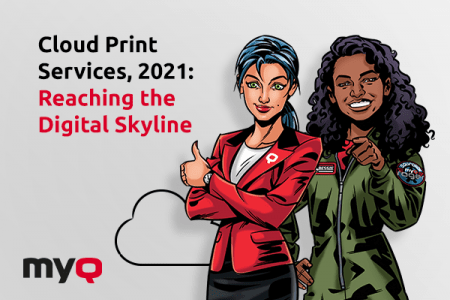 Print research pioneer Quocirca scouted out the landscape of the cloud print services market and came back with a "Cloud Print Services, 2021" report, featuring both MyQ X and MyQ Roger as good choices for the document-digitizing era.
The powerful answer to the remote work question
Cloud solutions have been around for a couple of years now. With the COVID-19 pandemic forcing many office workers to work remotely from their homes, they stood out as the perfect tool to deal with remote communication between people and their company's internal systems and infrastructure. Companies are becoming aware of the vast potential of the cloud, which has led to the rise of hybrid (partly cloud, partly on-premise) and fully-cloud workplaces.
According to the Quocirca's report, 82% of the questioned organizations (which consisted of 219 enterprises from the UK, France, Germany, and the US, which comprise 500 or more employees and use managed print services) expect more than 50% of their IT infrastructure to be cloud-based before this year's end, with 43% expecting to shift their infrastructure to the cloud entirely.
Heading towards cloud print management
The increased implementation of cloud services in these enterprises got reflected in the way they print as well, with the end of Google Cloud Print services being one of the influencing factors. With the rapid and unexpected boom of home-based working, 47% of the companies take advantage of submitting remote print jobs to their office printing devices.
Also, more than two thirds of the companies use cloud services to manage at least a part of their printing tasks, and 39% of them have adopted a managed cloud print platform. Cloud is here to give a (virtual) hand with the spike of remote working and print solutions should be ready to do the same to comply with their customers' needs.
MyQ is cloud-ready
In general, Quocirca appreciates that MyQ products aim to level up efficiency and productivity of businesses of all sizes and help them cut excess costs by shifting a part of their on-site infrastructure to the cloud environment. Special acclaim is reserved for MyQ Roger, which "has a comprehensive range of features for businesses looking to transition to cloud-based printing". This multi-tenant, fully public cloud assistant can be of great use not only for direct cloud scanning, copying and printing, but also for digitizing and automating everyday office tasks.
However, the MyQ X product line doesn't fall behind on the cloud journey. Though it takes the more "traditional" printing solution approach, it offers various solutions for organizations that have chosen the hybrid cloud environment. MyQ X supports high availability virtual servers and is also 100% ready to be installed on the private cloud Microsoft Azure, and just like MyQ Roger, it allows users to print from anywhere without a VPN thanks to the Microsoft Universal Print connector.
So, whether your organization needs a hybrid or fully-cloud solution, MyQ is here to deliver a safe, flexible, reliable state-of-the-art solution for your document processing and welcome you to the new exciting era of cloud print services.
---
What is zero trust security? What are the findings on hidden costs of print servers? What is safer, single-tenant, or multi-tenant platforms? What should companies look at when choosing a cloud print management provider?
Find answers to these intriguing questions in the full report by Quocirca.
Leave us with your contact information and we will share the research with you in PDF!
26/10/2020
"Progress cannot be stopped" – a saying that is twice as valid when it comes to new technologies and modern workplaces.