Bizmann Becomes MyQ's Authorized Master Solution Partner in Asia-Pacific
08/04/2021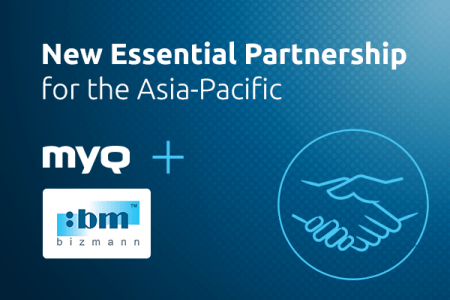 MyQ has expanded a partnership with Bizmann System, a Singapore-based developer of Business Process Management solutions, to establish a MyQ competency and master distribution center for the Asia-Pacific region.
The new partnership strengthens local access to MyQ's award-winning print management software to partners in the region of Asia-Pacific and their customers. Staffed with a dedicated team of professionals experienced in business process automation, which includes document management, scanning and printing, Bizmann will now support MyQ customers in Asia-Pacific.
Bizmann will work in close cooperation with MyQ MEA, branch of MyQ in charge of a vast network of partners in Middle East and Asia regions, delivering sales and technical support in local languages to partners in China, Thailand, Malaysia, Vietnam, Indonesia, the Philippines, Australia and more.
"It is critical for us to have an Authorized Solution Partner that is experienced in process innovation and automation. MyQ is strongly focused on helping businesses of any size boost productivity and efficiency by personalizing, simplifying and automating their document workflows," says Feras Halabi, general manager of MyQ MEA. "Bizmann System comes with years of experience in implementing solutions for business automation."
"Our partnership with MyQ is the natural outcome of a shared mission, which is to help companies efficiently streamline and optimize their business processes so that they can improve profitability and create their own competitive edge," says Ken Loke, CEO of Bizmann.
MyQ is a Czech-based developer of software for managing print, copy and scan processes, which promotes digital transformation, workflow automation and recently cloud integration. In addition to being certified by the worlds' leading manufacturers of printing and scanning devices, MyQ was recognized with HP's Leading the Charge Award in 2018 and Collaboration Award in 2020. MyQ's flagship product MyQ X Enterprise received the BLI 2021 Software Pick Award and was named Platinum Tested Solution for 2021 by Keypoint Intelligence.
Already a MyQ-certified distributor in Asia, Bizmann is closely focused on evolving trends in cutting-edge technologies and has achieved widely recognized proficiency in Business Process Management (BPM) development, as they are partnered with well-known institutions like Singapore Polytechnic (SP), National University of Singapore (NUS) and Institute of Systems Science (ISS) in providing BPM teaching modules. Bizmann has also been recognized in the industry as "Asia's Top BPM Developer".
The partnership between MyQ and Bizmann reinforces MyQ's global presence with Bizmann's regional expertise, enabling MyQ MEA to focus on the development and support of its own local channel partnerships. It establishes Bizmann as the "go to" location in the Asia-Pacific region, ensuring that potential clients have a close, local connection for all their print service needs. This synergistic partnership with Bizmann also provides customers with an innovative solution suite by integrating Bizmann's leading workflow automation and document management software with MyQ's top-of-line print management software.
About Bizmann
Bizmann System designs, develops and implements BPM products and solutions. Bizmann's BPM solutions range from out-of-the-box on-premise applications and cloud applications to eMarketplace portals delivered across the region, empowering businesses to streamline and automate their processes, connect globally and compete effectively in a digitalized world. For more information, visit bizmann.com.