MyQ Joins Forces with the Business Technology Association
29/05/2023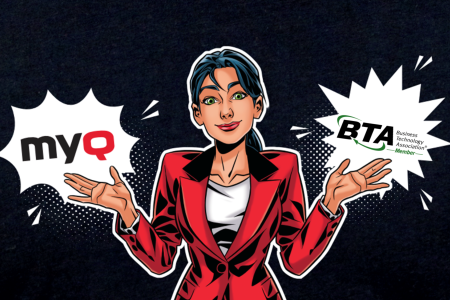 MyQ has officially become a member of the esteemed Business Technology Association (BTA).
We at MyQ are thrilled to announce that MyQ has officially become a member of the esteemed Business Technology Association (BTA). This pivotal partnership represents a significant milestone in our firm commitment to delivering cutting-edge print, copy, scan, and document management solutions. By joining forces with the BTA, we aim to strengthen our industry presence and foster cooperation with organizations and professionals who share our vision and passion for innovation and customer success.
"We are delighted to join forces with the Business Technology Association," says Viktor Nestrasil, the Vice President for Americas at MyQ. "This partnership not only reinforces our market position but also empowers us to leverage the collective expertise and insights of industry leaders. By working together, we will unlock new possibilities and deliver even greater value to our partners and customers."
Founded in 1926, the Business Technology Association (BTA) serves office technology dealerships, resellers, manufacturers, distributors, and service companies. Its core members — office technology dealerships — consult, provide services and sell hardware, software, and supplies with the primary goal of helping businesses optimize business document and information workflows. Through the association's various educational programs, information, research, legal services, publications, and guidance, BTA member dealerships are positioned to be the premier source of the office technology used by businesses throughout the United States every day.
The partnership between MyQ and the BTA signifies a shared commitment to driving industry innovation and transforming the way businesses manage their print, scan, and copy workflows, as well as document management processes. By combining MyQ's cutting-edge technology with the BTA's extensive knowledge and resources, this collaboration will redefine industry standards, fuel productivity, and enhance the overall customer experience.
Stay tuned for exciting developments and initiatives as MyQ and the BTA work together to shape the future of the print industry. Together, we will drive transformative change and revolutionize the way organizations optimize their document workflows.