Embedded Terminal 8.1 Update for Sharp® - Streamlining Deployment
02/10/2023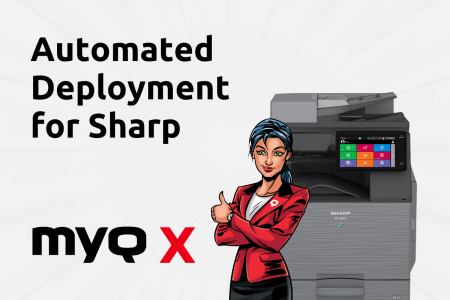 MyQ X has optimized its embedded terminal version 8.1 (Patch 10) for Sharp OSA® multifunctional printers (MFPs) to streamline deployment and reduce the IT burden.
Continuous Improvement
At MyQ, we are committed to constantly enhancing our solutions and value the feedback we receive from our clients and partners. We also understand the crucial role played by the IT and solutions teams who deploy our MyQ X solution. That's why we are pleased to introduce an upgraded deployment process with the latest release of MyQ X's embedded terminal version 8.1 (Patch 10) for Sharp OSA® multifunction printers, exclusively designed to aid these teams.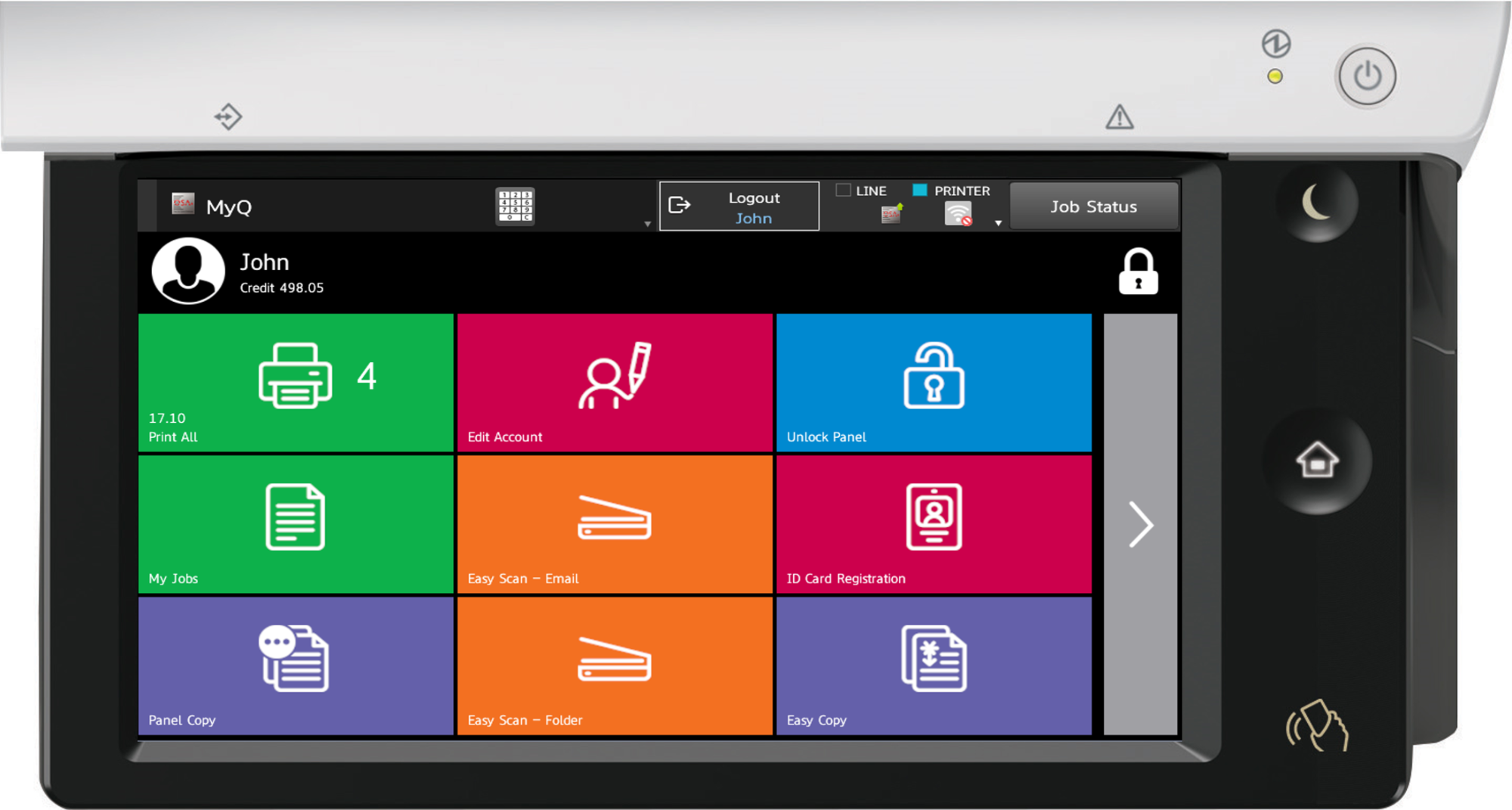 MyQ X embedded terminal 8.1 on a Sharp OSA MFP
A Smoother Deployment Process
The standout feature of this update is the introduction of the fully automated device configuration for the MyQ X embedded terminal on Sharp OSA MFPs. This enhancement is aimed at simplifying the installation process, significantly reducing the workload for IT and solution teams responsible for deploying MyQ X, particularly in environments with extensive fleets of Sharp OSA printers across multiple locations.
Previously, deploying the MyQ X embedded terminal on Sharp OSA MFPs necessitated manual configuration via the Sharp device's web UI. With this new implementation, the entire process is automated, eliminating the need for manual configuration via the device's web UI. MyQ administrators can now effortlessly create a configuration profile for Sharp MFPs through the centralized MyQ X dashboard. Once configured, the MyQ X solution will autonomously discover Sharp OSA printers on the organization's network, add them to the MyQ system for management, and deploy the MyQ X embedded terminal—all without requiring additional manual intervention or physical visits to the printers.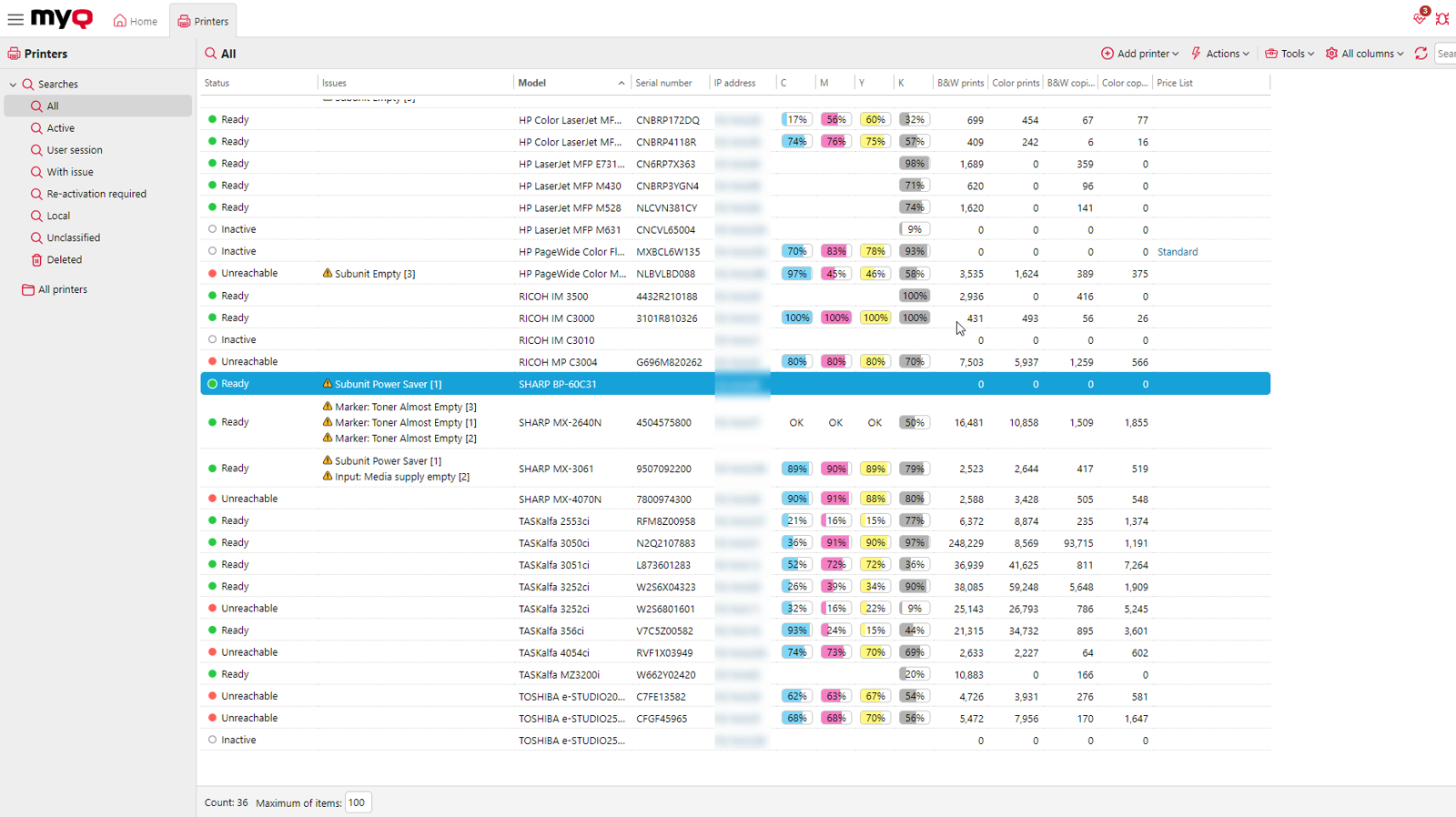 MyQ X centralized dashboard for managing multivendor printers.
What's on the Horizon
The great news doesn't just stop with embedded terminal version 8.1 (patch 10), our development team is already actively working on the upcoming version 10.1 embedded terminal release for Sharp OSA multifunction printers. Customers and partners of Sharp OSA printers can look forward to features like folder browsing of various storage locations such as Google Drive and OneDrive, directly from the Sharp device panel. Folder browsing enables end-users to print documents from or scan to their preferred storage locations directly from the printer panel without having to go back and forth between the printer and their computer. Another great feature to look forward to is Print Preview, it allows the user to preview the file they are about to print before release, this ensures that the right document is printed every time avoiding any potential waste of printer consumables and ultimately contributing to sustainable printing practice.

Stay tuned for more updates.

Explore MyQ X for Sharp


Sharp and Sharp OSA are registered trademarks of Sharp Corporation and/or its affiliated companies.
24/07/2023
Meet the upgraded MyQ X embedded terminal 8.2 for Ricoh multifunction print devices (MFPs). This version significantly improves job accounting, expands job property options, and introduces new features, all while preserving the functions customers are accustomed to.