Pocket-size your OCR with MyQ Roger
01/09/2022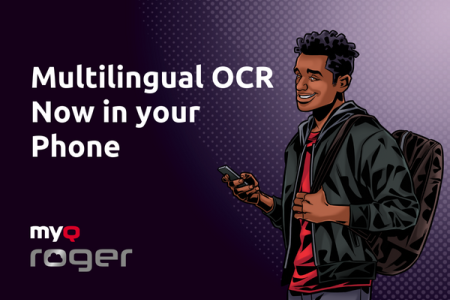 Optical Character Recognition or OCR is a big deal in digitization. It brings the potential that printed analog information can be easily transformed into a digitized, electronic form. It's a huge potential – and one that's an essential bridge step in the digitization of daily life.
But then there is the reality. To turn image to text just seems like a hugely complicated and technical process that is not very user-friendly. Even some of the terms used with OCR such as "inputting the document" sound overly bureaucratic.
Does OCR fit your needs and situation?
OCR tends to be lumped into the big technology category in three basic categories – size, languages, and organization. With size, people normally associate OCR capability with the office MFP, equipment that is large and difficult to move from room to room. With language, OCR tends to be English-centric – simply because that is the globe's business language and there are more potential users. Finally, there is organization – OCR by itself can just generate more documents for the stressed user to save and file somewhere.
Can OCR put your notetaking on steroids?
Instead of thinking about the technical descriptions of how OCR transforms physical information into an electronic form, what if we just think of OCR as notetaking on steroids. It's the kind of useful assist that a student would appreciate. But for this activity to be really useful, OCR has to meet three mandatory categories. It has to be compact – fit in the student's pocket, it has to be a linguist – fluent in a couple of languages, and it has to be organized – create searchable notes that are easier to find than the usual sticky notes or index cards.
Without OCR, the low-tech research process is well known. The student takes notes on cards, including the source details and the precise quote for the citation. These cards can be coded with keywords or colors or even a language symbol to help the student find and identify the important details. Finally, after these cards have been sorted and categorized, the writing begins, and the student can – slowly and inaccurately – type in the details to their computer.
Put MyQ's OCR to work in pursuit of academic excellence
Then there is the OCR approach with MyQ Roger. While perusing publications, our student flips on the MyQ Roger scan function on their smartphone. This transforms the device (either iOS or Android) camera into a scanner that automatically evens out the wrinkles and edges on the document. The new scan is stored as a searchable PDF on the phone and relayed to the cloud with a single click.
It gets even better when the student realizes that they have source documents in multiple languages and they need these citations in languages such as Czech, French, German, Polish, and Spanish. No problem, they just need to switch the OCR language choice within the action settings for MyQ Roger app.
Then comes the technical work of filing and finding their new OCR scans. MyQ Roger enables scans to be saved to a cloud destination of their choice – Google Drive, One Drive, or Dropbox. In addition, the scan is a searchable PDF, making it simple to search for specific keywords when it's time to sort through these academic notes and start writing.
Size and abilities do matter – in and out of academia
Size, abilities, and convenience matter when it comes to OCR – and MyQ Roger, the Smart Digital Workplace Assistant. As a SaaS (software as a service), MyQ Roger is 100% in the public cloud. It uses your mobile device as its platform – making it possible to put your OCR scanner in your pocket and take it everywhere. With MyQ Roger, it's time to downsize your scanner and upsize your abilities – in and out of the study hall.
29/08/2022
When it comes to cloud printing, there is often a tension between convenience and security. But with MyQ Roger, you're no longer in an "either/or" situation.
24/08/2022
Despite the hype about digitization, printing is still critically important among administrative processes in companies of all types and sizes. The unanswered question is how and where companies and their employees will do this printing.