The MyQ X Update: Armful of Convenience
30/01/2023
The new 10.1 upgrade cuts the document confusion with its terminal print preview, adds more Easy functions and enables a Microsoft single sign-on experience. And that's the start…
You can preview before you print
Tired of accidentally printing the wrong documents? With MyQ X's new print preview feature, you'll never waste time or paper again. Easily preview your print jobs at the embedded terminal ensuring you select the right document every time. This feature is also implemented in parallel on the MyQ X Mobile Client. Say goodbye to costly mistakes and hello to efficient printing.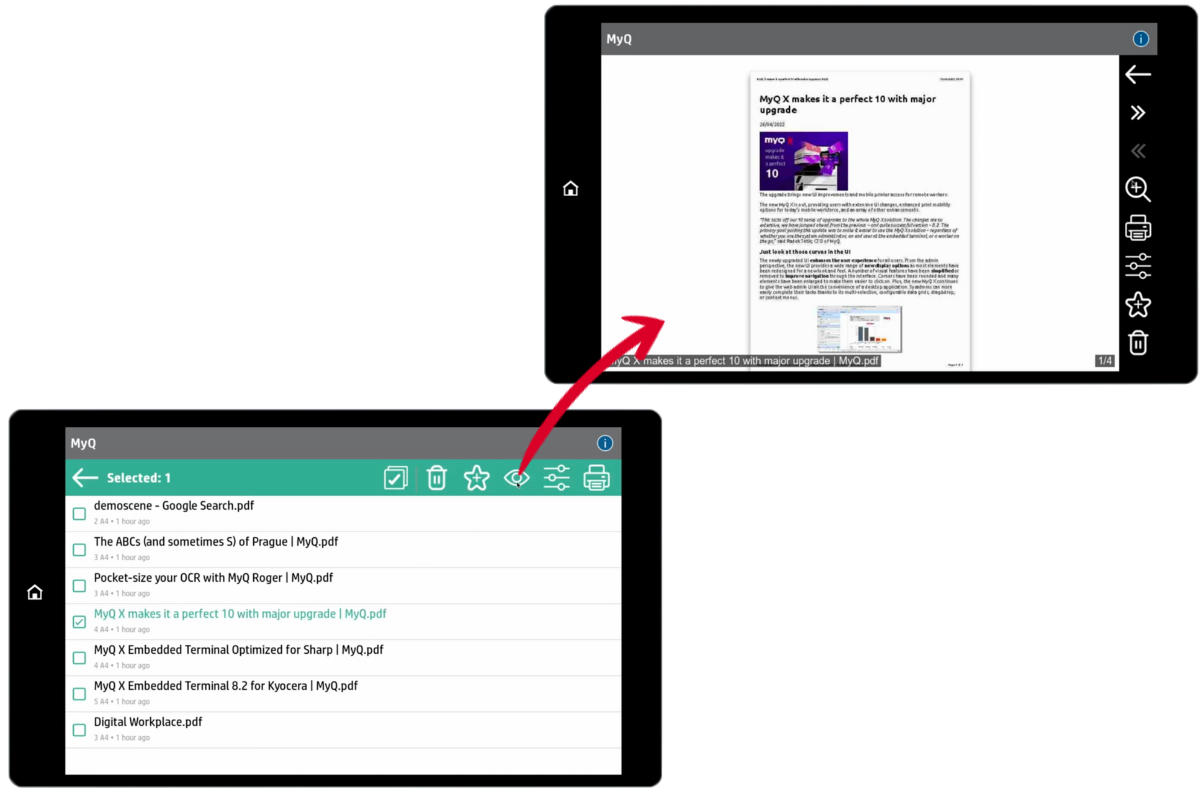 Check your file easily on the printer panel.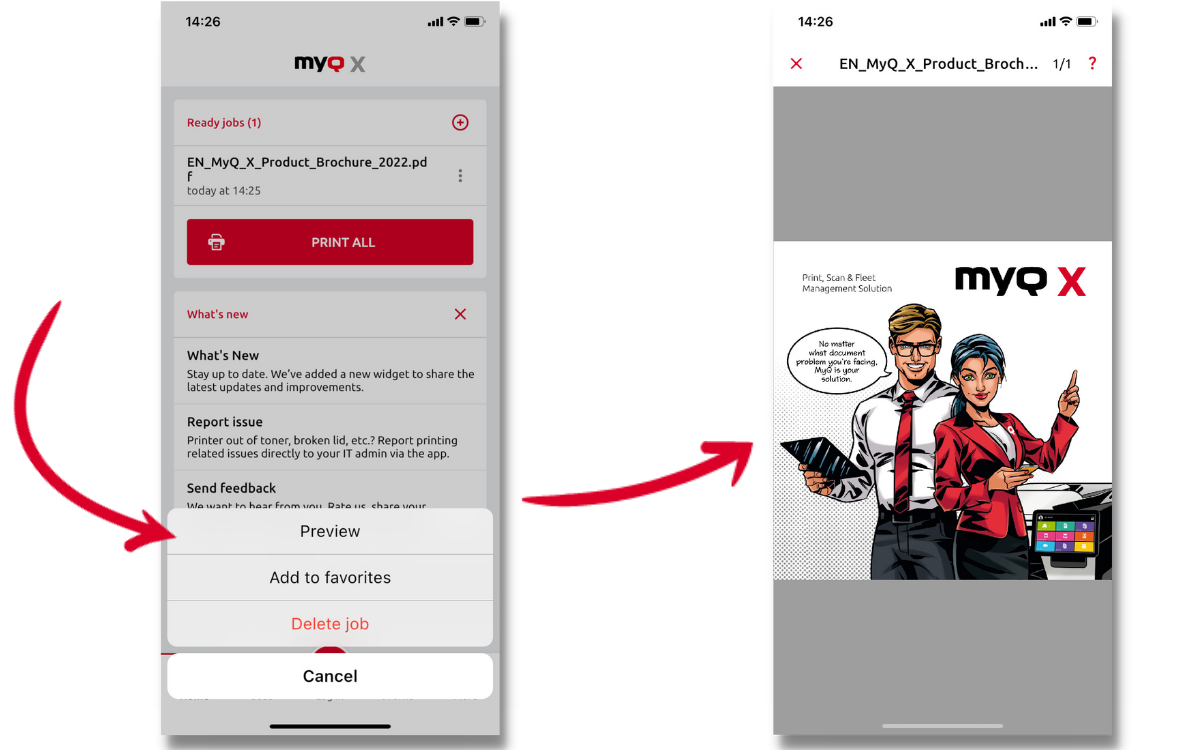 Preview your queued docs from the phone.
Streamline your printing process with Easy Print
Have you ever felt frustrated when standing at the MFP, only to realize you forgot to print a document you urgently needed from your OneDrive? With MyQ X's Easy Print, you can now effortlessly access and print documents from your favorite local and cloud storage, directly from the MFP panel. Navigate folder directories easily and print documents with just a few simple clicks.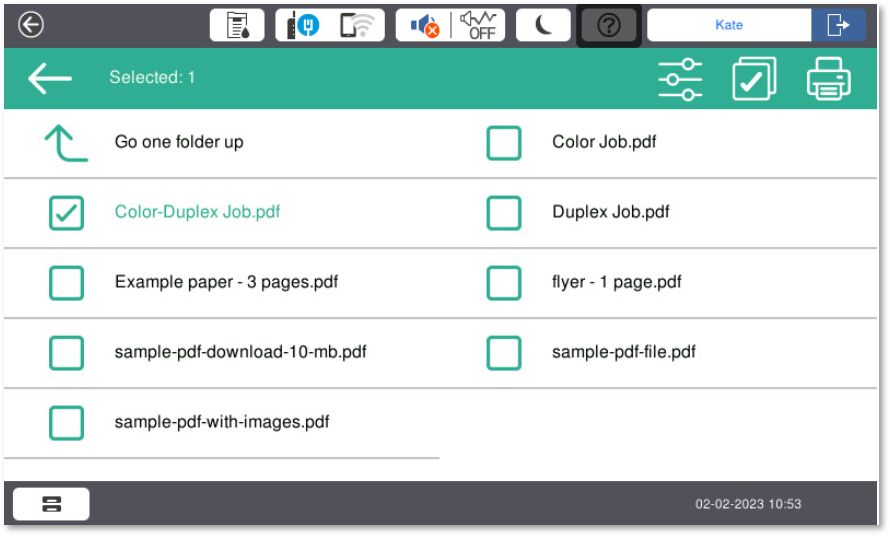 Browse the folder, select your file, and print.
Easy Scan enhanced with folder browsing
MyQ X 10.1 makes scanning easier and more efficient with the new Easy Scan + Folder Browsing feature. This extends on the already customizable one-click Easy Scan feature, adding the ability to browse and select the destination for scanned documents from multiple directories including popular cloud storage locations.
Get synchronized with an improved Azure AD connection
Administrators can now effortlessly sync their users from Azure AD to MyQ X without the need for complicated processes such as Secure LDAP. This means no more subscriptions to additional M365 services are needed.
The overall integration process has been streamlined and simplified, making it easier and more convenient for both users and administrators. Moreover, the integration with Azure AD identity management now enables single sign-on (SSO) functionality on the MyQ web UI, adding an extra layer of security and convenience.
Admins get more actionable and environmental reports
The new 10.1 did not forget about admins. The new web UI and dashboard have a new two-column layout option and two new widgets on the dashboard making it simpler and faster to see the total pages printed (in the last 30 days) and the environmental impact. In addition, MyQ X now forecasts toner replacement needs as it monitors toner levels, providing this information as a new report in alerts & maintenance.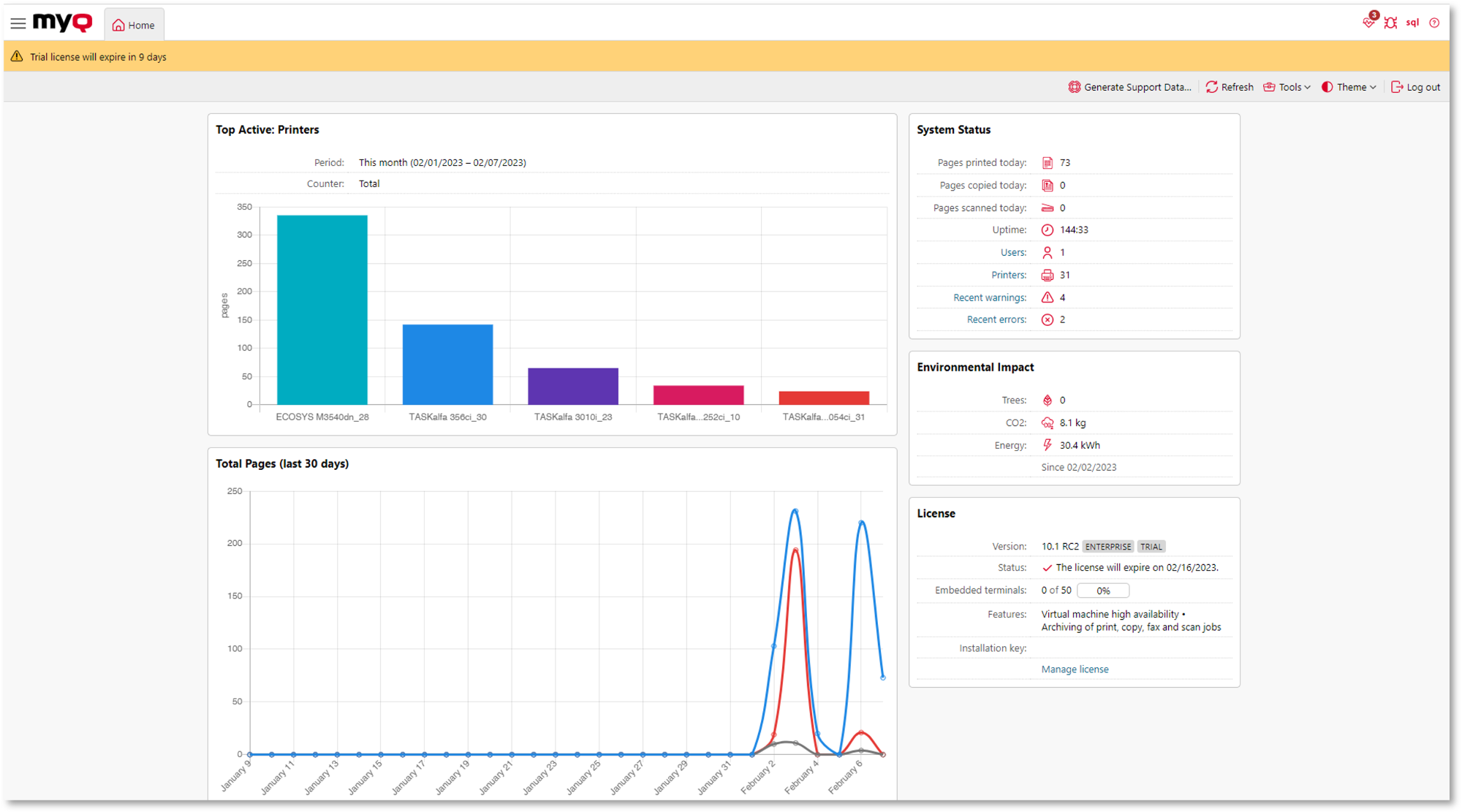 Environmental reports, print jobs overview... the updated MyQ X admin dashboard has it all.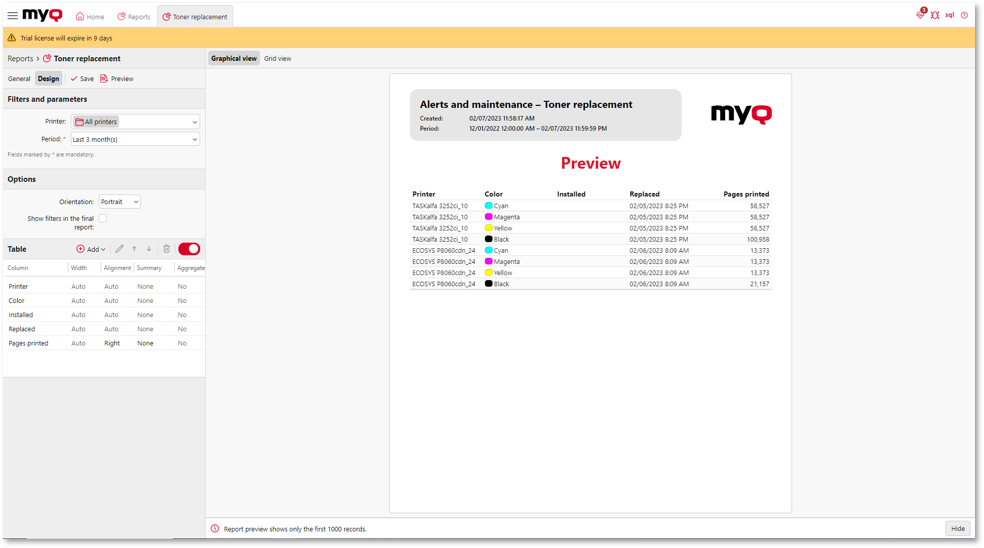 Has the time come to replace a toner? MyQ X lets you know in advance.
Other updates worth mentioning
Enhanced Encryption – Of unreleased jobs stored at the print server, broadening their protection to the entire printing process.
Upgraded MyQ Desktop Client – The Desktop Client has been fully-featured for macOS devices and it performance was optimized also for Windows devices.
Smoother Server Communication – The communication between the Central and Site Server is faster and no longer requires a VPN making it easier to reach remote locations.
Red Theme – Fresh theme for the admin UI in MyQ's brand red and grey colors that accompany the existing blue, dark and high contrast ones.
File Editing – Option to edit filenames of scanned documents directly on the terminal to save user's time.
Printing of Grey – Option to print grayscale with black toner added to the queue's settings to ease up toner-saving.
Project Management – Improved Project assignment and accounting especially in removing and disabling of projects.
Central Server – Improved certificate management for Central Server, option to use custom security certificates same as in the Print Server.
29/01/2023
Together with the latest update of MyQ X (ver. 10.1), we also boosted our powerful Embedded Terminal. You can now preview print jobs, scan to and print from various storage locations with browsing access directly from the MFP panel.