MyQ X 8.2.16 Patch:
Updates & Feature Freeze
10/02/2022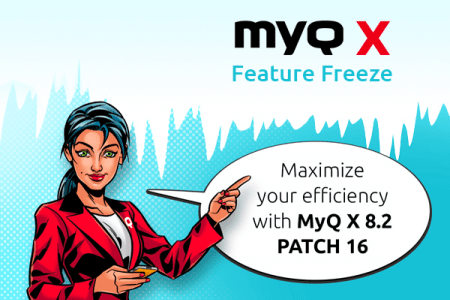 The latest patch adds the last new functions to MyQ X 8.2. From now on, this version will only receive maintenance patches. Read on to learn how it powers up the MyQ X 8.2 in your printing environment.
Feature Freeze for MyQ X 8.2 LTS
MyQ X 8.2.16 is the last patch to enrich the LTS version of MyQ X with new features. The patches to come for MyQ 8.2 LTS will be only of a maintenance nature to support the long-term stability – mainly in form of bug fixes and security and compatibility hotfixes. The 8.2 version will also keep receiving stability improvements. So, if an organization uses MyQ 8.2 or upgrades to it, MyQ will continue making sure the organization gets the top performance possible out of it, it just won't receive new functionalities.
The Last New Features in the Latest Patch
Even though the .16 patch is the last one to bring a feature level up to MyQ X 8.2, it's filled with updates to improve your document processing. Here is what it brings you.
1. Improvements in Printing via the MyQ Web UI
If your organization allows "web printing" via the MyQ Web UI for employees, this patch brings several improvements making web printing easier and more efficient. Since documents are uploaded from various environments and scenarios, such as universities, it can happen that sometimes user will attempt to process invalid or corrupted PDF documents, leading to upload or print failure. To handle these situations, several job parser improvements have been added to web printing. Users will now also receive a visible popup notification if a job upload fails. The user can get more information regarding the failed print job in a new "Failed Jobs" section of the web UI "Jobs" widget. It contains the job details and the reason for the failure.
This update makes it easier for admins to make sure the pre-set print policies are also adhered to for printing via MyQ Web UI. Users are now given only the print options that comply with the organization's overall print policy. The system administrators can also display the job owner's info in the job list and have detailed information concerning the jobs processed through the MyQ Web UI.
Web UI users can choose to use only black toner to print grayscale texts (more on this option below).
2. Grayscale Printing Optimization
When printing grayscale documents, the well-known issue of using either a color or black toner can significantly impact the price of the individual document as well as overall printing costs. In MyQ, the system administrator can now set up a tolerance for using the cheaper, black toner to process grayscale files, as well as for cases where the MFP should opt for the more expensive color toner. Admins can set up the "black-toner-only" printing option as obligatory.
3. Log Level Added to Printer Properties
Admins can access a detailed log mode at a printer. This mode allows them to access e.g. detailed communication between the device and the server, to see details of the device's actions, and it gives them input to identify potential issues with the device. It's a useful tool for communication between system admins and MyQ support to resolve printing issues more quickly.
4. Views to the MyQ Database for BI Tools for a Standalone Server
Supplementing the already existing possibility for a Central server, it is now possible to connect various BI tools with the MyQ print server database to access data that allows these tools to create different reports, dashboards, or diagrams. To ensure the data in the MyQ database stays intact, the external BI tools can access it via a "read-only" account that allows only for viewing the data and not changing (thus potentially harming) it in any way. This new account can be set up un the External Reports section in the MyQ admin Web UI.
5. MyQ X Mobile Client improvements
New languages have been added – if English is not your strong now you can enjoy mobile printing with MyQ X in Czech, French, German, Polish, and Spanish. Choose the language that fits you the best.
From Previous Patches
Audit Log Scheduler
Admins can now plan an export of Audit logs in the Task Scheduler. This log contains information regarding changes in the system settings, user access rights etc., and is a part of the security monitoring of the system. It may also be required by various ISO norms.
New Filter in the User Rights Tab

System administrators can search for users with specific rights under the User Rights tab. They enter the right they're looking for in the search tab and all users with that authorization will be displayed. This provides a better overview of different authorizations individual users have in the system.
19/07/2021
If you've been holding out on the update to MyQ 8.2 so far, now might be a good time to hop on the train. Read on to see what benefits you get from upgrading to MyQ Central server 8.2.