5 Questions for Michal Deml, Pre-Sales Manager at MyQ
07/08/2023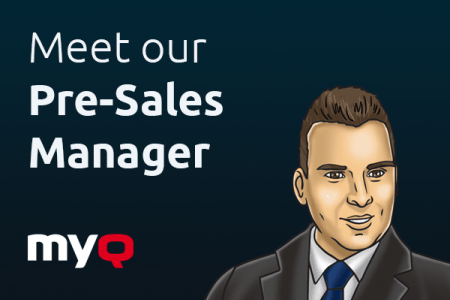 To keep customers happy — and meet their needs — software companies must update their products to keep them fresh and innovative. Once that's done, employees and partners need to know precisely how these new updates work — and this is where product training is most critical.

Michal Deml's role as MyQ's Pre-Sales Manager requires him to do many tasks, both at the office and abroad. Sales support, product training, and product presentations are his three main responsibilities. Just as MyQ's print management software evolves, so do Michal's training materials and methods. He focuses on achieving perfection in his work — which can be challenging in a changing environment. This is probably why his philosophy is: "If there's an obstacle, sometimes you have to confront it head-on with full determination."
What are some of your responsibilities as the Pre-Sales Manager of MyQ?
My role encompasses a wide array of responsibilities. Foremost among them is training, which involves both on-site sessions for new colleagues and external training for partners. Additionally, we are consistently updating and creating new content for our e-training portal. Another vital aspect is providing pre-sales support, which involves competing for tenders, preparing presentations, and essentially serving as the link between sales and the technical team. Pre-sales professionals need to grasp not only how to sell and explain the product's features but also comprehend its technical intricacies, including its features and how to configure it while using technical language effectively.
Which aspects of your job do you enjoy the most?
Training and presentations. Back in my university days, I had an aversion to public speaking. I used to get nervous, and it wasn't something I enjoyed. However, when I started presenting at MyQ, something shifted, and now I enjoy it. I can confidently stand in front of hundreds of people and just do it. I like interacting with the audience during presentations: explaining what MyQ is, what it's about, how to sell it, and what benefits it brings. When it comes to advanced training, it involves more specific challenges, and the preparation is like solving a puzzle.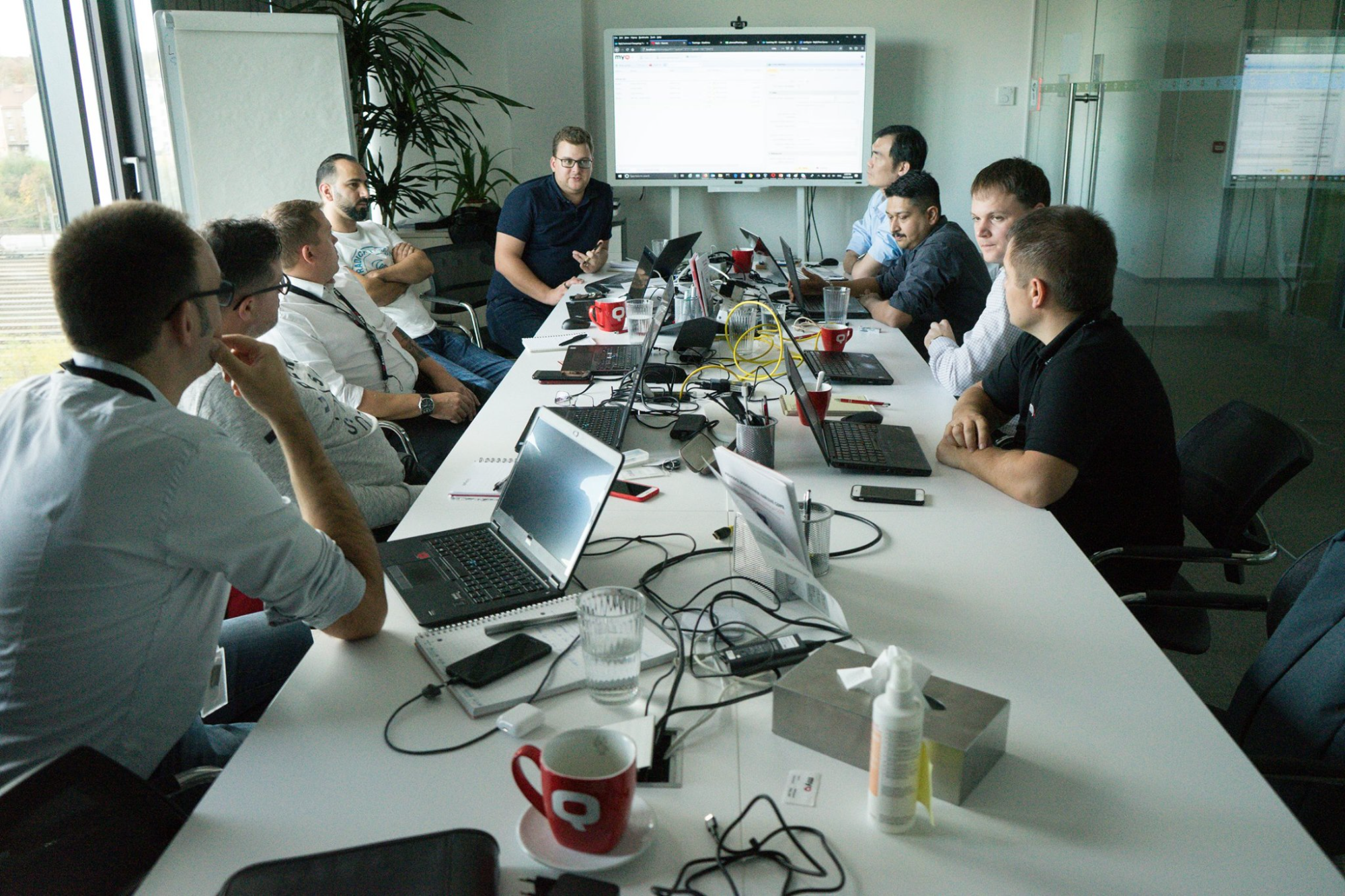 Training session at MyQ HQ facilitated by Michal Deml.
Do you prefer having partners come to Prague for training or traveling to them?
I love to travel. Thanks to MyQ, I've had the opportunity to explore countries I might never have visited otherwise, such as Taiwan and China. I particularly enjoyed my trips to the UK, with a special fondness for Scotland and Wales, as well as the surrounding regions. I find the people there to be reserved but engaging if you make an effort to break the ice. These trips also provide an excellent opportunity to enhance my English language skills.
What's been the most memorable trip for you?
Without a doubt, my most memorable trip was to Taiwan. The people there are incredibly friendly and go out of their way to assist you, often sacrificing their personal time to do so. Even when language barriers exist, they are eager to showcase what makes their country unique. During one visit to Taiwan, I was shown around the city by a local who didn't speak a word of English. He brought his family along, and his six-year-old daughter who was the only one who could speak a little bit of English acted as the interpreter. It was a beautiful experience in a captivating country.
When you're not training and perfecting your presentation material, what is your ideal day away from the office?
My ideal day away from the office involves sitting in a room filled with a multitude of Lego bricks and letting my creativity flow. I take pleasure in constructing things without the constraints of instructions because it allows me to create whatever my imagination desires. Currently, I'm in the process of building my 2nd Colosseum, a replica of the original amphitheater in Rome consisting of 9000 pieces. The project has consumed a significant amount of time and resources, but the investment has unquestionably been worthwhile.


Roman gladiators, ready to enter the Colosseum.

If you found this interview engaging and would like to join the MyQ family, don't miss the opportunity to explore our latest job openings on our career site.