MyQ Roger wins in the UK
15/12/2021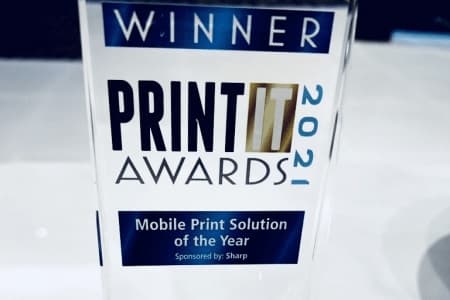 MyQ won another victory with its smart assistant for the digital workplace, MyQ Roger. This time it happened at the prestigious Print IT Awards 2021 competition in London.
"It's just great. Shortly after we won the Computerworld IT Product of the Year award, we also scored a victory in the UK with a mobile solution for the digital office, MyQ Roger. We launched MyQ Roger less than a year ago. Winning the Print IT Award 2021 makes me appreciate the UK all the more, because this competition is highly valued by the international professional community and enjoys enormous respect," Martin Januš, CEO of MyQ, commented on the award.
The expert jury of this year's Print IT Awards 2021 competition in the United Kingdom selected MyQ Roger for the best mobile printing solution that gives end users the ability to submit print jobs anytime, anywhere and from a device of their choice, whether it's a tablet, mobile phone or laptop.
MyQ Roger is a smart assistant for the digital workplace, which is completely based on cloud technologies and offers comfortable and secure work with documents from anywhere. It thus responds to the current needs of hybrid workplaces. Thanks to the SaaS (software as a service) model, it is also perfectly flexible and allows you to respond dynamically to the needs of the organizations that use it.
"On behalf of MyQ, I would like to thank the jurors for rating MyQ Roger as the best mobile printing solution. The jury, which was made up of highly regarded and respected IT professionals, confirmed with their choice that we had correctly identified the needs of the market and quickly came up with the right solution at the right time. The Print IT Award for 2021 is also a nod towards the entrepreneurial thinking of the MyQ team," added MyQ UK's General Manager Nigel Eaton.
The MyQ Roger application enables, among other things, secure printing of documents from anywhere in the world, without the need for complicated VPN connections to the corporate network. In addition, the control of multifunction printers can work contactless in a unique way and allows not only printing, but also copying and scanning via users' mobile devices, which also corresponds to the need for time and the so-called Clean Desk Policy trend. In addition, he can perform all instructions based on voice commands, which is both user-friendly, but especially helpful for people with visual and physical impairments.
The application brings fully personalized functionalities, including the possibility of easy setup of document workflows, which each user can easily and without the need for professional IT support to adapt to their own needs.
The main advantages of MyQ Roger
Instant availability, a dedicated mobile application for iOS and Android is completely free
A revolutionary and fully public cloud software solution for hybrid workplaces
Flexible workflows based on unique user settings
Mobile printing and scanning, cloud printing and scanning, folder browsing in the cloud
Security and safety, login to multifunction printers using dynamic QR codes, full remote control for contactless use of multifunction printers
Ease of access via voice commands
Direct integration with Microsoft Universal Print and support for printing from Chromebooks
World-unique infrastructure with off-line printing capabilities without the need for local computer agents
MyQ's solution is unique in its user-friendliness and is now installed on more than a million devices in nearly 100 countries around the world. MyQ has been awarded many prestigious awards in the past, such as Computerworld IT Product 2008–2014 and 2021, Leading the Charge Innovation Award 2018 and 2020 at the HP Jet Advantage Partner Conference, Buyers Lab Intelligence Pick of the Year 2021a IT Product of 2021 Computerworld. MyQ, s.r.o. was also ranked among the "Top 100 Czech Technology Companies" by CIO Business World magazine.
08/12/2021
MyQ Roger collects another award that attests to its superior qualities as a cloud Mobile Print Solution.
14/11/2021
Společnost MyQ získala se svým chytrým asistentem pro digitální pracoviště MyQ Roger 1. místo v prestižní soutěži IT produkt roku Computerworld 2021.