MyQ scores ISO certification hat trick
04/05/2023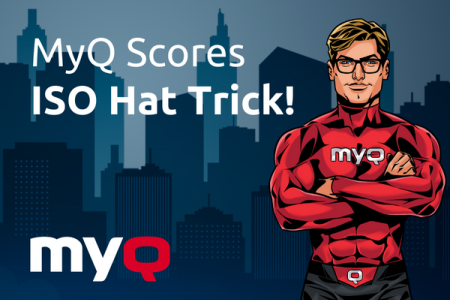 ISO certification for cybersecurity, environmental, and quality management – all secured by MyQ in a single go.
MyQ, the print and document management specialist, has successfully completed its accreditation for three ISO certificates in a single round. MyQ now has ISO certificates in three distinct areas – ISO/IEC 27001:2017 for information security, ISO 14001:2015 for environmental management systems, and ISO 9001:2015 for quality management processes.
MyQ knows their stuff
"This accreditation guarantees our professionalism to customers," said Martin Janus, MyQ co-founder, and CEO. "It shows our dedication to keep moving and keep improving."
Martin highlighted that while individual ISO certifications are quite common, MyQ distinguishes itself by possessing a unique combination of certifications. MyQ has achieved a remarkable feat by completing three certification processes simultaneously, thereby accomplishing an ISO hat trick."Moreover, the TÜV SÜD commissioners managing the ISO process confirmed that we had chosen the most complex option by doing this in a single shot and they were positively surprised by how well we achieved this result."
1. Cybersecurity for print and document management with ISO/IEC 27001:2017
Ransomware has yet to hit MFPs – but data breaches certainly have. Having a security mindset is essential for effective print and document management. "We deal directly with authentication and network access – directly, with the OEMs and customers, and also internally," pointed out Martin.
These varied elements make it complicated – but essential – for MyQ to implement and continually improve its information security management systems. While the print industry has historically underestimated the importance of cybersecurity, achieving ISO/IEC 27001 certification shows that MyQ takes this matter seriously and has a systemic way of managing cybersecurity risks.
2. Smart management of environmental footprints with ISO 14001:2015
MyQ is a modest-sized organization with approximately 120 employees, yet its environmental influence extends well beyond the confines of its premises. For MyQ, there is more to being environmentally sustainable than simply printing less – although its print solutions help clients do that. "Focusing exclusively on reducing printed page counts can promote a false economy," explained Martin. "Environmental management – in a larger, more systematic perspective – is about getting the right fit between a customer and their printing and document management needs."
This means helping the customer know what size of print device is needed, helping equipment stay properly maintained, and helping customers reduce their consumable use – and to do this without imposing restrictions. With ISO 14001:2015 certification, MyQ has demonstrated its integrated approach which includes environmental protection, waste minimization, as well as reducing energy and material consumption.
3. Improvement is in the process with ISO 9001:2015
With MyQ X already integrated into a diverse range of MFPs at numerous organizations worldwide, MyQ has extensive experience and expertise in the field of process management. ISO 9001 certification required MyQ to demonstrate that it has an ongoing continuous improvement process (CIP) and a constant internal re-evaluation of systems and its approach. "Continuous improvement is an integral part of our operations. It is a fundamental process that enabled us to successfully launch our Embedded Terminal, which is compatible with a wide range of printers." said Martin.
Hurrah for the MyQ team (3x)!
Scoring this ISO hat trick was a team effort – but the real achievement goes beyond the three certificates, pointed out Martin. "This successful process is imprinted in our company genes, not just printed on a certificate."
TÜV SÜD
TÜV SÜD is a world-renowned organization operating in all sectors of industry and services. It is a leading company in the fields of inspection, certification, and testing of systems, processes, products, and services. The range of activities also includes consulting, approval, expert activities, and training in all sectors of industry and services. 25,000 TÜV SÜD employees provide services in the areas of independent verification, testing, inspection, certification, approval, and training in 1,000 offices worldwide.