MyQ X: The Platinum Standard in Print Management
09/11/2023
MyQ X has secured the Platinum Seal from Buyers Lab for an impressive third consecutive year, reaffirming its status as a leader within the print management industry. This article delves into the qualities that have propelled MyQ X to platinum status and makes a compelling parallel with Apple's Titanium iPhones.
The Platinum Benchmark in Print Management
MyQ X has reached a new pinnacle by securing the prestigious Platinum Seal for the third year in a row from Buyers Lab, a division of Keypoint Intelligence. This noteworthy achievement solidifies MyQ X's position as a distinguished leader in the print management industry, steadfastly dedicated to setting unmatched standards. This article takes a closer look at the distinctive attributes that have elevated MyQ X to this prestigious position while drawing an inspiring comparison with Apple's groundbreaking range of Titanium iPhones.
A Mark of Excellence: Platinum vs. Titanium
Apple's introduction of their newest range of iPhones featuring a Titanium design has redefined the industry standards, emphasizing the resilience and durability of their devices. Similarly, MyQ X's Platinum Seal represents excellence, reliability, and exclusivity within the domain of document and print management. Just as Titanium devices have garnered acclaim, MyQ X has firmly established itself as the Platinum Standard, the preferred choice for organizations committed to excellence in print and document management.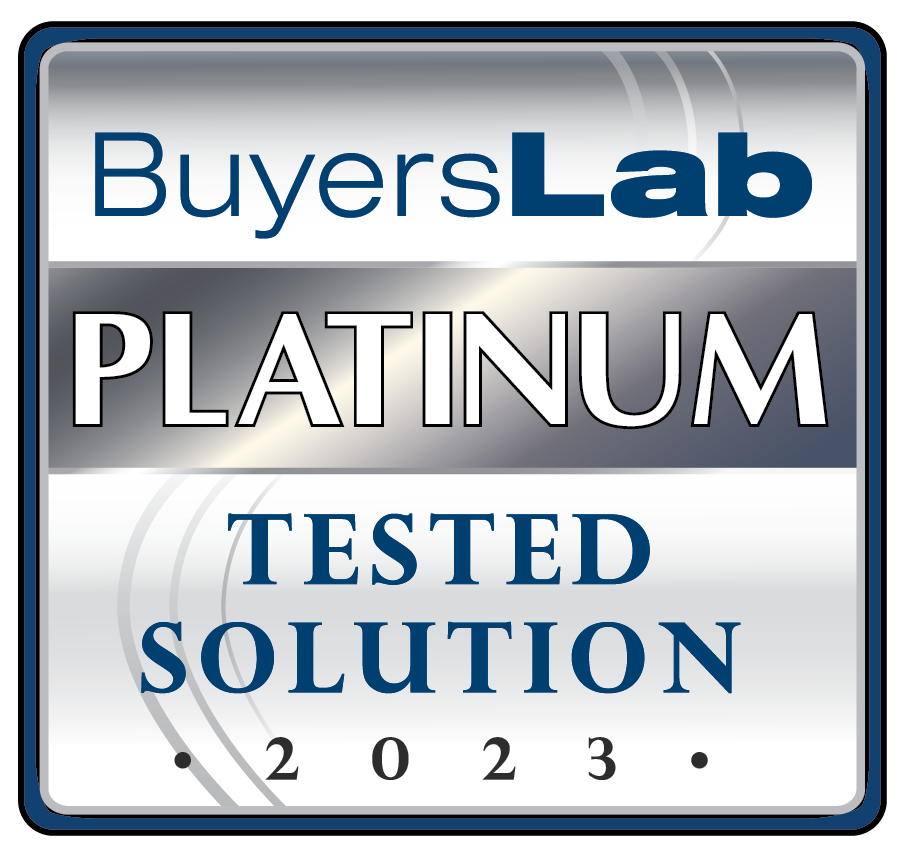 Buyers Lab: The Testing Authority
Buyers Lab, a division of Keypoint Intelligence, a renowned name in the field of digital imaging equipment, conducted the independent evaluation that awarded MyQ X the Platinum Seal. With a history dating back to 1961, Buyers Lab is known for its stringent testing and impartial reporting. The Platinum Seal is a symbol of the highest standards in quality, performance, and reliability, all of which MyQ X exemplifies year after year.

In addition to the Platinum Seal, Keypoint Intelligence has issued an in-depth Solution Report after rigorous testing for several months. The report provides comprehensive insights into the performance of MyQ X Enterprise in various areas, including Features & Productivity, Usability, IT Admin & Security, Support & Training, and Value.
Download the 2023 Solution Report
The Platinum Edge
MyQ X boasts an extensive array of features designed to streamline document processes, reduce costs, enhance document security, and elevate operational efficiency. Available in three distinct versions - Smart, Enterprise, and Ultimate - MyQ X caters to organizations of all sizes, including large enterprises, government bodies, and educational institutions.

Chief Benefits of MyQ X as Highlighted in The BLI Solution Report
One-Stop Shop – MyQ allows businesses to monitor and manage their print environment, track and recoup costs, optimize scanning workflows, and more. This means businesses don't have to pay for, learn, and manage multiple solutions, which saves time and reduces costs.
Reduce and Manage Costs – MyQ's reporting tools track print, copy, scan, and fax costs. Businesses can use this data to right-size an organization's fleet, which saves them money and reduces print waste.
Print Anywhere – MyQ supports mobile printing from all platforms, so workers can be productive when they are away from their desks.
Increased Efficiency – Administrators can create custom one-touch scan-to buttons that streamline capture and routing processes, which saves time, reduces mistakes, and increases work productivity.
Simple, Secure Print – Secure print release and sophisticated applets loaded on compatible MFPs safeguard sensitive information at the MFP and increase users' efficiency and productivity.
Plan for The Future – Device, environmental, cost, and user data from reports and the MyQ interface can help organizations make wise, data-driven decisions to ensure effective planning and cost management.
A Platinum Future
With MyQ X, organizations can look to a future of streamlined document management, reduced costs, and enhanced productivity. MyQ X empowers organizations to make informed, data-driven decisions by offering comprehensive insights into device usage, environmental impact, and cost management.
MyQ X doesn't just keep pace with the Titanium wave but surges ahead with its Platinum brilliance. As the Platinum Standard in print management, it promises rare and exceptional values that few can match.
For those who demand excellence in print and document management, MyQ X is not merely a solution - it's the Platinum Standard.

14/12/2022
MyQ Roger couldn't have asked for a better gift for its second birthday! The Buyers Lab (BLI) 2022 Lab Test Report, in which MyQ Roger earned the highest Platinum rating from Keypoint Intelligence, is now available for download. It explains what brought our Digital Workplace Assistant their highest achievable rating.