MyQ X Desktop Client – The new game-changing application for users' computers
17/08/2021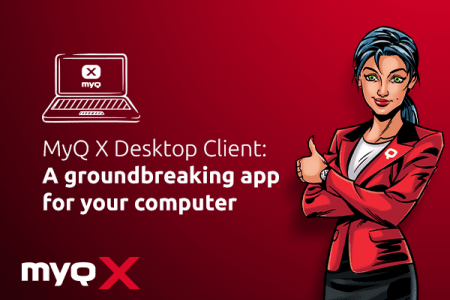 Together with the release of the new MyQ X LTS version 8.2, MyQ has also developed a completely new user computer application – the MyQ X Desktop Client.
Those of you who have been working with MyQ X for some time now know that it already offers two user station clients; Smart Job Manager and Smart Print Services. So, what does the recent Desktop Client bring to the table?
The first thing to mention is that the MyQ X Desktop Client (MDC) basically substitutes both previous applications while integrating all their features. But saying that the MyQ Desktop Client is a mere replacement for the existing clients wouldn't do its capabilities justice. Sure, it combines all the features of both apps, such as Client Spooling, Fallback Print options, automatic print server detection based on the used network, job owner detection, user interaction and others into one tool – however, that's just a starting point. MDC offers much more, as you'll see below.
The perks of the new Job Parser
One of the most important components that was added to this Client is the Job Parser. It's an application that analyses every single job and provides information about paper format, color, or number of pages. This might not sound as such a breakthrough, but it's worth explaining how it affects the main features of the brand-new application, because you'll see the benefits it brings.
Client Spooling in remote locations
The first MyQ X function that makes use of this component is Client Spooling. It has been designed to allow users to print while not actually sending the print job to a print server, making Client Spooling an ideal solution for distant site locations or installations in the private cloud environment. In these cases, it is usually crucial to limit the amount of data sent between the local network and the server. Before MDC, this handy solution had one unfortunate flaw – it couldn't enforce print policies. Job parsing was available only on the side of the server, so jobs that were processed only locally (as is the case for Client Spooling) were not analyzed. The metadata file only contained basic information.
With the MyQ X Desktop Client and its integrated parser engine, this is no longer an issue. From now on, every print job is parsed locally, and the metadata file sent to the server contains all the necessary details about the job, meaning print rules can be put into action. For example, if the given users' quota is depleted, credit balance runs too low, or they are not allowed to print in color, their job gets stopped from being processed. But more about that later.

Fallback Print for server mishaps
You can observe an even bigger impact the new parser has when using MyQ X's Fallback Print options. This function automatically forwards your print jobs to pre-defined devices when the print server is not available. Despite being a great solution for environments with slow or unstable network, it had one weak point: all jobs printed this way were not properly accounted for. And how does the integrated parser help with this?
Well, not by default, but if you toggle the option for offline accounting in the Client, not only will it analyze the print job, but also keep the statistics in its memory, which makes a huge difference. As you have probably already guessed, the statistics are sent to the server once it comes back online. Meaning this way your jobs are printed when the server is not available and properly accounted, making the Fallback print an ideal and fully-fledged backup solution.
Enforcing print rules in offline mode
Now back to policies. As mentioned above, MyQ system admins can retrieve details about print jobs and enforce print rules, even when there are connection problems. The Client observes user restrictions automatically in the online mode, but it also synchronizes its memory with the status of print rules on the server.
Based on this regular status check, it can work with the user's information even when the server connection is not available. Before this can happen though, the admin installing the Client needs to choose one of these outcomes:
let the user process all their jobs regardless of restrictions,
stop jobs if the user is not allowed to release them, or
block all jobs sent in the offline mode.
That way it's possible to enforce print rules for Fallback Print and, more importantly, for Local Print Monitoring – a feature that is also a part of the MDC package and is typically used for monitoring and reporting back on small, USB-connected desk printers of remote workers.
It might be hard to believe, but this new, feature-packed piece of software is available to MyQ customers FOR FREE. It complements the functions of MyQ's entry edition MyQ X Smart, which you can download and start using today.
Get the MyQ X Desktop Client in the download section of the MyQ Partner Portal:
Get the Desktop Client for Free
19/07/2021
If you've been holding out on the update to MyQ 8.2 so far, now might be a good time to hop on the train. Read on to see what benefits you get from upgrading to MyQ Central server 8.2.
09/04/2021
MyQ X 8.2 is an essential new product version which answers modern-day challenges of working out-of-office, as well as growing demand for touchless MFP operation and equal opportunity for people with disabilities.