MyQ X Enterprise: When Gold is Not Enough
14/01/2021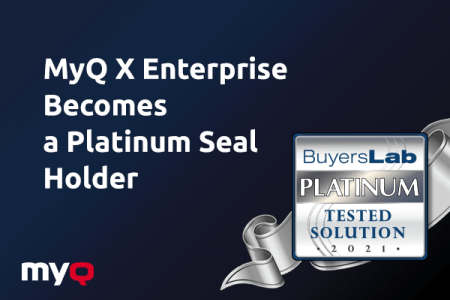 In the wake of the BLI 2021 Software Pick Award announced last November, which names MyQ X Enterprise Edition an "Outstanding Print Management Solution", comes an extensive review confirming its unique value proposition.
Keypoint Intelligence has issued a detailed Solution Report, picking apart MyQ X Enterprise's features and functions after having subjected the solution to months of heavy testing. The Report contains detailed information regarding MyQ X Enterprise's performance in the following sections: Features & Productivity, Usability, IT Admin & Security, Support & Training and Value.
A quick summary of the review
The first and most extensive section, Features & Productivity, focuses on the most prominent aspects of the Enterprise Edition, such as device discovery, the MyQ Embedded Terminal app, scanning workflows or cost reports, viewing all these features from the user's perspective and underlining versatility and convenience.
The next section, Usability, talks briefly about MyQ's web user interface, which is "certainly one of the best that Keypoint Intelligence's solutions analysts have used." IT Admin & Security analyzes how to operate MyQ as an administrator, and the way it protects documents from unauthorized release. Support & Training sums up the different ways of getting help and guidance on how to use the product better. Last but not least, the Value section offers an overview of the licensing and pricing of the Enterprise Edition.
The outcome of the testing is overwhelmingly positive for MyQ X, and Keypoint Intelligence's analysts pinpoint excellent performance in a majority of tested parameters. They strongly appreciate MyQ's easy deployment and compatibility with devices of different brands, thanks to the embedded terminals featuring "a great user interface that flattens any learning curve associated with adopting it."
The report also highlights convenient customization of printing and scanning processes, as well as how MyQ is displayed on devices. All settings can be accessed and tweaked easily by IT admins.
How MyQ X Enterprise scored in the essential disciplines in Keypoint Intelligence's Solution Report.
Key benefits that are mentioned
According to Keypoint's report, these are the chief benefits of the MyQ X Enterprise Edition:
Time- and cost-savvy monitoring and management of print environment
Reporting tools that reduce paper and money waste
Support of a broad range of devices
Efficient "one-click" scan buttons
Safe a and flexible printing with secured print release
Better future planning with gathered data
This Platinum badge signifies a good start to the new year and MyQ sees it not only as a seal of approval, but also as motivation to push forward and offer customers the best tool possible to help them manage their print, scan and copy jobs. There are several new projects in the works, and we hope MyQ continues to live up to the standards of a "document management suite that's designed to cut costs, improve document security, and help organizations achieve maximum efficiency."