MyQ Takes on the Cloud Print Challenge
30/09/2020
As more and more businesses are moving their infrastructure into cloud environments for greater flexibility, scalability and cost reduction, software providers are following suit to make their services relevant in this new era.
The
a
llure of
cloud solutions
MyQ has now joined the ever-growing community of developers who are optimizing their product for cloud computing. It is reasonable to expect that there will always be a percentage of customers that will have use for on-premise solutions or will favor a hybrid infrastructure with a mix of cloud-based and on-premise IT services. But getting rid of the necessity to purchase, maintain and upgrade servers (i.e. also print servers) and local IT software has decidedly more upsides than downsides.
The most pronounced plus is that cloud services operate on the "pay-as-you-go principle", which means subscription only covers the cloud's hardware resources or number of users that the business currently needs, and when these demands increase, it can be flexibly scaled up or down in response. Another advantage is that unlike on-premise solutions, which may require a significant initial investment, a cloud subscription is cashflow-friendly, so that smaller or medium-sized businesses can afford it. Last, but not least, centralizing one's server management and share services and resources can also prove very beneficial.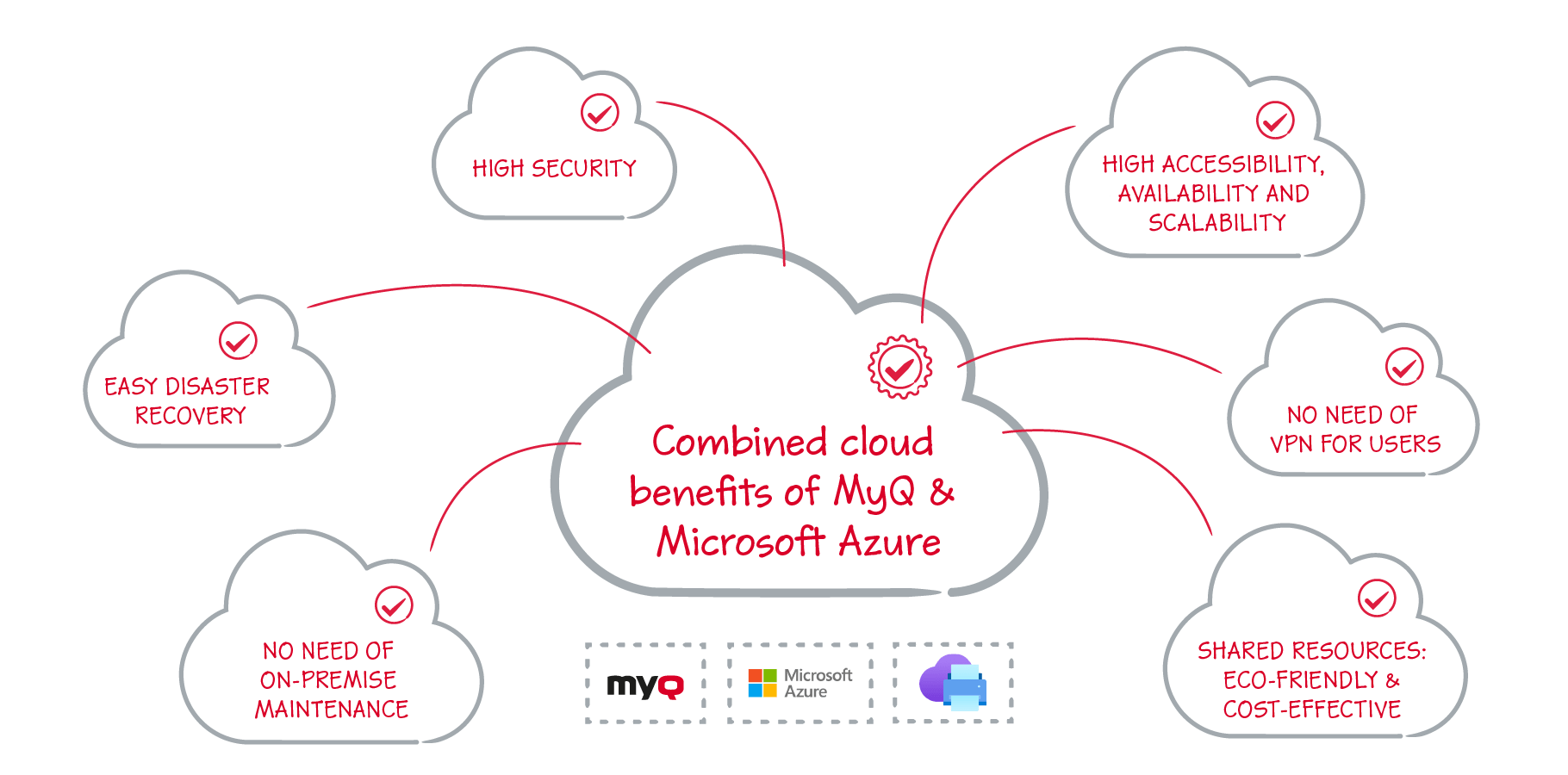 Market considerations
Companies are very much aware that with on-premise solutions, they are in complete control – and that there is bound to be a trade-off in moving to the cloud. However, flexibility and simplicity are such strong benefits that letting go of a piece of control is acceptable. Security and compliance to data privacy regulations are extremely important, and with cloud migration these now become managed by the provider. This is a key consideration for many businesses, so it is only understandable that this topic is addressed before a company moves their print management into the cloud.
Still, for many medium to large-sized enterprises, adopting cloud solutions is a way of staying on the edge of technological innovation. Using a third-party cloud service will allow them to outsource certain worries, like having state-of-the-art infrastructure optimization, to an external provider with more dedication and resources.
A
shift
towards
serverless
printing
Moving managed print services to cloud is very much in line with MyQ's main mission to save money, but also – even more importantly – time. Being subscribed to a cloud-based print management service is not only widely recognized as a major cost-saver when it comes to the operation and maintenance of on-site servers – it also lifts a significant portion of workload off the shoulders of in-house IT staff.
MyQ's vision is to support those of our customers whose cloud transformation is already underway, and who have decided to move their internal systems to the Microsoft 365 cloud. The idea is to provide convenient printing options to customers who are working from home (i.e. from outside their company network), and also to customers affected with the looming termination of certain services, like Google Cloud Print, announced to end in December 2020.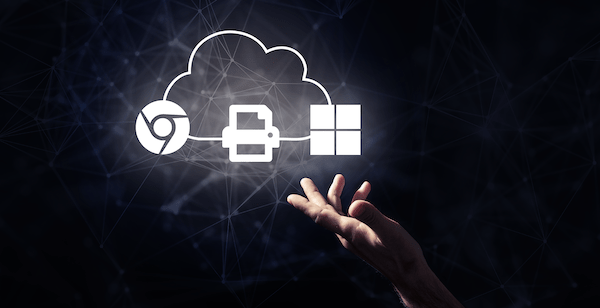 MyQ
in
p
rivate
c
loud
Microsoft
Azure
Customers using Microsoft 365 as a private cloud hosting their internal systems can add MyQ to the list of IT services they no longer need to have installed on an on-premise server. Part of the leased private cloud space can be dedicated to MyQ server(s), and MyQ running in Azure can make use of Azure Active Directories. The single sign-on feature already used by users to access applications in the Microsoft cloud can also cover cloud printing with MyQ, without the need to use VPN connection.
Closely related to Microsoft Azure is service authored by the software giant – Universal Print. This new service moves the Windows Print Server functionality to the Microsoft 365 cloud and fully integrates it with the Azure Active Directory. The appeal of this service is in giving users the ability to print from any location outside the company network, only by being connected to the internet.
The perks of
Universal Print
by Microsoft
MyQ has developed and tested a new Universal Print connector, requiring MyQ users only to have a Microsoft 365 subscription license and internet connection, while bringing a good deal of benefits at the same time.
No need for VPN

connection

–

Universal Print does away with the cumbersome need to use a VPN to

print remotely fr

o

m homes

, c

offee shops

or business trips

. At the same time,

users still

have access to the entire set of

MyQ's

features.

Worker mobility

–

Emplo

yees

moving between departments or travelling acr

oss branches will appreciate

automatic printer selection based on their

geo

graphic

location

, and high device availability

.

Quick printer discovery

–

Registering printing devices is very fast. There is no need to find, download or install additional printer drivers. M

anaging print drivers and making sure they are all up to date is no small item in an IT departmen

t's schedule

, so using MS Universal Print is another way of saving

valuable

time.
That being said, certain benefits that are commonly spelled out for Universal Print – e.g. centralized printer administration or support for multi-brand printer fleets – have all been part of MyQ long before the cloud printing era.
There are even ways in which MyQ surpasses the functionality of Universal Print. Even older devices connected via MyQ can be used with this service, so companies do not need to invest into upgrading their fleet with more recent models which would natively support Universal Print. MyQ's new Universal Print connector is therefore a good example of symbiosis between the old and the new.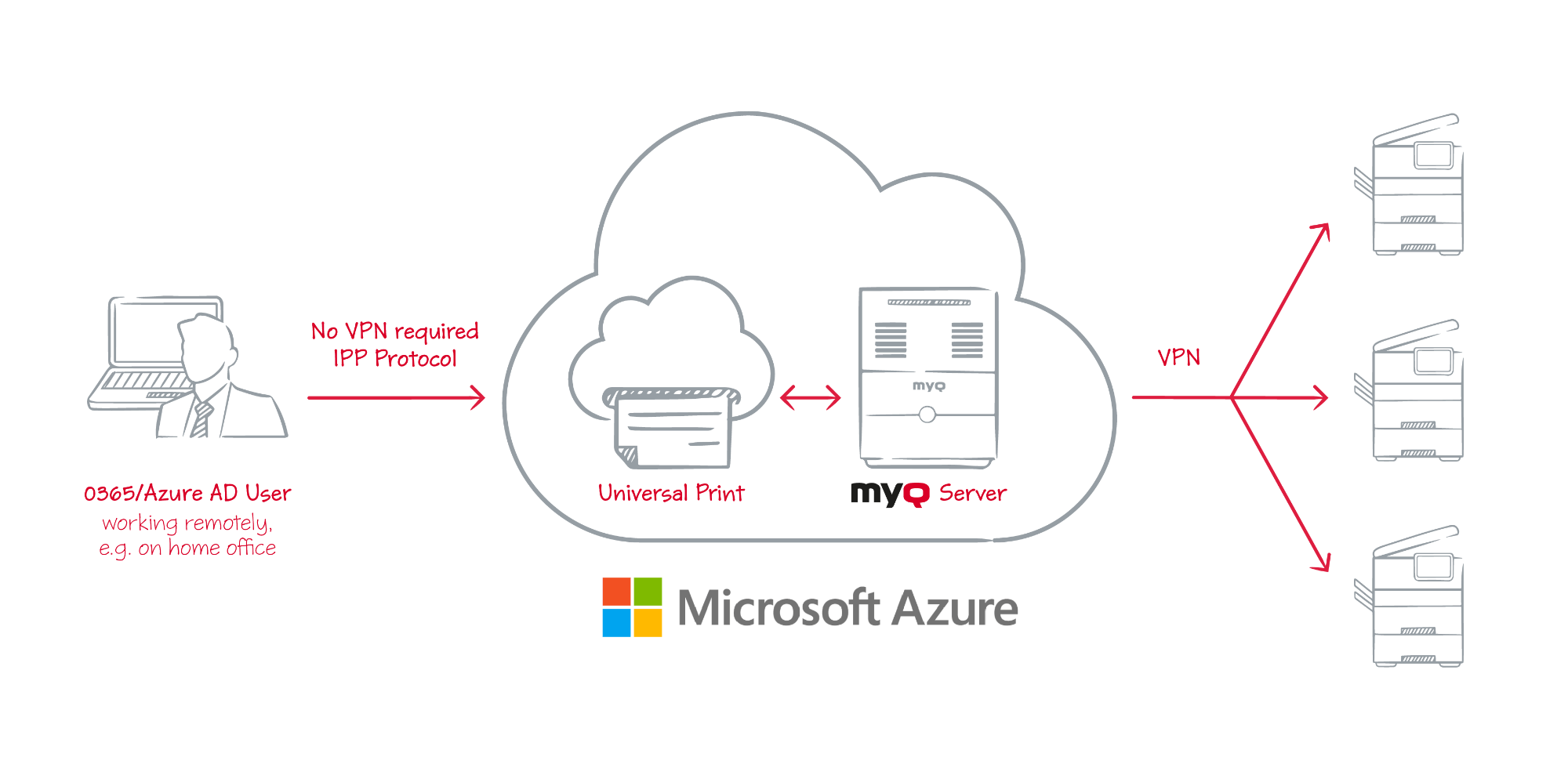 Example of deployment MyQ in MS Azure – private cloud scenario.
MyQ
and
Google
Cloud Print
Deprecation
As the end of 2020 is approaching, so is the announced end of support for Google Cloud Print. MyQ users need to be sure they will be still able to print seamlessly and securely from Chromebooks, Chrome and other Google apps.
For c
ustomers using Google Cloud Print in Chrome Enterprise environments
(
typically education institutions
that run
managed
Google accounts
), IT administrators can
perform
a quick fix in the Google console
by
setting up print via a safe IPPS protocol,
which enables
users to print from
Chromebooks natively.
Another group of users affected by the end of Google Cloud Print are those using free-of-charge accounts outside managed environments. For those and all other users, there are also other MyQ services available, such as web upload print and e-mail print for entirely remote printing from out of the network.
In lockstep with
current
customer
needs
It is obvious that there are quite a few MyQ features coming up in connection with the advent of the cloud era. Since autumn 2020, MyQ supports customers who are looking to eliminate unnecessary costs for on-site servers by transferring parts of their infrastructure into MS Azure. It also equips any home-based or remote users with easy and secure office printing thanks to Azure AD, which doesn't require connection via VPN. MyQ also supports Google Chrome users dependent on Google Cloud print in managed Google environments.
MyQ is ready to accompany customers who are looking down an open path to secure cloud-based systems and digital transformation – and is fully dedicated to becoming their cloud printing partner.