Advanced Reporting with MyQ X
04/08/2020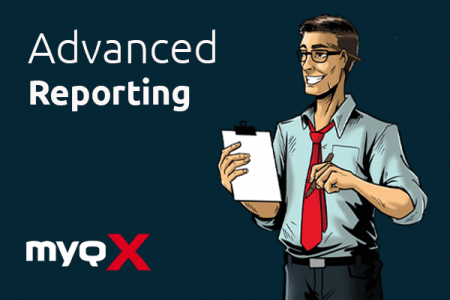 Printer usage monitoring is a staple in IT departments of all bigger companies. The print management software an organization uses should make generating accurate print reports as easy as possible.
In the age of digitalization, companies reinvent their processes and encourage their employees to think twice before printing a piece of paper. Still, when you type "office printing costs" or "printer usage monitoring" into Google, this is what starts popping up:


"As much as 3% of a company's income is spent on printing, copying, filing and posting paper documents." (MyDataScope)

"An average person uses between 250 and 300 kilos of paper every year."

"According to a survey of small businesses, 47 percent report that employees printing email was a big part of their print usage."

"Almost two thirds of small businesses can't track how much their print devices cost them, nor can they track their usage." (SmallBiz Trends)

Does the PowerPoint presentation need to be printed as a handout for each workshop attendee, or can you maybe share the presentation real-time for people to make electronic notes? And at the end of the workshop, do you pass around a questionnaire on paper, or do you point people to a Google form where they can log their opinion through a few clicks in the remaining 5 minutes?
Of course, on occasion we prefer having a document in solid black-and-white for good reason. Say, an employment contract. Or a notary deed. Many of us also prefer to study materials with the good old highlighter in hand, rather than peering into a bright screen for hours on end.
As long as there is any kind of enterprise print, there will also be the need to have this item on the list of business expenses well covered and documented.


Monitoring the printer fleet
The burden of tracking all printing activity in a network of printers often falls on the IT staff of the company, and it can take a huge bite out of their busy schedule. With the right managed print solution, however, printer fleet reporting doesn't have to be a pain.
Typically, an IT admin will benefit from anything that is automated: getting notified when a printer in the fleet is malfunctioning, when consumables are running low, and having good printer usage monitoring, especially for a mixed-vendor printer fleet. It will be a time-saving relief to be able to define custom reports and have them sent to members of the management every Monday.
Print server databases keep detailed records of jobs performed under all users, projects, and devices, which in turn allows for breaking down the print, copy and scan activity on any level of interest – on the level of the user, printer, group, department, company branch or client account.
Naturally, sometimes it is useful to get an overview of printing activity not just in absolute numbers, but also for a certain time period, to be able to identify trends and emerging tendencies to overload or ignore certain devices. That is done by specifying date ranges for which to display the desired data.
Regular updates on printing activity give an accurate insight into how heavily which printers are used, by whom and when. The findings inside advanced reports can drive better purchase decisions on part of the management. For example, the CTO may decide to replace 10 old machines with 3 new multifunction printers, or shuffle existing MFPs ones around to make employees use them more evenly and efficiently.
Powerful and accurate print reporting also helps watch trends in time and adjust printing policies in response. Reassessing employees' printing rights and forcing black-and-white print or duplex print can lead to significantly lower costs and a smaller environmental impact over time.

Does MyQ deliver advanced reports?
Indeed it does. Starting with this year's major updates of the Central Server, MyQ is steadily making steps towards handing over the power of insight into the customers' hands.
It began with completely rewriting MyQ's core engine architecture, which allowed for switching from an accounting method where the decisive unit for logging print or copy jobs was one user session, to much more intuitive job-based accounting. In practice, this means that a user can perform several actions at the multifunction printer during one login session, and each will be accounted for separately. They can decide to scan a batch of invoices and right after that print out materials for a legal client, and both can be billed under separate projects and separate rules.
This makes for a far greater level of detail when it comes to reporting data, and MyQ has now paired this with more freedom to create custom advanced reports.
When a printer fleet is running MyQ version 8 and higher, user data on print and copy jobs is stored in the counters of the software running on each separate multifunction printer – the MyQ Embedded Terminal. This detailed accounting data is regularly synchronized with the MyQ Print Server, and then replicated to the central database on the MyQ Central Server.
IT admins can then create custom reports based on detailed accounting data. They can look at any combination of parameters that are being watched – dates of job sumbission, dates of job release, device ID, printed paper format, the simplex/duplex property, color/greyscale property, etc.
What used to be a process that involved reaching out to MyQ Customer Support and asking for a manual data extraction and visualization, is now in the hands of MyQ partners and customers themselves.


Superior MyQ reports with BI tools
Businesses that want a good visual representation of print costs and wish to analyze print, copy or scan jobs using a wide range of charts or dashboards, can fall back on a number of business intelligence solutions for the job.
Since the update of Central Server 8.1 (patch 2), MyQ supports external BI tools. Financial departments, to give an example, can now easily connect the central server database to their company's BI software, and match reporting on printer fleet activity to the rest of the company's ERP system reports.
Reports can be assembled from scratch by the IT admin for custom insight into specific data, but there are also predefined templates for greater convenience, like the one available for Microsoft Power BI: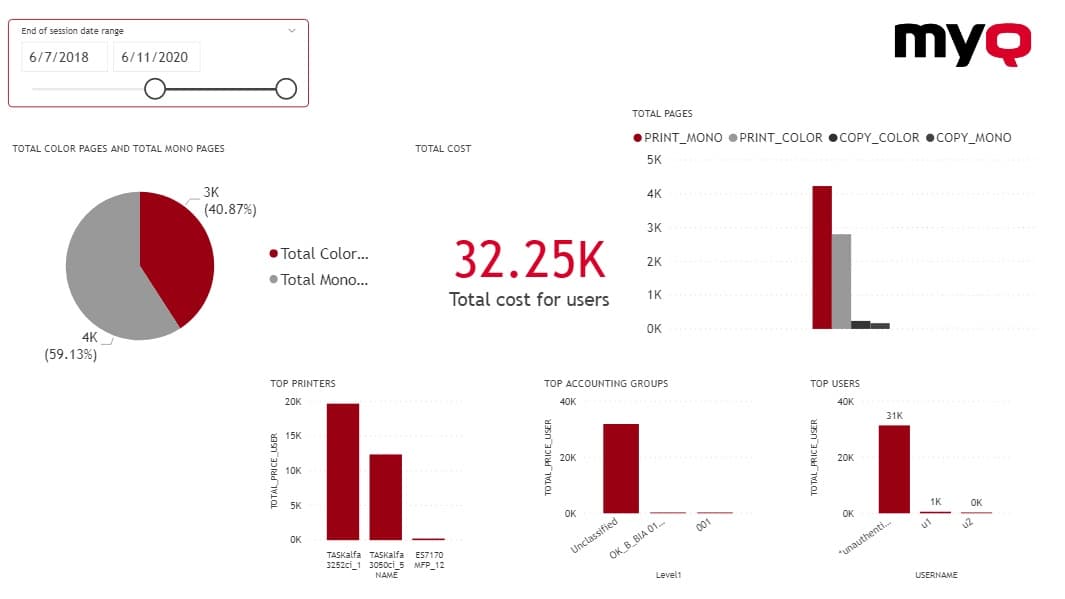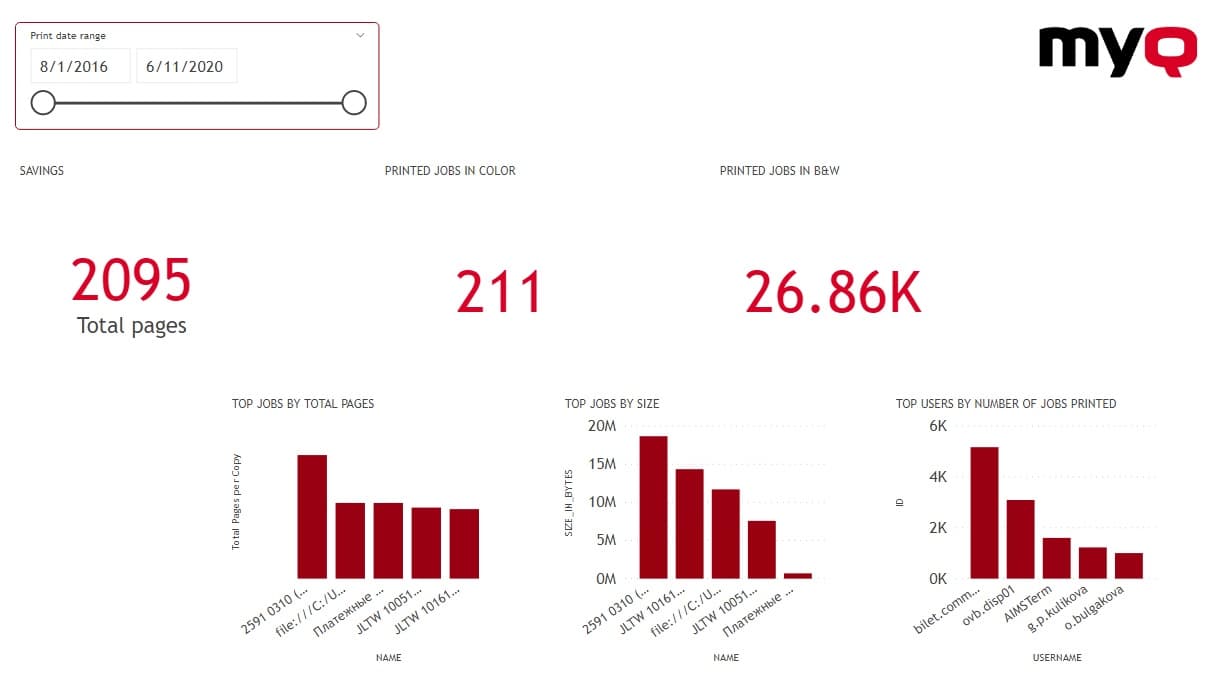 Example of MyQ-themed report created in Microsoft Power BI.
MyQ customers should have full and convenient access to their database and the data contained at all times, in any form they choose. Not only does MyQ support Power BI, but also other reporting tools and applications for data processing, from extractions into MS Excel all the way to live imports into the company's ERP system (like SAP), etc.
What are some printing policies companies can adopt to save costs?
Force duplex print – one of the most obvious ways to save paper is to print double sided as much as possible.
Adjust printing rights – restrict color printing for certain groups of users, i.e. HR departments, which typically print candidates' CVs or employment contracts containing color elements might as well stay in greyscale.
Make printing reports visible – simply for the natural psychological effect it has on people when they know that a certain activity is being monitored.
Introduce quotas – it may be worth consideration for certain business environments to set up limits per user or per department.
Instill digital thinking in users – pushing an office towards digitalization not only means the management is making conscious effort to go green in the workplace and step into the paperless era. There are a number of effects that are very practical for people. For instance, when you scan incoming mail into the document management system instead of making a copy of each letter for each interested person. Digitized documents offer searchability and availability that is far superior to having to dive into the ever-growing desk pile, especially when you're in a hurry.

Printer usage monitoring is a staple in IT departments of all bigger companies. The print management software an organization uses should make generating accurate print reports as easy as possible. With the automation possibilities of collecting data from the counters on multifunction copiers, reporting on print, copy and scan activity is finally a walk in the park, so IT can dedicate their time to solving more critical tasks that never stop cropping up.
Get Advanced Reporting with MyQ Enterprise!
13/11/2020
The most notable highlights of this release are a new built-in job previewer, support of Chromebook printing after the deprecation of Google Cloud Print, and improved performance.