MyQ X Embedded Terminal Optimized for Sharp
01/09/2022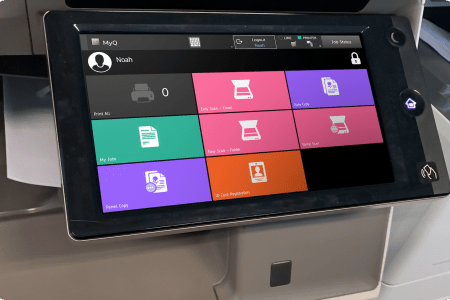 Business fleets comprising multifunction printers by Sharp can now run MyQ X to its full potential, thanks to the recent optimization and release of MyQ X Sharp Terminal 8.1.
MyQ's print management software line MyQ X now fully supports Sharp printer fleets, with a special embedded application for the multifunction device itself – the MyQ Embedded terminal. The MFP's interactive touch panel can thus be enhanced with MyQ's interface and display personalized functions to the user.
MyQ Sharp 8.1 features available to the IT administrator include:
Advanced per-job accounting options connected to projects, credit and quota
Detailed reports both built-in and compatible with BI tools
Guest Account feature
Certified Web UI Accessibility
Web accessibility and WCAG
In order to make ICT accessible to everyone, the European Union adopted a European standard for digital accessibility EN 301 549, which follows Web Content Accessibility Guidelines (WCAG) 2.1 and its application to EU public sector websites is required since September 2020.
MyQ optimizied its web-based UI for users and administrators to meet the guidelines' requirements, and after extensive testing received BITV accreditation compliant with WCAG 2.1 level AA.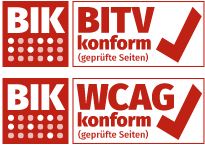 Improvements available to the user of the Sharp MFP:
One-click Easy Scan to the user's e-mail, network folder or cloud drive
Advanced scanning and document conversion thanks to OCR engine
Functions that are personalized to reflect individual user habits
Touchless login and printing via the MyQ X Mobile Client

Printing with the MyQ X Mobile Client
The MyQ X Embedded terminal offers a contactless QR login option which allows the user to authenticate at the printer using the MyQ X Mobile Client installed on their smartphone. After logging in, the user can print all queued documents, select files from history or favorites, or alternatively submit new jobs and set their printing options without needing to touch the device's panel.
The MyQ X Mobile Client also displays the current status of the user's credit and/or quota and enables the user to recharge their credit directly from the application using vouchers. Logging in via face and fingerprint recognition is also supported, as is light and dark mode.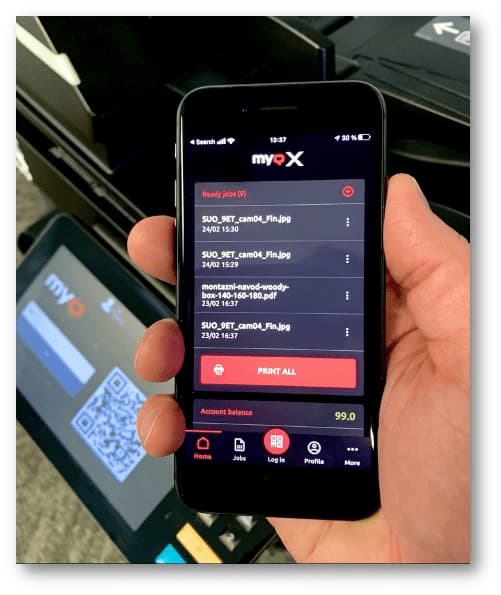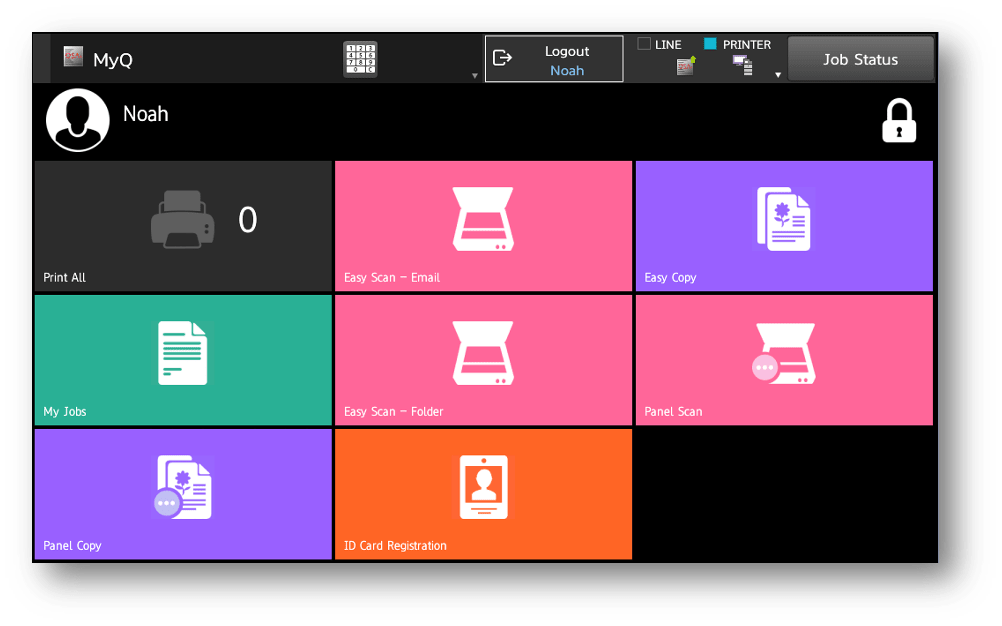 Sharp Embedded terminal version 8.1.4.1 (patch 4)
The newest version of MyQ X Embedded terminal for Sharp adds support for MFPs without the MX-AMX2 module. To provide more context, the APPLICATION COMMUNICATION MODULE (MX-AMX2) is a Sharp-propriety add-on for Sharp MFP devices which is required to use "standard application" functionality. Dependent on country and location the MX-AMX2 may or may not be shipped by default with the MFP device and as a result additional costs may be involved to acquire such a module.
With MyQ's Embedded terminal 8.1.4.1 for Sharp devices without the MX-AMX2 module, we are now able to provide customers with a "lite" (limited) set of features. Customers will be able to enjoy secure Pull Print, device lock with user authentication and full accounting, etc. with the limitation of MyQ's Easy Actions (Easy Copy, Easy Scan) not being available. Please check with your local MyQ partner for more information.
MyQ Partners can download the RTM version of the MyQ Sharp Terminal v8.1 from the MyQ Partner Portal.
MyQ X embedded support for the newest range
of Sharp devices with OSA 6 platform
We've added support of our intuitive MyQ X embedded terminal for the newest range of Sharp print devices that runs on the OSA 6 platform. With the latest releases of MyQ X Print Server version 8.2 (Patch 24) and version 10.0 (Patch 6) customers can enjoy the added benefit and convenience of our MyQ X embedded terminal on their favorite Sharp devices.
Support for the following Sharp models was added:
BP-70C31, BP-70C36, BP-70C45, BP-70C55, BP-70C65, BP-60C31, BP-60C36, BP-60C45, BP-55C26, BP-50C26, BP-50C31, BP-50C36, BP-50C45, BP-50C55, BP-50C65
We constantly add support for new models of print devices to our MyQ X product and it is therefore recommended that you should check with your local MyQ partner for the most up-to-date list of supported models.
Read more in Product Change Log

About Sharp Imaging and Information Company
Sharp Imaging and Information Company of America, a division of Sharp Electronics Corporation, strives to help businesses achieve Simply Smarter work through technology that is smart and easy to use. The aim of the Simply Smarter Workplace strategy is to accelerate collaboration, improve efficiencies, digitize workflows, and increase information security. Sharp's expansive line of products and solutions include interactive displays such as the award-winning Windows collaboration display and AQUOS BOARD® interactive display, commercial displays, security-first laptops, desktop monitors and a full suite of multifunction copier and printer solutions.

For more information on Sharp's business products, visit their website at www.global.sharp.
18/08/2022
With the new 7.6, Xerox users now have a robust failover solution in place in the event of a lost server connection and greater daily flexibility with access to MyQ Easy Copy and Mobile Client features.
14/06/2022
MyQ, an independent software vendor, is adding Epson full-featured Embedded Terminal to its multi-brand MyQ X family.