Product & Support
End-of-Life Policy
MyQ si riserva di poter decidere in qualsiasi momento di sospendere la manutenzione, il supporto o le vendite di un determinato prodotto, modulo, funzione o API. Questa pagina illustra come MyQ si impegna a comunicare queste circostanze ai Partner e Clienti MyQ.
End of Life Policy
Di seguito i fattori che possono essere alla base dell'interruzione dello sviluppo e del supporto:
Progressi nel campo dell'informatica, delle reti e della sicurezza che hanno reso poco pratico e antieconomico il mantenimento di una vecchia applicazione.
La decisione di investire le risorse di sviluppo in nuovi progetti piuttosto che in prodotti più datati utilizzati solo da un ristretto numero di clienti.
Modifiche al codice interno che potrebbero richiedere una nuova versione dei moduli e delle API pubbliche.
Eventuali annunci di End-of-Life (EOL) saranno pubblicati di seguito con almeno 90 giorni di anticipo.
Il processo di End of Life
"End of life" non significa che l'applicazione smette di funzionare: gli utenti possono continuare a utilizzarla. EOL indica semplicemente che MyQ potrebbe non dedicare risorse alla risoluzione dei problemi di supporto e suggerirà invece un percorso di aggiornamento al cliente.
Il software esistente viene:
Mantenuto per almeno 6 mesi e almeno 24 mesi per le versioni LTS* (supporto a lungo termine).
Supportato per l'intero periodo di validità della Assicurazione Software acquistata dal Cliente.
Fornito di un percorso di aggiornamento al momento della comunicazione di fine manutenzione del software.
*La versione LTS (Long-term Support) viene mantenuta per un periodo di tempo più lungo rispetto all'edizione standard, garantisce la disponibilità di tutte le funzionie i componenti ed è consigliata per progetti non previsti o che non possono essere aggiornati.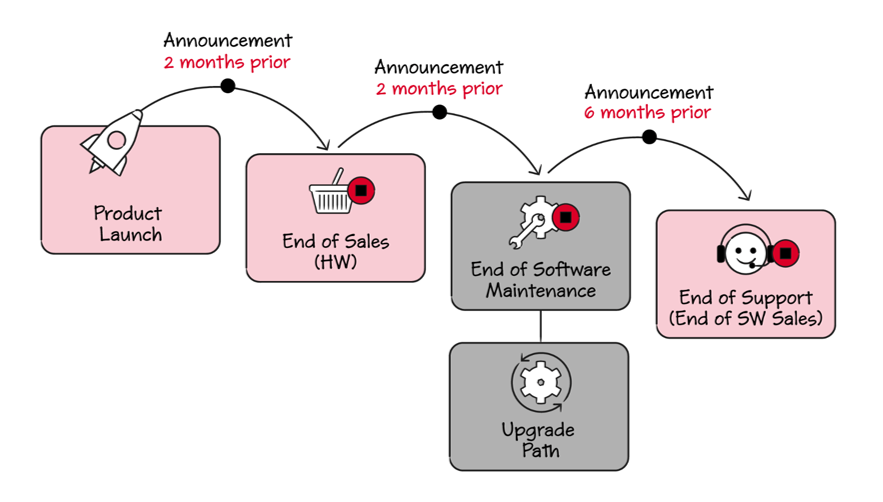 Supporto Software EOL
MyQ fornisce supporto ai clienti MyQ tramite i partner certificati MyQ.
Il supporto per le versioni recenti include:
Supporto operativo: riguardo al funzionamento del prodotto MyQ e all'esecuzione delle azioni desiderate.
Risoluzione dei problemi: suggerimenti su come superare i problemi con il prodotto MyQ.
Manutenzione del software: correzioni di bug, hotfix e patch* per la versione attuale del software.
Quando un prodotto raggiunge la fase di fine della manutenzione del software, MyQ può fornire solo un supporto limitato per il prodotto o la versione del software. Se un cliente incontra dei problemi, è obbligatorio eseguire l'aggiornamento alla versione più recente.
Il supporto per le versioni precedenti include (il Cliente necessita di un'assicurazione SW valida):
Supporto operativo: aiuta il cliente ad aggiornare all'ultima versione supportata.
Risoluzione dei problemi: suggerimenti su come risolvere gli eventuali problemi.
*Si raccomanda ai clienti di mantenere il software MyQ sempre aggiornato all'ultima patch disponibile.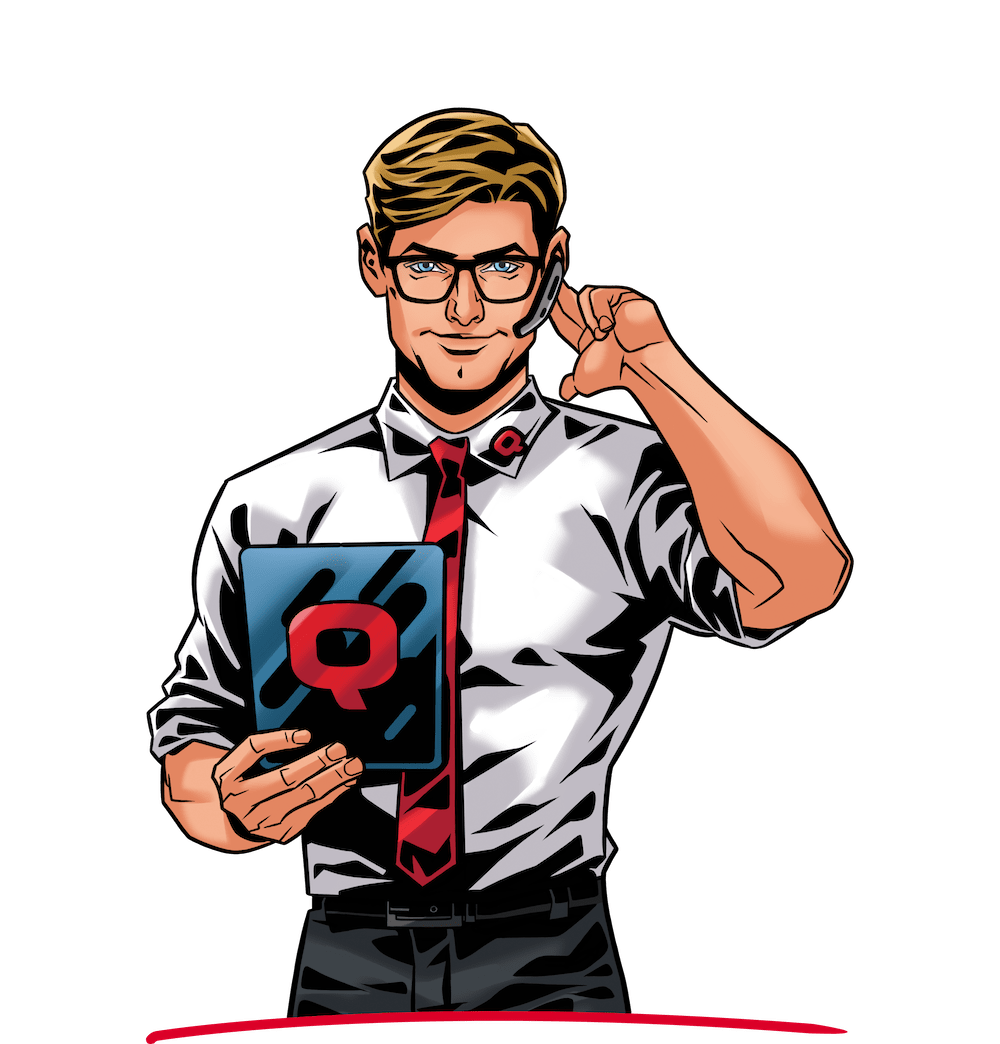 Prodotti MyQ soggetti a EOL
Tabella aggiornata con i prodotti MyQ a cui si applica la Politica EOL sopra descritta.
Currently supported RTM versions
Date
(YYYY/MM/DD)
Product
Version
EOL Date
LTS
Compatible Server Version
2021-01-04
Print Server
8.2
N
Y
-
2021-01-04
Central Server
8.2
N
Y
-
2022-01-30
Print Server
10.1
N
N
-
2022-01-30
Central Server
10.1
N
N
-
2021-06-22
MDC
8.2.2
N
Y
8.2
2022-12-09
MDC
10.0
N
N
8.2, 10.2
2023-07-17
Ricoh Embedded
8.2
N
Y
8.2, 10.2
2022-09-12
Kyocera Embedded
8.2
N
Y
8.2, 10.2
2021-04-09
HP Embedded
8.2
N
Y
8.2, 10.2
2023-03-21
HP Embedded
10.1
N
N
10.2
2022-06-09
Epson Embedded
8.2
N
Y
8.2, 10.2
2022-06-09
Epson Embedded
10.1
N
N
8.2, 10.2
2022-06-01
Xerox Embedded
7.6
N
Y
8.2, 10.2
2021-06-22
Sharp Embedded
8.1
N
N
8.2, 10.2
2021-07-19
Toshiba Embedded
8.2
N
Y
8.2, 10.2
2020-08-26
Lexmark Embedded
8.2
N
N
8.2, 10.2
2022-04-26
Canon Embedded
8.2
N
Y
8.2, 10.2
MyQ Products currently facing EOL
Date
(YYYY/MM/DD)
EOL Announcement
Product
Version
Affected date
Upgrade path
Last Compatible LTS Server
2023-10-02
End of Software Maintenance
HP Pro Embedded
7.5
2023-12-31
N/A
8.2
2023-07-17
End of Software Maintenance
Ricoh Embedded
7.5
2023-09-16
8.2
8.2
2023-03-02
End of Software Maintenance
MyQ Print Server
10.0
2023-05-31
10.1
-
2023-03-02
End of Software Maintenance
MyQ Central Server
10.0
2023-05-31
10.1
-
2023-03-01
End of Software Maintenance
HW Recharge terminal
8.2
2023-05-31
3rd party restAPI compatible HW
8.2
2023-02-01
End of Software Maintenance
Ricoh SDK/J Embedded
6.0
2023-04-30
N/A
8.2
2023-02-01
End of Software Maintenance
OKI Embedded
7.4
2023-04-30
N/A
8.2
2022-09-12
End of Software Maintenance
Kyocera Embedded
8.1
2022-12-12
8.2
8.2
2022-06-03
End of Software Maintenance
Epson Embedded
8.1
2022-03-09
8.2
8.2
2022-02-18
End of Software Maintenance
Kyocera Embedded
7.5
2022-05-18
8.1
8.2
2020-07-21
End of Sales
Terminal Pro w/ display
2021-12-31
N/A
8.2
2021-01-07
End of Software Maintenance
Smart Print Services (SPS)
8.1, 8.2
2021-09-30
Desktop Client 8.2
8.2
2021-01-07
End of Software Maintenance
Smart Job Manager (SJM)
8.1, 8.2
2021-09-30
Desktop Client 8.2
8.2
2021-01-07
End of Software Maintenance
Toshiba Embedded
8.1
2021-09-30
8.2
8.2
2021-01-06
End of Software Maintenance
MyQ Print Server
8.1
2021-08-31
8.2
-
2021-01-05
End of Software Maintenance
MyQ Central Server
8.1
2021-07-31
8.2
-
2021-01-04
End of Software Maintenance
MyQ Print Server
7.x, 8.0
2021-06-30
8.2
-
2021-01-04
End of Software Maintenance
MyQ Central Server
7.x, 8.0
2021-06-30
8.2
-
2021-01-04
End of Software Maintenance
HP Embedded
8.1
2021-06-30
8.2
8.2
2021-01-04
End of Software Maintenance
Smart Print Services (SPS)
7.x, 8.0
2021-06-30
Desktop Client 8.2
8.0
2021-01-04
End of Software Maintenance
Smart Job Manager (SJM)
7.x, 8.0
2021-06-30
Desktop Client 8.2
8.0
2021-01-01
End of Software Maintenance
Samsung Embedded
5.x
2021-03-31
N/A
8.2