Introduction of the MyQ Central Server
24/07/2020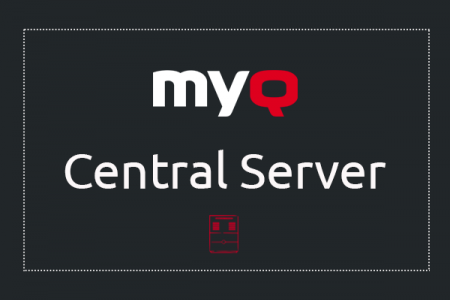 As announced earlier this month, MyQ X is the new environment of MyQ's products, licensing and pricing.
However, it also brings several essential improvements that will place control over MyQ solution into the hands of its partners and customers. The new licensing server delegates managing the purchases of licenses to partners, which makes orders transparent, more fluent and less prone to delays or inaccuracies.
It also neatly organizes past and active projects in one place and centralizes their management in one interface.

Centralization is what motivated the features that are being prepared for the future releases of MyQ Master Server, and for this reason this server has now been renamed from "Master" to "Central". The upcoming major release will introduce central supervision of user rights, credits and quota, and of site server projects. It will also present a more sophisticated database structure, allowing IT administrators to customize their reports to display any counters of print activity they prefer.
Apart from the features listed above, the update to Central Server 8.2 will also signify the readiness of MyQ's architecture to be used for cloud print.
The change of name from "Master server" to "Central Server" takes effect with the release of Central Server 8.1 Patch 4 and Print Server 8.1.

If you want to know more about MyQ X, read our previous article with more details.
04/08/2020
Printer usage monitoring is a staple in IT departments of all bigger companies. The print management software an organization uses should make generating accurate print reports as easy as possible.