Quocirca: Shield Your Remote Printers
11/01/2022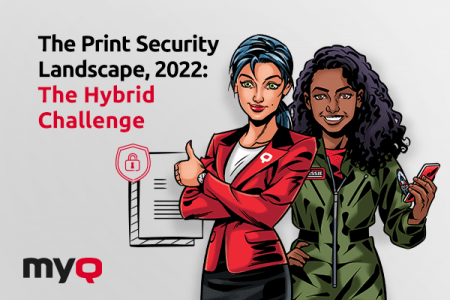 Quocirca's report surveying the print security landscape sends a clear message: home printing can present a threat to companies and needs to be properly secured – and MyQ has what it takes to make that happen.
The trend of hybrid working environments continues going strong, with 44% of employees expected to work remotely this year, even with offices open again. However, remote working on the current scale brings many new security challenges, and companies are not always up to speed in addressing them. One of the key topics is printing in home environments.
To get an overview of the issue, Quocirca asked 531 US/European IT Decision Makers from different industries to offer their perspective. Here are some of the key findings:
More than two thirds of the surveyed organizations lost data due to insufficiently secured printing (especially on home devices), leading to financial and customer losses & business disruption.
In the coming year, IT security will remain one of the top investment priorities.
Regardless rapidly growing digitization, 64% see printing as a critical or very important part of their business in the next 12 months.
57% of respondents are worried about office printers not being secure enough with this number being 10% higher when it comes to home printers.
Organizations that use MPS have greater trust in the protection of their print environment thanks to a higher degree of control.
To prevent leaks of private data and give businesses a sense of security with respect to hybrid document processing, Quiocirca advises, among other things, to use zero trust architecture, to provide remote workers with authorized devices while implementing the BYOO (bring your own office) approach, and to include pull printing in home printing.
There's no need to unplug your home printers and stop processing documents remotely – MyQ has your back. The vendor profile part of the report shows that MyQ is (and has long been) ready to take on this security challenge and provides you with a wide range of protective features. Download the report excerpt and see what the hybrid document processing landscape looks like, and how MyQ helps you keep it safe and sound.
07/12/2020
Printing a financial report, copying a new employee's contract or scanning a medical report – thousands of these actions take place daily without raising any red flag. With an antivirus installed on the computer, there's nothing to be worried about, right?
20/10/2020
When you hear the phrase "security at the workplace," what comes to your mind? A large security guard manning the entrance, security cameras?