Embedded Terminal for New Sharp A4 MFP Models
01/11/2023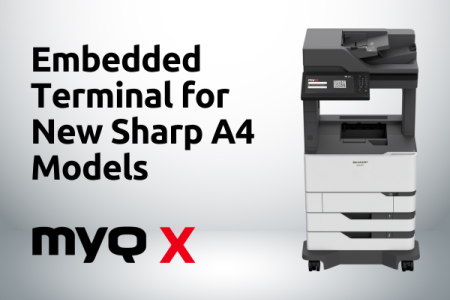 MyQ X adds embedded terminal support for Sharp's newest range of A4 multifunctional printer (MFP) models, optimizing productivity and document management for modern offices.
The New Wave of Smart Printing with Sharp A4 MFPs
As a provider of personalized print management solutions, MyQ is always on the lookout for innovations in the world of printing. We believe in empowering modern offices with the latest in office technology, and when Sharp, a leading provider of business technology products, introduced their newest range of A4 multifunctional printers, we were intrigued.
Sharp's new range of A4 devices stands as a remarkable expansion of their Business Workgroup A4 MFP series, strategically designed to meet the diverse demands of contemporary workplaces. With swift printing capabilities and high-speed duplex scanning, the newest range of Sharp MFPs is poised to enhance office productivity significantly.
MyQ X Embedded Terminal: Elevating Your Sharp A4 MFP Experience
Sharp has been a valuable part of MyQ X's extensive range of supported printer manufacturers for many years, so it was only natural for us to extend our embedded terminal support to the newest range of A4 multifunction printers.
The MyQ X embedded terminal is a powerful tool we've designed to elevate the efficiency, security, and interaction of users with multifunction printers. This includes introducing a unified user interface, secure device authentication, and pull-printing support, among various other features.
Key Features of the MyQ X Embedded Terminal for Sharp A4 MFPs
Our embedded terminal for Sharp MFPs doesn't just simplify print and document management; it enhances it. Here are some standout terminal actions:
Print All: This action efficiently processes all jobs in the print queue.
My Jobs: Users can conveniently manage their ready, favorite, and printed jobs directly from the MFP.
Unlock Panel: Easily unlock the device's panel to access the native device screen.

ID Card Registration: A user-friendly feature that enables quick registration of user ID cards via the card reader.

Screenshot of the MyQ X embedded terminal for the new Sharp A4 MFPs.
Additional Supported Features Include:
Remote Setup:

Automatic device discovery, activation on the MyQ system, and remote deployment of the MyQ X embedded terminal.

Pull-Print:

User-friendly job release at any printing device, enhancing security and flexibility.

Scan to Me:

Enjoy the convenience of automatic document forwarding to a designated folder or email address associated with the scanning user.

Secure Authentication: Devices are locked and access is managed by the MyQ X embedded terminal. Users can log in via several methods, including PIN, username and password, ID cards, and QR codes.

Comprehensive Accounting: Monitor and track user activities, including the number of pages printed.

Tailored Support for Sharp: A Dedicated Package
We understand that innovation sometimes leads to differences between platforms. In the case of the Sharp OSA platform and the platform used by the new A4 MFPs, MyQ has taken measures to ensure seamless integration. To prevent confusion, we have introduced a dedicated embedded terminal package "MyQ Sharp Luna 8.1" as a specialized solution for the new range of Sharp A4 MFPs. This package is meticulously maintained to provide precise support for the new A4 MFP series, and registered partners can download it from the MyQ partner portal.



Screenshot of the download section from the MyQ partner portal.
Certified Devices and Ongoing Support
At MyQ, our dedication doesn't end with product development. We are committed to providing up-to-date support for new printer models. Once a printer model is certified, it's listed as a supported device. For a comprehensive list of certified models, you can always check our "Certified Devices" section on the MyQ community portal. And, if you don't see your device there, don't worry. MyQ partners can easily create a Device Certification request with our support team, ensuring that your devices are compatible and well-supported in an ever-evolving printing landscape.
Sharp Wrap-up
Sharp's newest range of A4 multifunctional printers, coupled with MyQ X's tailored embedded terminal, provide modern offices with the essential tools for enhanced efficiency, productivity, and seamless document management. Elevate your workplace's printing capabilities with this powerful combination.
02/10/2023
MyQ X has optimized its embedded terminal version 8.1 (Patch 10) for Sharp OSA® multifunctional printers (MFPs) to streamline deployment and reduce the IT burden.