Embedded Upgrade of MyQ X
29/01/2023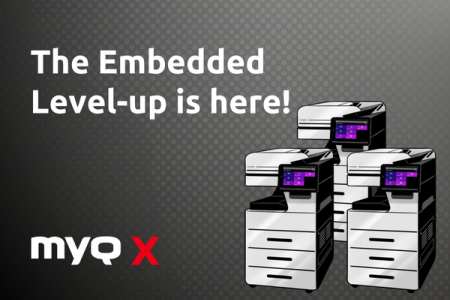 Together with the latest update of MyQ X (ver. 10.1), we also boosted our powerful Embedded Terminal. You can now preview print jobs, scan to and print from various storage locations with browsing access directly from the MFP panel.
See what you're about to print
Confused about which report your manager needs to be printed, Report_231 or Report_321? With MyQ X 10.1's new Print Preview functionality, you can easily view and confirm the contents of each file right on the multifunctional printer screen.

Preview your queued files in one click
Simply preview the document, and zoom in for a closer look. If it's the right one, release it. No more wasting time and paper on incorrect prints.
TIP! You can also preview documents on the go with the latest version of our MyQ X Mobile Client.
Pick your folder before scanning
To give you more flexibility when you're choosing your scan's destination, we've enhanced our Easy Scan function with folder browsing capabilities. This means now you can browse and choose from a variety of networked and popular cloud storage locations directly from the MFP panel. Need to share an important document with your colleagues on the company's OneDrive storage? No problem, simply choose your desired folder, name your file, and save it where it's needed.

Pick your scans' destination on the MFP panel
Fetch a doc from the MFP panel
Recalling one more handout you wanted to print as you stand by the MFP? No need to go back to your laptop hibernating on the desk. Find it right from the MFP panel! Folder browsing is now also available in the new Easy Print feature. Simply select the Easy Print icon on the MFP panel, find the desired document in a cloud or network folder and print it.

Find your to-be-printed files directly at the MFP panel!

The newest MyQ X release makes printing and scanning effortless and it lets you do more at the MFP, saving you precious time. Read more about how we've recently boosted MyQ X in this article.
The latest MyQ X Embedded Terminal (10.1) is optimized for the following printer brands:
Check the compatibility of specific device models on the MyQ Community Portal.
10/03/2023
MyQ X's user-friendly embedded terminal, efficient document workflows, end-to-end security measures, and cost-saving capabilities can now be used in full on Canon MEAP devices.