MyQ X Desktop Client 10.0: It's for both Mac and Windows devices 
08/12/2022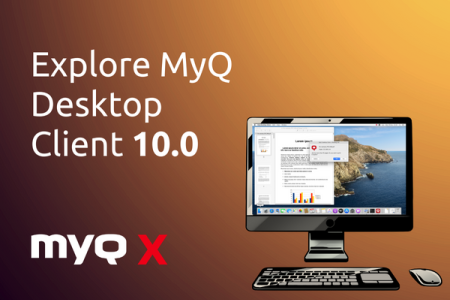 The new MyQ Desktop Client 10.0 is out and comes in two flavors – the first full-flavored variant for MacBooks alongside the updated application for Windows-powered devices.
The desktop is a critical element in print management as this is where we write, work, read, and think – and from where we send documents to the printer. Whether in a traditional office or working remotely from home, we are all sitting down with a workstation of some type – and it's usually running on Windows or the macOS operating systems.
"This is precisely why the new MyQ Desktop Client Version 10.0 is so essential," said MyQ CTO Radek Tetík. "We've erased – at least from the print management perspective – the functional divisions coming from the end users' choice of device or operating system. This new version takes the well-known features and reshapes them so MacBook users – and those with Windows desktops – can fully appreciate them."
Three ways to love the new Desktop Client 10.0
MyQ Desktop Client Version 10.0 brings an array of benefits in three basic areas:
Looks – It provides a full-featured macOS experience for the end user.
Flexibility – Helps end users and managers keep tabs on printer use and costs.
Network finetuning – Provides IT admins with extensive "under the hood" features to reduce system loads and provide fallback printing options.
1. MyQ X Desktop Client 10.0 has the look
Step into a native macOS experience (or stay with Windows)
The MyQ X Desktop Client (MDC) was designed with the macOS native user experience in mind – and the traditional user with Windows. MacBook users will find that its look and feel dovetails with the native macOS ecosystem.
Get that Day and Night mode for macOS
This attention to the MacBook's color scheme detail is especially visible as the MDC automatically switches between the Light and Dark mode. That's in addition to the other macOS themed color schemes, rounded tab edges, and macOS inspired application behavior.
Get easy and secure user identification
Do you have users sharing a single workstation – either a MacBook or Windows machine – and need a means of identifying precisely who is printing what and to secure confidential documents? Typical examples are a university with several hundred students sharing workstations based on class schedules or a hotel with employees working rotating shifts around the clock. In each of these cases, MDC has your needs covered. MDC provides several flexible login options to identify and authenticate multiple users from a single workstation.
Identify user by authentication method. Users have the flexibility to choose between using a PIN, username and password, ID card, or Mac sign on as their authentication method.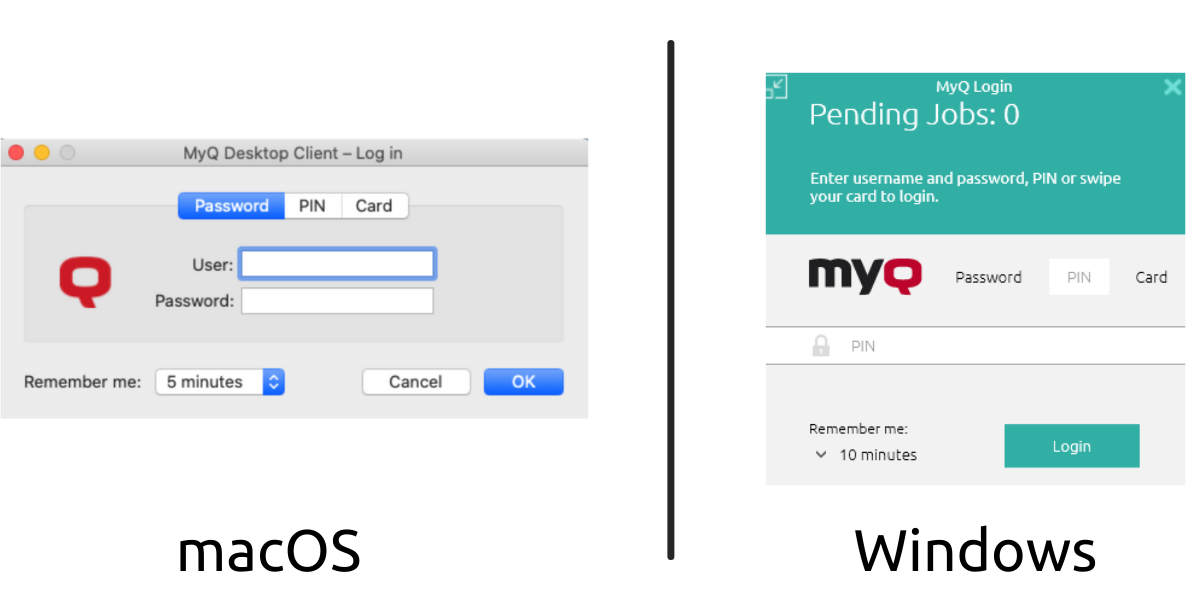 2. More flexibility at managing print jobs – in and out of the office
The user experience has been simplified for MDC when it comes to managing print jobs and easily interacting with a range of accounting methods set up to support an organization's specific needs and requirements. Here are several of the most popular options – with screenshots pulled from both the macOS and the Windows variants:
Accounting Group mode
Supports internal credit, external credit, and combined quotas (personal, shared, or both). With accounting group enabled, print jobs are automatically debited from the user's account.
Cost Center mode
With Cost Center mode, the user is prompted to select a specific cost center to which the print job should be attributed to. This is especially beneficial for organizations where print costs need to be allocated to specific cost centers.
Cost Center, Credit, and Quota overview
Users can get a clear, real-time overview of the Credit, Quota, and Cost Centers available to them directly from the MDC user screen or UI.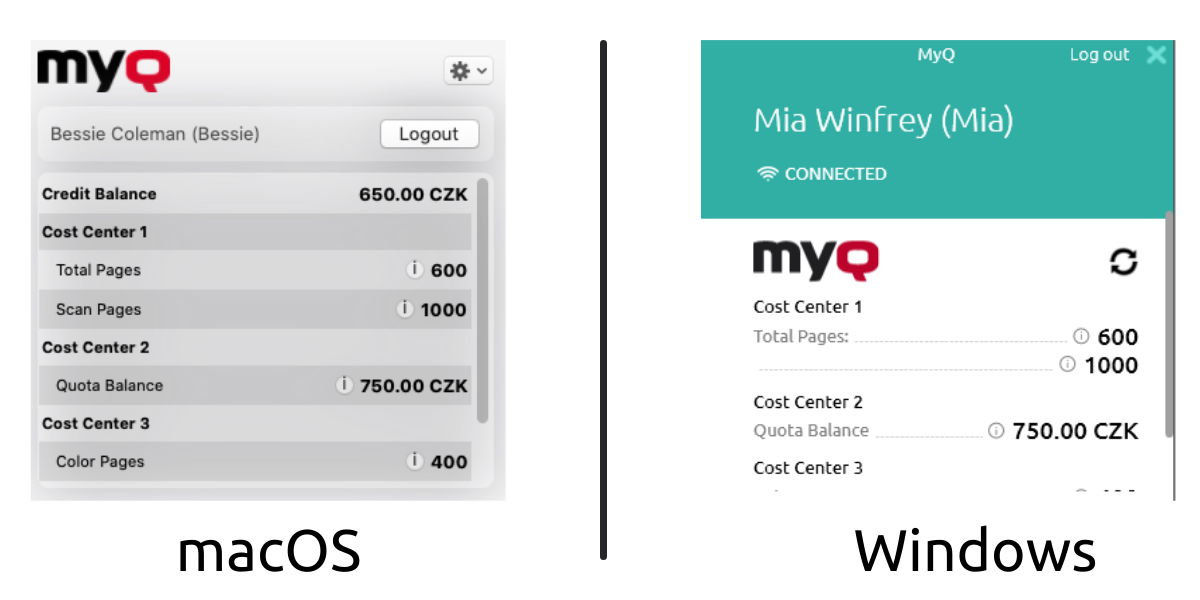 Project accounting
People often work on several projects at once and need to assign print costs to the relevant project. MDC makes this a simplified experience, automatically detecting if a user has been assigned to the project. Before printing a job, MDC will display a list of projects that the user has been assigned access to. The user can then select the individual project which they want the print job to be attributed to.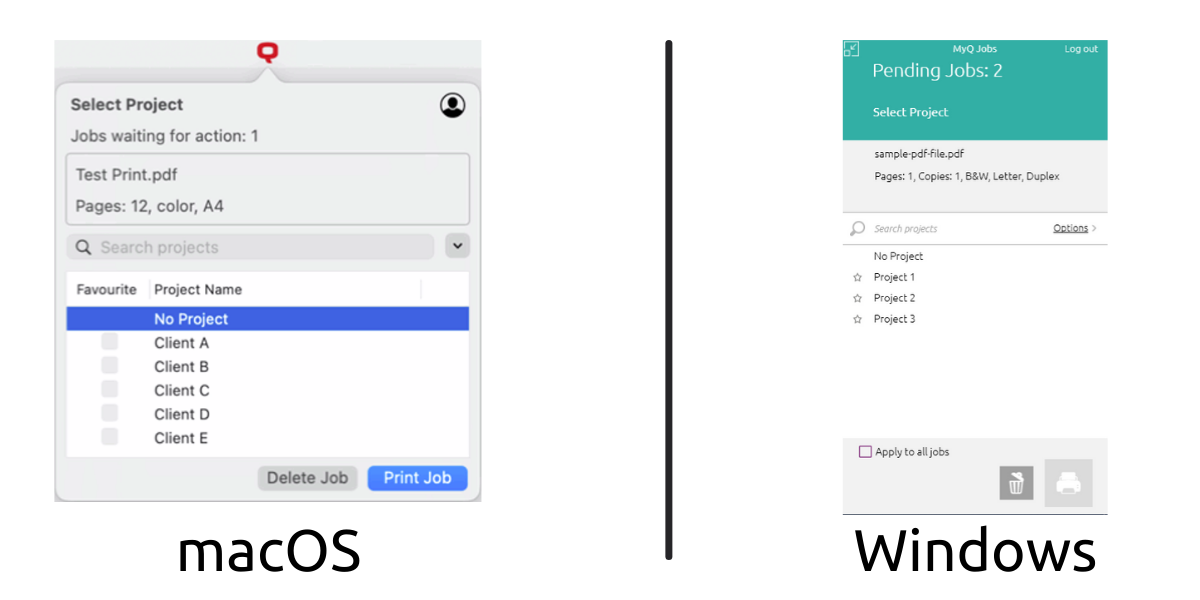 Local print monitoring 
Local print monitoring simplifies the accounting and billing process for hybrid workers – where people work remotely, but still need to add their print activities to the project bill. One example would be a lawyer printing out material for a court case. This function helps to monitor and account for the local printing activity of locally connected devices such as a USB connected desktop printer. 
With local print monitoring, print management user policies, credit, quota, and projects apply to locally attached devices. Printed pages are extracted from the print spooler as they are being processed by the print driver and reported to the MyQ X print server where they are accounted for and linked to the respective user.
Auto server switching for mobile workers 
MDC provides enhanced printer mobility for people, particularly for hybrid workers migrating between multiple sites and printers. The auto server switching feature simplifies the changeover between printers at different locations. MDC will detect the change in the IP address and automatically connects to the respective MyQ X print server in that network. 
Interactive job processing
Communicating and suggesting print options to the end user is easier with interactive job processing – and it doesn't matter if the end user is on a MacBook or a Windows device. This feature enables admins to tell users automatically about important print job properties and give them an easy yes/no option for enabling them. Two common examples of this are suggestions to print in duplex or in black and white. This can be used to promote responsible print behavior by setting up a dialog box that automatically appears when the print job exceeds a given number of pages. The text in the box recommends to users that they print duplex as their print job is over a threshold level.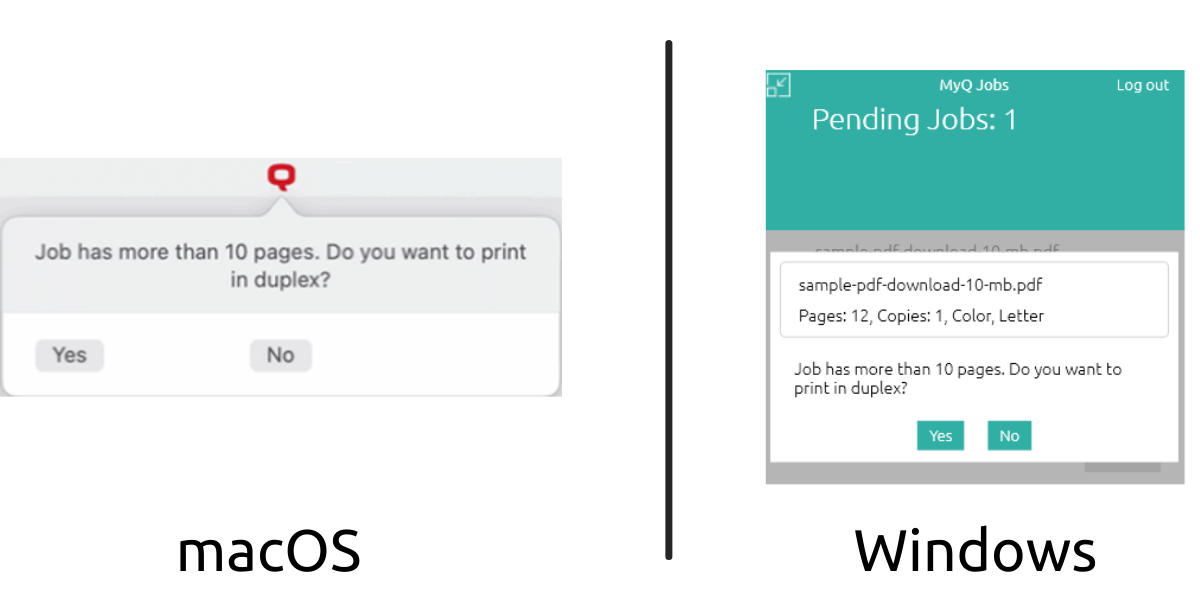 There are three user action options available with this feature:
Dialog box with text content and Yes/No options
Dialog box with text content and Print/No options
Dialog box with text content and Yes/No/Cancel options
3. Finetune printer networks with MyQ X Desktop Client 10.0
Many features in MDC are not readily visible to the end user but are extremely important for the setup and operation of the organization's printer network. These features allow admins to adjust network settings so that the overall printer system works more smoothly, reduce the load on print servers, and slashes the fallout from potential network outages with its robust failover solutions. These features include local job parsing, client spooling, and fallback printing.
Local job parsing
The usual print job has details such as job name, computer, page colors, format, and printer language parsed and saved at the print server level. This is a basic element in enforcing print rules and user quotas – but it can cause a high resource load on the printer server and upset the print management process entirely when a server connection is broken.
This is where local job parsing with MDC comes in, shifting this task to the local – PC or MacBook – client. There are two primary benefits to this change. First, it reduces the resource load on the print server as processing is done by the local client. Second, during offline mode when the connection to the server is temporarily lost, user policies, quota, or credit information are all maintained and accounted for via the MDC client. There is no interruption in either the physical printing or in the management of the process.
Robust fail-over print options
A print server going offline should not result in a work stoppage thanks to MyQ X's Fallback Print option automatically forwarding print jobs to other pre-defined devices when the primary print server is not available.
As a result of this feature, MDC gives IT admins several key benefits. First, they can retrieve details about print jobs and enforce print rules, even when there are connection problems. Second, the MDC not only implements user restrictions automatically in the online mode, it also caches its memory with accounting data and user print policies managed by the server. As a result of this regular status check, it can continue to work with the user's information even when the server connection is not available.
Reduce network and server load with client spooling
With the traditional print server structure, print jobs are routed via a server to the printer. This method of printing can place an additional network and resource load on the server as some print jobs consist of GB (gigabytes) of data. This may potentially lead to bottlenecks within a network, particularly for distant site locations with limited connectivity or installations in a private cloud environment. Another point of consideration is that these print jobs also need to be processed by the job parser on the print server which can result in increased resource utilization. The MDC client spooling feature is designed to solve these use cases.
Once client spooling has been enabled, the network load to the MyQ X Print Server is limited as the user's print jobs are parsed and securely stored on their workstation and only the job metadata – which is a fraction of the full print data – is sent to the print server. Once the user authenticates themself at the MFP (Multifunction Printer) and selects to release the print job, the print job data is sent directly from the workstation to the printer.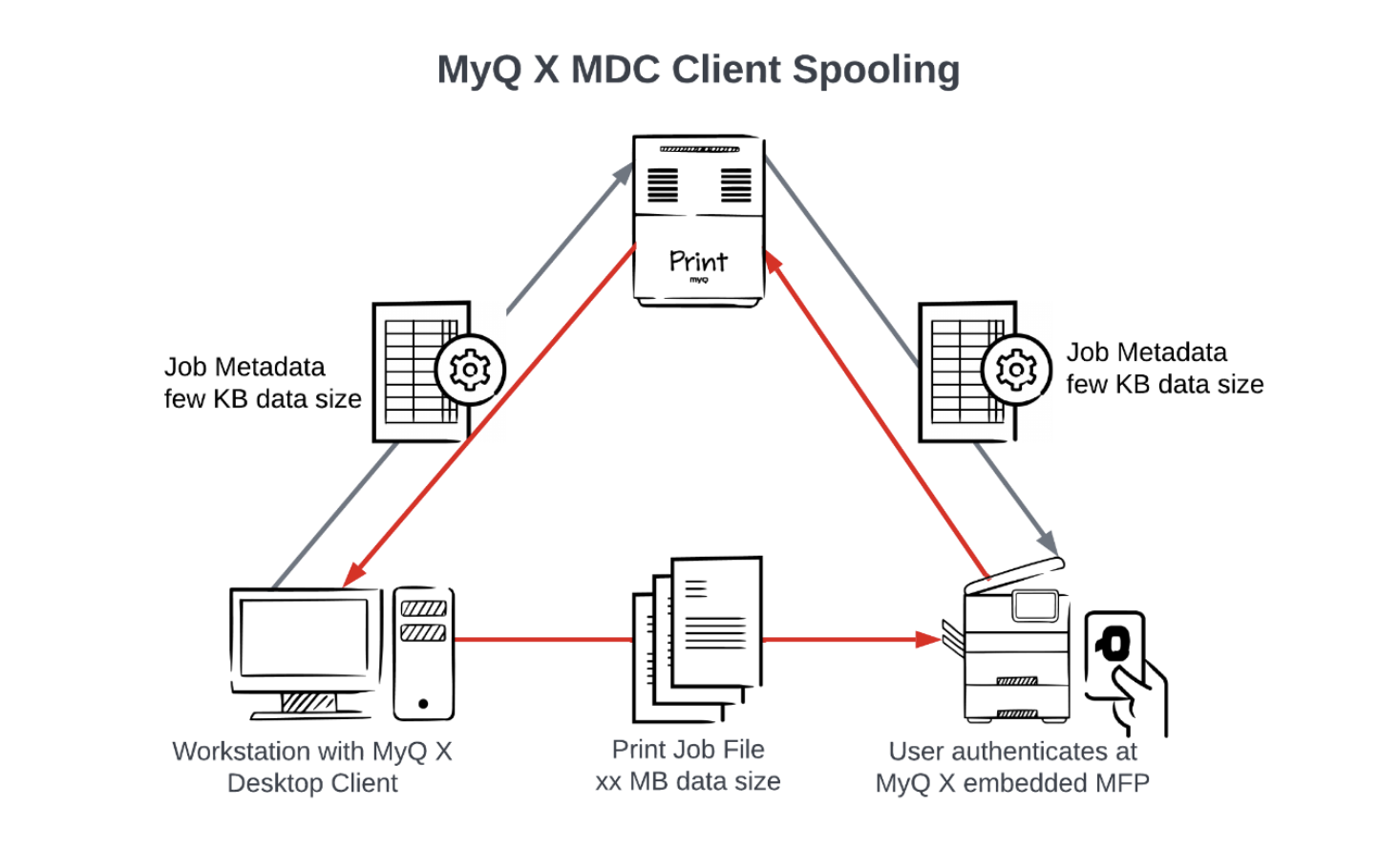 Keep connected despite network issues with fallback printing
Lost the connection to the MyQ X print server? Don't stress. The fallback printing feature in MDC automatically detects when the connection to the print server has been lost and defaults to fallback printing. Users have a choice between the fallback printing device previously defined by their IT admin or can select from a list of previously used printers.
In addition, these fallback printing features insure that print jobs will be automatically accounted for once a connection to the MyQ X server is re-established.
It's free for all MyQ X users
The MyQ Desktop Client is free for all MyQ X users – regardless of whether they are running the free Smart variant, Enterprise, or the more comprehensive Ultimate. It can be downloaded at the MyQ Partner Portal.
Want to learn every detail about the latest MDC? Download the MDC product sheet below and deep dive into MyQ's convenient Desktop Client!
30/01/2023
The new 10.1 upgrade cuts the document confusion with its terminal print preview, adds more Easy functions and enables a Microsoft single sign-on experience. And that's the start…