RICOH multifunction printers
& MyQ X
The perfect fit for flexibility & mobility
MyQ X is all set to run on your RICOH multifunction printers! Our print solution enriches RICOH devices with flexible features for mobile and remote work with documents, airtight security, and unique fallback printing. You'll also get personalized one-click workflows as well as a variety of tools to help you manage your print costs.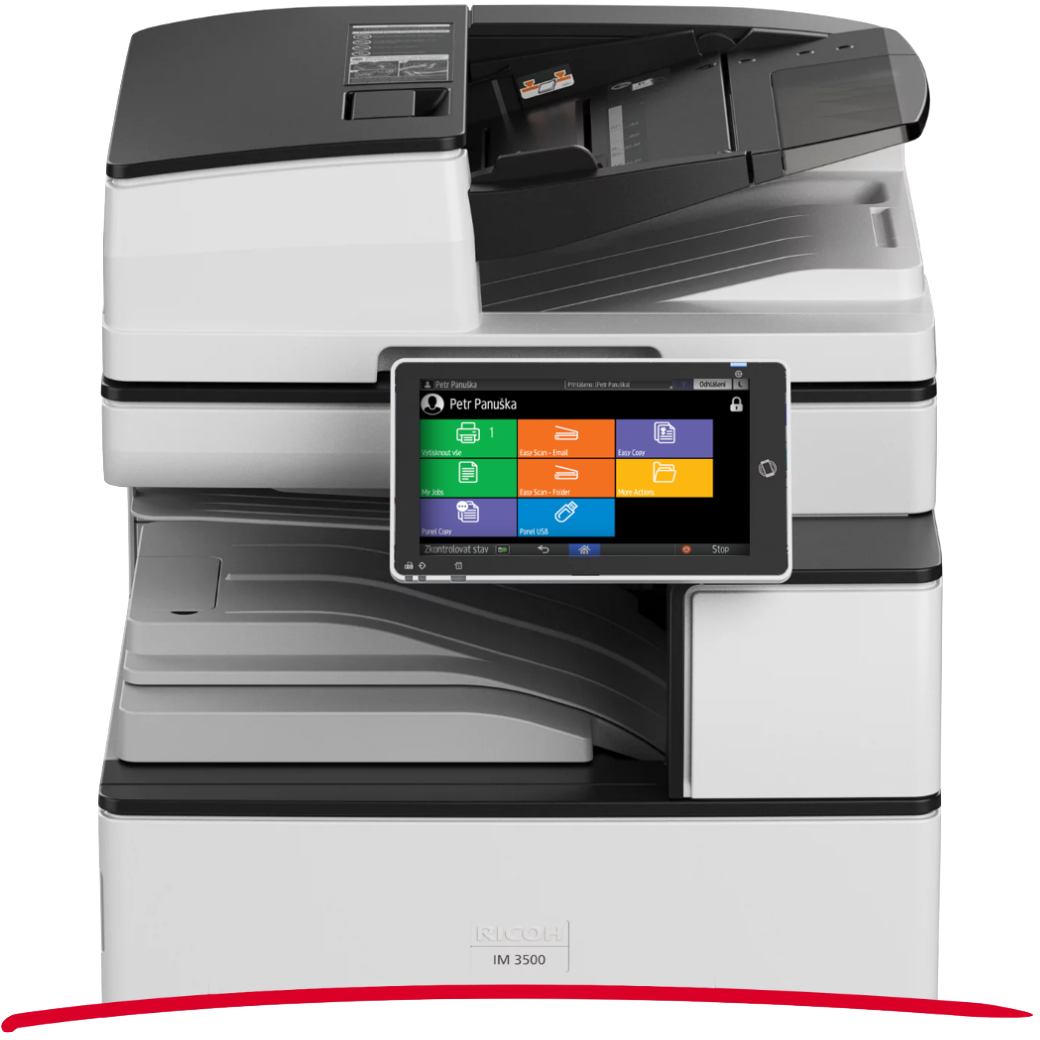 Explore All the MyQ X
Features of RICOH MFPs
Features of Ricoh Terminal 8.2*
INSTALACE & SPRÁVA
Automatické vyhledávání zařízení a vzdálená instalace
Monitoring stavu zařízení
AUTENTIFIKACE
Dvoufaktorové ověření: ID karta/jméno+heslo/PIN
Příhlášení s MyQ X Mobile Client pomocí QR
Registrace ID karty (neznámý uživatel)
ÚČTOVÁNÍ
Print accounting incl. critical failover accounting
Device jobs accounting (Panel jobs)
Accounting on USB devices (MDC)
Účtování na nákladová střediska
ODESÍLÁNÍ ÚLOH
Email/Web upload/Hot folder
AirPrint/Mopria/Mobilní aplikace
Univerzální tisk od Microsoftu
MÉ ÚLOHY
Vytisknout vše po přihlášení
Vybrat úlohu/Vymazat/Oblíbené/Vytištěné
Client Print Spooling (MyQ Desktop Client)
SKENOVÁNÍ
Device Scan to Me (email, složka)
Skenování do emailu/složky/FTP/bezpečného linku/cloudového úložiště
Pokročilé skenování vč. vlastních parametrů, číselníků a metadat
PERSONALIZACE
Easy funkce (Scan, Copy, Fax)
Webové UI WCAG 2.1 úroveň AA
MyQ UI & témáta (barva, ikony)
EXTRA FUNKCE
Přeskočit prázdné stránky (Easy copy a Easy Scan)
* As we are constantly improving our software, please contact your MyQ Certified Partner / Account Manager for latest information about version capability.
It Doesn't End with a Terminal
Together with the Embedded Terminal, MyQ X brings you other convenient tools: