MyQ X: The Next Generation Print Solution
10/07/2020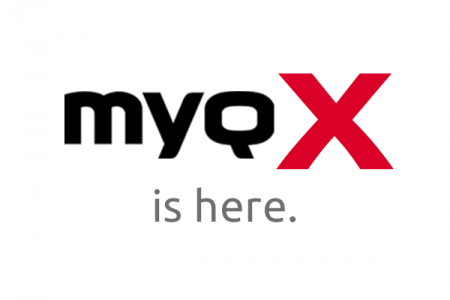 On 7 July 2020, we launched MyQ X, the next generation of MyQ. However, the first elements of this re-vamped environment date back to the beginning of this year, when we released MyQ 8.0 with new core architecture, new user session and the editions Smart, Enterprise and Ultimate.
What is different in MyQ X?
First and foremost, we are handing over control over licenses to MyQ Partners, namely their Sales members. They will now be able to manage licenses and place new orders thanks to the new license server, accessed by Partners from the Partner Portal.
MyQ X also means the adoption of a new, simplified pricelist, which is already integrated into the license server.
Other than that, MyQ X is in line with the 3 new MyQ Editions we introduced at the beginning of this year: MyQ Smart, MyQ Enterprise and MyQ Ultimate.
Availability of MyQ X
MyQ X is available after an update to the MyQ Print Server 8.0 (patch 4 onwards) and Central Server 8.1 (patch 2 onwards). The installation files are available to Partners upon signing in to the Partner Portal.

Advanced Reporting Tools
Starting with Central 8.1 patch 1, MyQ offers customers the option to use external BI tools for generating their own reports. Predefined Power BI templates can be used or any custom report or analytics within can be created from scratch directly by partners or customers, thanks to the detailed description of MyQ's DB model and elements.

Organizations that want a detailed overview of their print fleet's expenses and want to analyze print, copy or scan jobs on a more granular level, can now use a wide variety of graphs or dashboards offered by 3rd party business intelligence software, e.g. the popular Microsoft Power BI.

To give an example, any financial department can now easily map their MyQ database to the rest of their organization's reporting system. This is a big step for MyQ, because it adds MyQ Advanced Reporting to the series of revolutionary changes, now collectively labelled "MyQ X".

Starting today, Partners will see continuous changes and improvements on the MyQ Partner Portal, which will be duly communicated through Announcements.



04/08/2020
Printer usage monitoring is a staple in IT departments of all bigger companies. The print management software an organization uses should make generating accurate print reports as easy as possible.