MyQ Integrates TouchNet uPay as New Payment Provider
15/04/2020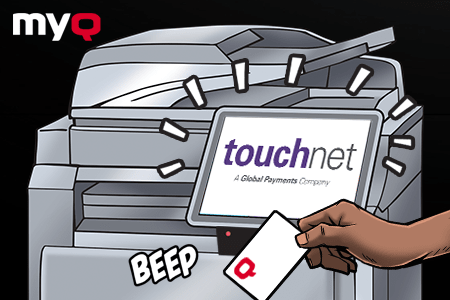 Along with the previously supported gateways of PayPal, GP WebPay and SnapScan, credit users of MyQ Solution can now manage their account balance using TouchNet uPay.
Prague, Czech Republic – April 15, 2020
MyQ has integrated a popular payment provider to make another step towards the ever-growing base of customers who have a credit system in place to account for users' printing, scanning and copying activities.
TouchNet uPay is widely used across the U.S., as well as the Middle Eastern and African regions, and customers who are looking to benefit are mainly high schools, colleges, universities, and public libraries.
The integration is a virtue of the last update of MyQ Master Server to verson 8.1, released on 3 April 2020. Previous versions already managed user credit centrally, which meant users didn't need to top up separate balance accounts at each campus or library branch. However, not all payment methods were supported by the MyQ Master Server. The new update has fixed this discrepancy and all payment gates, including TouchNet uPay, now enable customers to directly recharge their credit using their payment card or digital wallet.
Revolution

in

MyQ's

Core

Architecture
Recent updates of MyQ software have also introduced a significant change in its core architecture. It has moved to job-based accounting and established support for multi-level projects. This means system admins can now set up tree structures of their company's projects up to 5 levels deep, and users can then assign any job they are authenticating to the right project. In turn, print servers can provide clearer and more thorough reports – by project, by department, by user, or by device – detailing how resources are being used and how printing policies might be re-thought to optimize an organization's costs.
If you are a member of MyQ Community, read more about the improvements of Master 8.1 in this Change Log.
04/08/2020
Printer usage monitoring is a staple in IT departments of all bigger companies. The print management software an organization uses should make generating accurate print reports as easy as possible.