PRINT 2025 – Digital transformation of the printing industry
26/10/2020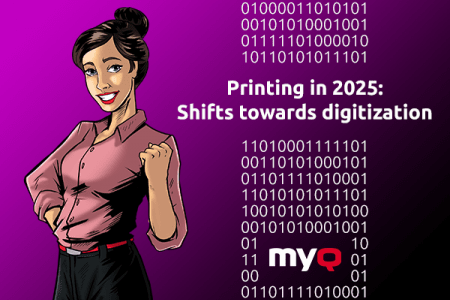 "Progress cannot be stopped" – a saying that is twice as valid when it comes to new technologies and modern workplaces.
And printing – as a tool that is relevant to both of these categories – is no exception. The constant push towards digitization and smart technologies challenges the whole printing industry to come up with new products and features to satisfy the digital demand. To make the future of printing a little clearer, Quocirca created the Global Print 2025 report to sketch out the most important changes ahead.
For a better insight into the printing sector, Quocirca conducted two surveys, one with 55 senior industry executives and a second with 575 small and medium businesses and enterprise organizations from the US and Europe. The report, together with a free executive summary, can be found here. Let us take a closer look at the essential expectations of the industry and how MyQ Solution steps up to meet them.
Printing

remote

ly
The labor market is experiencing a great change when it comes to workplaces, as more and more employees are working remotely, and the number is expected to cross the 50% mark by 2025. With MyQ software, the users can manage their printing jobs from their homes or on the go, send all their printing tasks to the server and pick them up once they are in the office. It is even possible to do without a VPN connection, when MyQ is installed in the Microsoft 365 cloud and connected to Universal Print.
Security

as

a top

priority
For 84% of respondents, security was a number one priority, showing how crucial it is for the companies to protect the printing environment. Secure printing is a real non-negotiable component for MyQ. The most advanced edition MyQ Ultimate offers a variety of unique security features, such as PDF password protection, digital signatures with time stamps that allow to track the origin of the document, or zonal redaction, which helps to hide sensitive data.
Cloud solutions gaining popularity
As a close second to security, 66% of respondents stated cloud computing to be another important priority. This corresponds with the ever-rising number of companies that use the cloud services in everyday business. One big step MyQ took towards the cloud challenge was the implementation into Microsoft Azure, thanks to which MyQ can be run directly from the cloud without being installed on the customer's hardware. In addition, MyQ has recently developed a connector to Microsoft Universal Print, adding even more flexibility to cloud printing. Users can also connect to the cloud from their MFPs, as MyQ offers the possibility to scan directly to a wide range of cloud storages.
Mobile printing

to boot
Over 50% of end-user organizations expect the rise of printing from mobile devices – a 60% increase is expected in the finance sector and 57% in larger companies, respectively. In line with the growing role of smart devices, MyQ offers a user-friendly app that takes mobile printing to a professional level. It gives the users the freedom to manage MyQ printing tasks according to their needs from anywhere. Via the MyQ Mobile App, smartphones or tablets can also be used for contactless authentication at the printing device.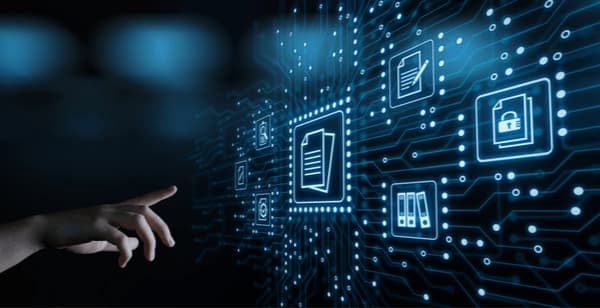 Digitiz

e

to grow even faster
The importance of printing in companies' every day's busines should drop from the nowadays 78% to 64% in five years. This shows paper printing is not likely to completely disappear, however, due to the new tools that help with document processing, printing volumes will presumably decline by 2025. For example, only 36% (compared to the current 61%) companies expect to keep printing their invoices. A significant rise (from 15% in 2017 to 52% now) can be observed in the number of companies that suggest digitization to be vital in the 5-year horizon as well.
Physical documents

on decline
These numbers correspond to the speedy transition from the "physical" to the "digital" in many different areas. Thanks to MyQ Ultimate, digitization workflows get much smoother and more efficient. With advanced OCR, forms, invoices and other standardized documents get digitized and stored in ECMs or accounting systems automatically. MyQ Ultimate can also identify the scanned document's type and save it as the corresponding file in a predefined folder, making it ready for use at the computer.
Steady outlooks with

My

Q
As far as the future of printing goes, the above-mentioned examples show a common trend for the upcoming five years of the printing industry – a shift towards greater efficiency and digitization. MyQ constantly works on making its product more time- and cost-effective, and always responds to the newest trends and demands from both users and the printing industry. Whatever the era of digital transformation brings, MyQ will be there to give its customers the best service possible.
20/10/2020
Lorsque vous entendez l'expression "sécurité sur le lieu de travail", qu'est-ce qui vous vient à l'esprit ? Un grand agent de sécurité à l'entrée, des caméras de sécurité ?
MyQ Tips
8 min de lecture
30/09/2020
Alors que de plus en plus d'entreprises déplacent leur infrastructure dans des environnements cloud pour plus de flexibilité, d'évolutivité et de réduction des coûts, les fournisseurs de logiciels suivent le pas pour rendre leurs services pertinents dans cette nouvelle ère. Et MyQ prend le pas.
MyQ Roger
7 min de lecture