Announcing MyQ Central Server 8.2
19/07/2021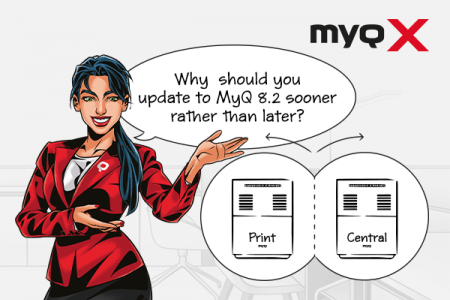 If you've been holding out on the update to MyQ 8.2 so far, now might be a good time to hop on the train. Read on to see what benefits you get from upgrading to MyQ Central server 8.2.
Earlier this year, MyQ introduced Print server 8.2 along with major game changers like certified web accessibility or a re-imagined MyQ X Mobile Client for unprecedented printing flexibility. MyQ Central server 8.2 brings along improvements that are more subtle, but no less essential for an optimal functioning of MyQ installed in a central-site setting.
Support of the old type of the central server has been discontinued
The only supported option for new installations of MyQ 8.2 is now the "new" Central server (new CS), which has been available alongside the "old" Central server (old CS) for quite some time now, giving the MyQ system admin an option to select which will be used. Now the new CS is the only option for both a clean installation of MyQ and for upgrading from older versions.
In case a customer has the old CS in place, an upgrade to the new one will be a necessity with version 8.2, and, at the same time, the customer's installed software needs to be at least v8.1. However, the installation process has been adjusted to accommodate the old CS's database, upgrade it and – most importantly – make it usable for the customer.
Previous versions of the old CS will not be compatible with MyQ 8.2 LTS and future releases, so MyQ strongly recommends migrating to the new Central server 8.2.
Perhaps you prefer getting information in video form. If you're a Product or Sales person, this video explains the differences between the old and the new Central server. And if you're a Technical role looking for practical pointers, we recommend watching this video about the multi-server installation update.
Migration tool to help transit to the new Central server
The new Central Server now comes with a new tool which makes it possible to upgrade the database of an old CS to work with the new CS. However, please note that only updates to Firebird SQL-based databases are supported (not MyQ SQL).
For detailed steps, please refer to documentation online:

Separate installers for Print and Central servers in 8.2 LTS
In versions prior to MyQ 8.2 LTS, it was possible to switch between a Stand-alone, Site and Central server (old CS) from a single installer package. This option is no longer available, starting with MyQ version 8.2.
To streamline the development lifecycle of MyQ's Print and Central Servers and communicate them more clearly to the customers, both of these products now have separate installers. This allows MyQ to deliver new features and maintenance patches for Print Server and Central Server more effectively and frequently.


Other notable highlights of the new CS:
External Payment providers support
BI tools support
Google Workspace (former G-Suite) authentication support
SQL DB support
Job Privacy
Optimized stability, security, and more
15/04/2021
As part of the development of MyQ X 8.2, MyQ's web interface for both users and IT admins was significantly improved to meet the complex standards of Web Content Accessibility guidelines.