MyQ's Contactless Mobile Printing is the Future
11/01/2021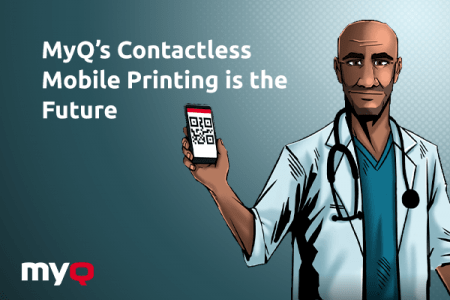 As a secure, fast and flexible way of processing print jobs, mobile printing is gaining popularity every day. What's more, it offers a completely touchless printing and scanning experience.
Contactless printing remains an important safety feature, and although mobile print goes hand in hand with this preferred method of printing, the use of smart devices with MFPs should not be forgotten even after the pandemic is over. It should rather be explored for its capacity to be a versatile swiss army knife of digital tools.
Be smart with your device
Mobile printing or BYOD printing (which stands for "bring your own device") is gaining in popularity among employees, because this time-saving printing option is in their pocket waiting to be used. With the MyQ app installed on your smartphone, managing your printing tasks without touching anything else than your own device is a real breeze.
The main protagonist is a QR code displayed on the printer's control panel or placed as a sticker in plain view, which is used to unlock the printer for the user. After scanning the code with the smartphone's camera, the MFP is connected to the user's account and it basically becomes a private direct printing queue, ready to release documents previously sent from the PC or print jobs sent on the spot from the app.
Pocket document processing
So, let's say you receive an important e-mail on your way from lunch break. It contains an attachment you need to get in paper form. You can skip the whole hassle of sitting down, logging in to your PC and printing from your e-mail client – just stop by the printer in the hallway and be done with it right away. You're holding your phone because you're checking the time anyway, right? Plus, you can use MyQ's app to print from history, if a colleague asks you for one extra copy. You can also pick up queued documents, using your smartphone as a log-in tool for MyQ's Pull Print. On top of that, these MyQ contactless features won't weigh down your budget, as both MyQ X Smart Edition and the MyQ Mobile Printing app can be downloaded for free. And there is still more to come!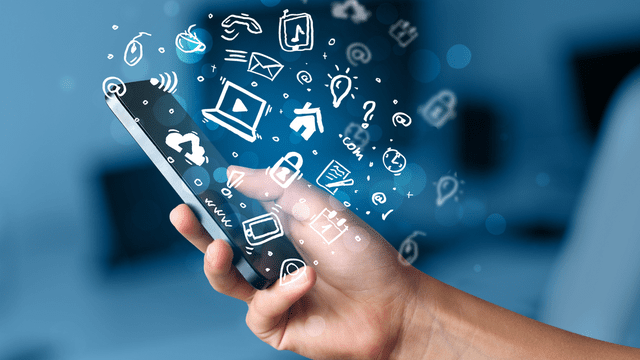 Touch-less mobile outlooks
MyQ was one of the first MPSs that provided its customers with a mobile printing app in 2015. The app has been recently extended for Chromebook compatibility to step in for the terminated Google Cloud Print service, and for 2021 MyQ is preparing a complete mobile app redesign.
It would really be an opportunity missed not to make the most of the fact that with today's smartphone models, we have a real mini-computer in our pockets. We use it to manage our every-day digital tasks anyway (answering e-mails, checking social media, ordering groceries, looking at memes), so why not make it a universal printing tool as well? We say let's do exactly that. You shouldn't need to run back to your computer when you want to print out that certificate of excellence of yours one more time. Everything you need is already in your hand.
17/09/2020
We've all been there – first we wait in a long supermarket queue and when it's finally our turn, we spend ages searching our wallet or pockets for the right coins to hand over to the cashier.
20/03/2020
Although the pandemic has brought people together in more than one way and united entire nations against a common enemy, the main precautionary measure is isolation, steering clear of public places, and avoiding any type of contact with objects that other hands may have touched. If you are one of the people still working in the office, a multifunction printer may be one of these objects.