The Face of Digitization
at Today's Companies
22/03/2022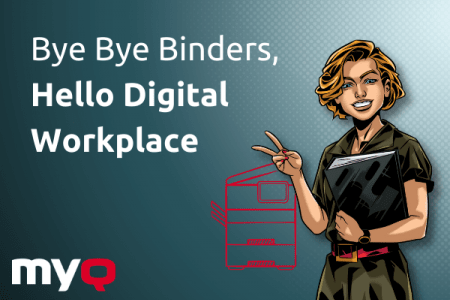 Virtually everyone who has any experience with office work has at some point been faced with the disagreeable task of manually extracting data from paper to electronic form.
It means seemingly endless copying of addresses, amounts, and contacts to an Excel spreadsheet, entering hundreds of digits into various accounting systems, and so on. If you've been through this, you know what we're talking about. When it concerns just a handful of documents, you can look at it as a bit of stretching exercise for your fingers. But as the stacks of papers to be processed grow, not only does the carpal load increase proportionally, but so does the tedium of demotivating, monotonous work for employees, giving more room for error and depriving them of time that they could spend more meaningfully.
Off Paper and Into the System
A good example of an information-packed document is an invoice. Almost all companies need to get invoices into some kind of internal system, making transcription of data to digital form an obvious requirement. The same would apply, for example, to contracts, where the content needs to be further worked with, whether it's at a commercial company or in a bank. Of course, most of these documents are scanned, but simply scanning a physical document and creating an electronic copy of it is certainly not the end of the matter when it comes to modern digitization.
Several years ago, optical character recognition (OCR) technology came to the aid of manual transcription, allowing the extraction of textual information from a scanned document and its conversion into editable form. So now, the accountant takes the invoice out of the envelope, scans it, the OCR "crunches" the information on the paper into DOCX or PDF format, and then it is possible to continue working with it in the computer. Though accountants' fingers may breathe a small sigh of relief at this, many clicks and manual operations still await them.
Digitization With All the Amenities
Processing physical data into electronic form can be performed with even greater elegance. MyQ's main mission is to help its users focus on what they do best, which is why it provides them with modern digitization and automation when it comes to working with documents. With the most advanced version of Ultimate from the MyQ X family, all an employee has to do is simply press a single button on the printer panel and the data from the paper document ends up exactly where it should – whether the target is cloud storage or an ECM/DMS system.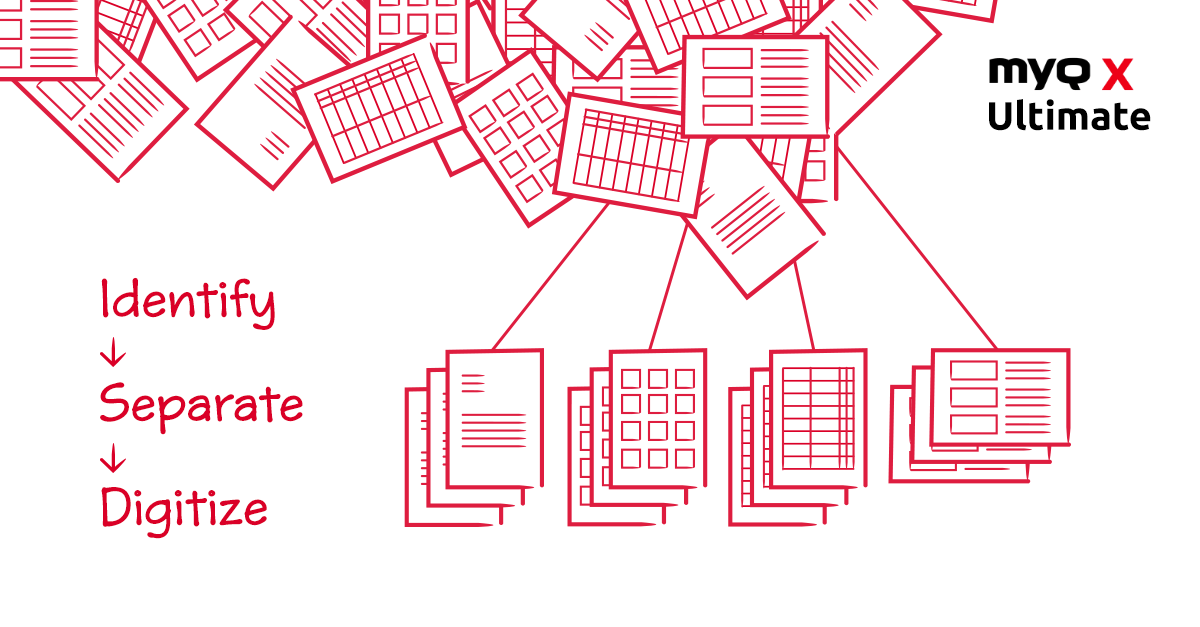 MyQ X will scan the document, pass it through an advanced OCR, and will then send the extracted data directly to the relevant fields, such as in a database or table. The system is able to recognize zones that must be scanned and converted – going well beyond just the text – recognizing stamps, signatures, check fields, barcodes and even QR Codes. This MyQ X Ultimate functionality in processing invoices, as well as forms, letters and other standardized documents, will be appreciated by government agencies, banks and all types of service desks.
The icing on the digital cake is that the software can recognize what type of document it is, so the employee does not have to sort anything. He or she simply places all documents in the feeder and MyQ transports them safely to the target virtual destination by itself. This is true digitization of documents for the 21st century.
From Binder to Icon
With the ever-faster shift to the digital space, the standard trappings of every traditional office are also disappearing – giant cupboards filled with folders and binders. These cardboard guardians of contracts, invoices and letters are slowly but surely taking the form of virtual folder covers. Paper materials such as receipts or travel expense forms no longer have to fill plastic binder pockets; they can just be uploaded to virtual folders in electronic storage. Here, employees can store them themselves and make them available to other colleagues.
There is, of course, nothing new about file sharing on the local network. However, even this needs to be revitalized and adapted to the new, so-called hybrid workplaces, where employees work alternatingly in the office and remotely. Remote access and VPNs with fluctuating levels of reliability or high operating costs are unlikely to be the ideal solution. As a result, cloud technologies are gaining ground, enabling reliable access to corporate data wherever an Internet connection is available. All you have to do is log in securely to the cloud service, and seamless collaboration with colleagues is a go, even if they are 300 km away.
Print/Scan Conveniently from Your Phone
The changes in how we work have also affected the processing of documents, which until now depended on the physical presence of a copier in the office, something that can be an obstacle for people working from home. Here, too, the cloud can offer flexibility and convenience. It makes it possible to literally put the entire office in your pocket and manage documents from anywhere, directly from a mobile phone – whether it's scanning or preparing documents for printing. The MyQ Roger mobile application gives you the option to handle your scanning and printing needs conveniently from your phone.
For example, you can scan an order or delivery note that you just signed at a meeting with a partner directly with the camera on your mobile phone and send it to a shared folder on the company's OneDrive, from where it can be taken over by logistics and other departments. Or maybe there are documents from your superior that you need to sign stacking up at the home office. You don't have to note them down anywhere – in the MyQ Roger application, you can immediately find them in the work cloud and send them to the print queue from the comfort of your living room. When you arrive at the office, you log in to a printer running MyQ Roger with your mobile phone and safely release the documents from the queue. When you want to keep working with the printer, you simply tell it what it can do for you from your phone.
As a proper Smart Digital Workplace Assistant, MyQ Roger works entirely in the public cloud, so you have it on hand everywhere you go. Moreover, it is an open platform that is constantly expanding, implementing new tools and giving its users more and more space to move to the digital environment.
MyQ makes true digitization and management of documents a matter of a few clicks. At the office, MyQ X Ultimate will take care of precise digitization and automatic sorting of data into the right system drawers, and if you want to give a new dimension to cloud cooperation with colleagues MyQ Roger is here for your phone.
20/10/2021
In recent years, a service that no user of modern working tools can do without today – cloud technology – has been confidently making its way through the IT sector.