Kyocera multifunctionals
& MyQ X 8.2
Powerful combo for print productivity
MyQ X 8.2 is ready to deploy on your Kyocera multifunction devices. Our print management solution supports Kyocera's thrive for advanced automated document workflows, high security standards as well as sustainable printing. It also adds intuitive UI and unique fallback printing based on print devices.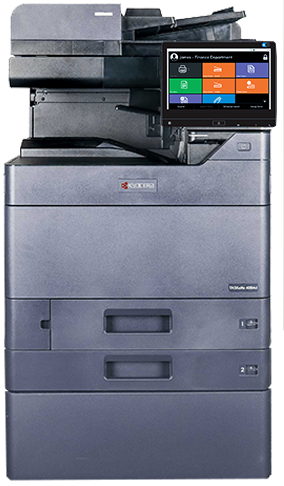 Get MyQ X on Kyocera in a Swift
Quick installation   
The installation of MyQ X on your Kyocera printers will only take minutes. The print solution automatically finds the device connected to your network, activates and configures it, and installs the MyQ X Embedded Terminal all on its own. You will not have to install any Kyocera printer drivers manually. Plus, you can control the entire installation process from one central location in the admin dashboard.
Print When the Connection Crashes
Device Spooling
Get a unique failover option that allows users to print even if the server is down. If you have MyQ X's Device Spooling enabled, print jobs sent to a print queue during the outage stay stored (encrypted) in the memory of the MFP. There, they are ready to be printed after authentication. When used together with the Offline login feature, the Kyocera print device automatically caches user credentials to be able to log in. Full statistics remain stored on the device's HDD/SSD and replicated to the server when it comes back online.
Navigate Your Fleet with Ease
Printer Management & Monitoring
You can always see the state of the local print you manage. No more surprises or stacks of IT tickets. The MyQ admin dashboard provides you a stress-free overview of every network printer – even in remote locations. You can turn on automatic notifications that let you know about printer issues (device errors, missing consumables…) which you can solve immediately. The admin dashboard also allows you to manage a wide range of settings – all this in a user-friendly and intuitive interface. With this centralized approach, you lower the time spent managing your printer fleet to a minimum.
Set up Productive Processes
Power workflows
Define personalized scan and copy workflows that answer specific users/user group needs. This way, your colleagues always find only the functions they need on their Kyocera printer panel. For example, if the CEO's assistant often scans important documents, create a one-click scanning workflow that sends the scans directly to his folder. Or set up a straightforward copy button to make life easier for your HR. Reduce the time your team spends in front of an MFP and help them stay productive.
Manage Users' Print Behavior
Printing policy
Comply with your company's spending and environmental policy with a set of printing policies. Allow users to use Kyocera printers the way you want them to. To reduce paper waste, set up mandatory two-sided printing and pull print for users to stop leaving prints in the paper tray. You can also save toner if you turn on default black and white printing (you can make an exception, e.g., for the management) or the Toner saving mode.
Control Print Spendings
Advanced Accounting & Reporting
MyQ X accounts for every page that gets processed with your Kyocera multifunction printer. Your organization's print costs will no longer be a mystery, but precisely calculated figure. To help you manage print spending across the company, MyQ X allows for Cost Center accounting. Every time users print, they can select a specific cost center (e.g., a department) where the print job will be accounted for. Then, after a set period, you can generate a print report with a detailed overview of your print spending. Our print management solution is highly compatible with various BI tools, so you can adjust the reports to your concrete needs.
Explore all the MyQ X
Features at Kyocera Printers
Features of Kyocera Terminal 8.2.0 *
Deployment & Administration
Automated printer discovery and remote installation
Authentication
ID card / user name & password / PIN with two-factor login
QR code login with MyQ X Mobile Client
ID card registration (unknown user)
Accounting
Print accounting incl. critical fallover accounting
Device jobs accounting (Panel jobs)
Accounting on USB devices (MDC)
Credit & quota accounting
Job Submission
Email / Web upload / Host folder
AirPrint / Mopria / Mobile app
Universal Print by Microsoft
My Jobs
Job select / Delete / Favourite / Printed
Client Print Spooling (MyQ Desktop Client)
Scanning
Device Scan to Me (email, folder)
Scan to email / Folder / FTP / Secure link / Cloud storage
Advaced scanning incl. custom paramteres, Codebooks and metadata
Advanced workflows & document processing (SV)
Personalization
Easy functions (Scan, Copy, Fax)
MyQ UI & themes (color, icons)
Extra Features
Anonymous Scan, Copy, Fax
Skip blank pages (Easy copy and Easy Scan)
* As we are constantly improving our software, please contact your MyQ Certified Partner / Account Manager for latest information about version capability.