6 Reasons Why MPS Providers Should Get Curious About the True-cloud Platform MyQ Roger
04/08/2021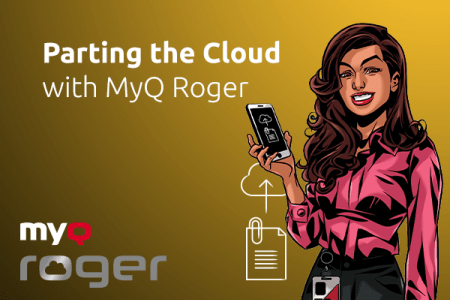 Accepting new document-managing software in their portfolio has gotten trickier for MPS providers, ever since customers have started looking towards the cloud and hybrid workplace settings, but also 100% reliable security. Read MyQ UK's take on why MyQ Roger is a safe answer to the situation.
Ask anyone about the "cloud", and you will rarely hear the same answer twice. For software providers to enter this arena, risks must be taken, and I'm sure it was similar in the days of VHS/Betamax.

One thing that was clear to us in MyQ was we would need to start with a blank sheet of paper and build from the ground up. To do this during a global pandemic, when the form and infrastructure of the traditional workplace is being turned on its head, presented quite the task.
1. It's a true-cloud platform for document handling
So, what did MPS providers need to add in order to offer "cloud" in their portfolios? The multiple award winning MyQ X solution covers the transition from on-premise hardware to hybrid or private-cloud based installations. With such a comprehensive feature set, we could add little.

Instead, we sought to use the power of the public cloud and really set both the user and the infrastructure free. By basing our solution in the Microsoft Azure public cloud, we are able to give both the MPS reseller and the end user confidence that resilience and security are state-of-the-art.
2. Cloud printing and scanning are fully mobile
Now that we have our platform, we can consider our users' needs. The public cloud allows us to offer the same benefits on their mobile devices as they would see from their desktops. With the "new normal" landscape literally changing around us, we started to hear feedback from our partners around customers looking to reduce their device fleets or a reluctance to enter new contracts due to uncertainty.

We sought to evolve MyQ Roger as a Digital Workplace Assistant that would retain some of the key benefits of the traditional MPS solution, but without the shackles that simply would not fit predominantly working from home or working in a distributed workplace, where infrastructure may not be organisation-owned.

This was the gamble. Introducing it in December 2020, we chose to make MyQ Roger "Mobile First" and utilise the power of the smartphones that we all carry, allowing everyone the freedom to work "anywhere, anytime". The recent introduction of Microsoft Universal Print was another key factor allowing universal print mobility.
3. Users set up their own scanning workflows
Scanning is user-centric. What, it doesn't require an actual scanner? That's right. Users simply take a picture with a mobile phone and the document can be sent or stored in the cloud. OneDrive & Google cloud storage is ready "out of the box" and secure due to a direct connector (no third-party redirection here to give rise to GDPR issues). If the user wants to set up specific workflows that are unique to them, they can do this in the MyQ Roger interface in a matter of seconds, as complication kills productivity.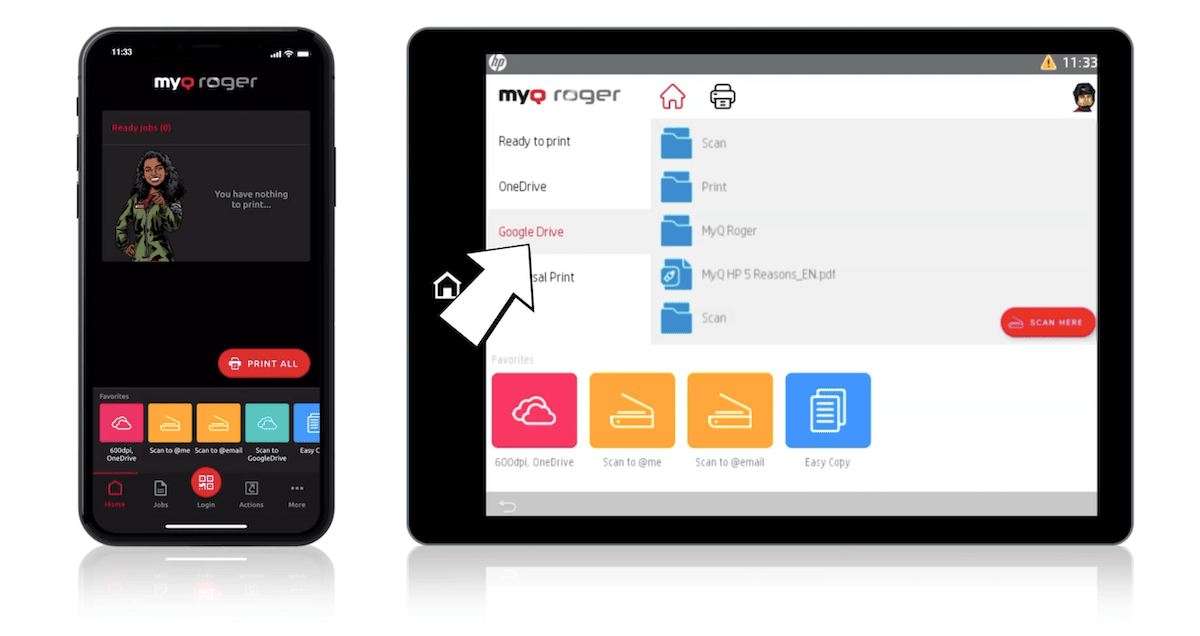 Workflows can be set up both in the mobile app and on the terminal.

This new pre-set workflow will transfer to the MFD's screen when they log in, which is completed by a unique secure QR code system that allows users to "drive" the device from their mobile screen, which is handy when contactless is a new key consideration. Secure document release is fully retained ensuring accidental release of secure documents is avoided.

4. It's open to third-party apps, therefore highly connectible
MyQ Roger is not a "stand-still" product. Users can expect to see new features and functions as they are introduced regularly, and not only by the developers at MyQ. Our open API allows third-party developers to offer additional and specific functionality in terms of both input and output. For example, OCR and specific ECM connectors are already in the development pipeline, so we are only at the beginning of this as a genesis project.
5. 100% cloud security is a core element
With infrastructure covered, users have the functionality that they require, and ongoing development supports connectibility. Now comes the security & stability question. Both the short and the long answer is that cloud security is in check thanks to Microsoft, whose public cloud Azure platform adheres to strict data security & resilience standards, including the option to have local Country hosting.
When connecting their MyQ Roger account to their cloud drives, the user grants MyQ Roger the right to browse and save to folders "Print" and "Scan". Printed or scanned documents are not transferred through the MyQ Roger server, so there is no chance of the documents being stored or tampered with.
6. Businesses save money with MyQ Roger
We know corporate and especially the SMB markets will not be awash with funding post-pandemic, so can we offer flexibility and great value too? Well, the answer is "Yes, we can."
MyQ Roger has an SaaS-based licence, so commitment can be as little as one month or many years at a discounted rate. Support is included, upgrades are "over the air" and free, yet the price starts from as little as £9 per device per month.

In terms of identifying savings with no hardware or private cloud rentals to pay, no hardware to support and no technical support to fund savings are significant, the solution is infinitely scalable and offers unbeatable value!

Overall, MyQ Roger rips us the rule book and introduces "hybrid digitalization" in a well packaged, feature-rich, secure, and aggressively priced solution to a market currently in flux and in need of options – something every MPS provider wants to offer.
---
Nigel Eaton

Author of the article &

General Manager of MyQ UK
30/09/2020
As more and more businesses are moving their infrastructure into cloud environments for greater flexibility, scalability and cost reduction, software providers are following suit to make their services relevant in this new era.