MyQ: Your Hybrid Gate Is Heavily Guarded
14/01/2022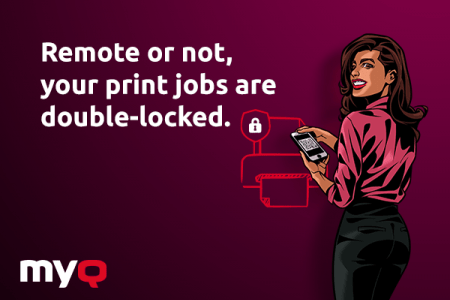 Making your data secure anywhere you process it is at the top of MyQ's priority checklist.
More often than not, the documents that go through a company's printing device – whether as a print, copy, or scan job – have some level of confidentiality. They may not necessarily be stamped TOP SECRET – but still, the files are meant for certain eyes only, and should remain so. And MyQ does its best to keep it that way.
However, when COVID-19 relocated many workers from their office desks to their home kitchen tables, the whole situation became trickier. If not secured properly, home document processing can lead to severe data losses. As usual, MyQ is up to speed and watches closely over your print data no matter where you work with it. Below you'll find an up-to-date overview of how MyQ continually fortifies your (remote) scanning, printing, and copying.


1. Mobile and Secure with MyQ Roger
MyQ's management had long wanted to make a product that would benefit everyone using a hybrid workplace as a remote work platform. They had been exploring ideas for a pure-cloud product for quite some time. With the implementation of COVID–19 restrictions and prevention measures, the MyQ solution at last took on its concrete form – the unique Smart Digital Workplace Assistant MyQ Roger was born. It is an excellent fit for any user that needs a flexible document processing tool for safe cloud scanning and cloud printing. Watch the fascinating MyQ Roger's origin story and learn how it protects your remote work with documents in this presentation given by our CEO (EN subs included).
2. Making Sure MyQ's Defenses Are Airtight
MyQ developers place particular emphasis on shielding all the information the system processes from any unauthorised access. But still – to be certain the walls are built properly, MyQ asked an external agency to run security checks and test for any vulnerabilities of the product. See how the cooperation worked and get smarter about the way company systems are penetrated and protected in practice in the following webinar.
3. MyQ Products – Landmarks in the Security Landscape
To take a closer look at weak spots linked to hybrid workplace printing, Quocirca, a leading advisory organization for the print industry, put together a broad survey asking more than 500 IT decision makers from various industries to offer their opinion on the security of remote work with documents. The riveting results were presented in The Print Security Landscape, 2022 report. Read about the issues that arose, how damaging insufficiently safeguarded home printing can be, and go through the robust safety features MyQ has to offer in this article.
11/01/2022
Quocirca's report surveying the print security landscape sends a clear message: home printing can present a threat to companies and needs to be properly secured – and MyQ has what it takes to make that happen.
News & Updates
2 min read
07/12/2020
Printing a financial report, copying a new employee's contract or scanning a medical report – thousands of these actions take place daily without raising any red flag. With an antivirus installed on the computer, there's nothing to be worried about, right?