MyQ Roger becomes IT Product of the Year 2021
14/11/2021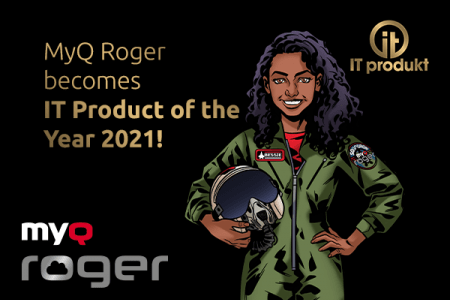 MyQ has won 1st place in the prestigious Computerworld 2021 IT Product of the Year competition with its smart assistant for the digital workplace, MyQ Roger.
"The fact that our smart office solution MyQ Roger won the IT Product of the Year 2021 competition less than a year after its launch confirms that we are moving in the right direction with our client solutions. However, it also means that we are getting a very good and positive response from respected and independent IT professionals, and this is important positive news for our partners who deploy MyQ X and MyQ Roger solutions globally," commented Martin Januš, MyQ Solution CEO.
MyQ Roger is a smart digital workplace assistant that is completely cloud-based and offers convenient and secure document workflows from anywhere, which answers the current needs of hybrid workplaces. In addition, its SaaS (software as a service) model is perfectly flexible and can respond dynamically to the needs of organisations that use it.
Among other things, MyQ Roger enables secure document handling from anywhere in the world, without the need for complicated VPN connections to the corporate network. MyQ Roger makes it possible to operate multifunction printers contactlessly and allows not only for printing, but also copying and scanning via the users' mobile device, which is in line with to the so-called clean desk policy trend. In addition, it can also carry out all actions when prompted by paired voice commands, which is both user-friendly and particularly helpful for the visually and physically impaired.
The application provides a range of fully customisable functionalities, including the option to easily set up document workflows that each user can adapt to their needs without having to involve expert IT support.
The main benefits of the 2021 IT Product of the Year MyQ Roger:
Instant availability – the dedicated mobile app for iOS and Android is completely free
A revolutionary and fully public cloud-based software solution for the hybrid workplace
Flexible workflows based on the user's unique custom settings
Mobile printing and scanning, cloud printing and scanning, cloud folder browsing
Security and safety – logging in to MFPs via dynamic QR codes, full remote control for contactless MFP use
Accessibility with voice commands
Direct integration with Microsoft Universal Print and support for printing from Chromebooks
World-unique infrastructure with offline printing capabilities without the need for local PC agents

MyQ's solution is unique because of its user-friendliness and is now installed on over a million devices in nearly 100 countries worldwide. MyQ has been awarded many prestigious awards in the past, such as Computerworld's IT Product of the Year 2008 – 2014 and 2021, the "Leading the Charge" Innovation Award 2018 and 2020 at the HP JetAdvantage Partner Conference, and the Buyers Lab Intelligence – Pick of the Year 2021. MyQ has also been shortlisted as one of the "Top 100 Czech Technology Companies" by the CIO Business World magazine.
25/11/2020
MyQ X Enterprise Edition has been recognized as an Outstanding Print Management Solution and awarded the BLI (Buyers Lab) 2021 Software Pick in the Document Imaging Software category.
News & Updates
2 min read