Efficient and Secure Printing
at Government & Public Offices
14/03/2022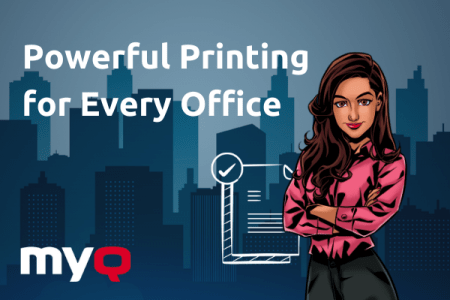 When you think of working with data, and paper as well as digital documents, the images that come to mind for most people are of a corporate employee concentrating on a chart on a computer or his colleague carrying a stack of papers to the copier through an open-space office building.
While it's true there are many large (multinational) companies operating all around the world that process data, when considering the handling of physical and digital information we cannot neglect one extensive sector critical for any nation's functioning – state and public administration.
The State and Document Processing
Working with information is a fundamental and daily process for the myriad of government offices. Ministries and authorities must go through thousands of documents every day and further process them, while keeping systematic records. Document management systems (DMS) and ever-increasing digitization can help them do this. We probably won't be saying goodbye to the classic pink, blue and green forms for a while yet, but even so, public administration is increasingly focusing on the overall digitization of its processes. A good example is the eGovernment project, which aims to simplify administrative processes and bolster citizens' electronic communication with authorities. A separate chapter is the protection of personal data, which is governed not only by Czech but also European legislation.
When organizing work with documents, the varied locations of individual workplaces working on shared processes also play a crucial role. For their smooth operation, it is a virtual necessity to implement directed, personalized, controllable, and especially cybernetically secure document management, harmonizing with the appropriate settings of printing and scanning processes. A reliable blanket printing solution can cover all these requirements.
Secure and Functional Print Management
MyQ has been creating print management systems for more than 15 years and, with its innovative solutions, has helped streamline and secure printing processes not only in public administration but also within numerous companies, including multinational corporations.
The Ministry of the Interior of the Czech Republic, for which data security is an absolute necessity, has also equipped its multifunction printers with a MyQ solution. On top of providing first-class protection for print jobs, the solution also reduced printing costs by 60%. Additionally, centralized management of printing and scanning processes has enabled the Ministry to shed a large part of its IT burden – its IT administrators have the Ministry's entire printing fleet under constant system control from one place.
Local government offices also appreciate a reliable, unified printing system. Here, too, uniform control of all printers comes in handy. For example, after installing the MyQ X software, the municipal office in Čáslav no longer had problems setting up printing, and its employees now scan with much greater efficiency thanks to specifically set scan profiles. In addition, print jobs are protected by a mandatory PIN login to printers.
"One admin dashboard to rule them all" also removed printing obstacles out of the way for the French municipality of Lorient. With the help of the MyQ Service Module, the IT staff has a perfect overview of the shape the print fleet is in. They get automatic notifications anytime the MyQ-equipped MFPs require maintenance. Additionally, the pull print feature makes printing more flexible and secure for all the 300 employees of the municipality.
A (Digital) Step Ahead
The most advanced edition of the Ultimate MyQ X series can become an essential helper for document digitization, in government organizations and elsewhere. Thanks to the powerful Optical Character Recognition (OCR) tool, organizations can set up, for example, advanced scanning processes that greatly facilitate the transfer of data from paper documents to internal systems and storage. And of course, it is possible to synchronize them with DMS systems. In an age where remote work is continuously on the rise, organizations can also take advantage of the free MyQ Desktop Client for remote/home workplaces, which helps maintain print policy and security when working out of the office, so companies can have their print jobs under control virtually anywhere.
17/08/2021
Together with the release of the new MyQ X LTS version 8.2, MyQ has also developed a completely new user computer application – the MyQ X Desktop Client.