5 Questions for Michal Deml, Pre-Sales Manager at MyQ
10/02/2020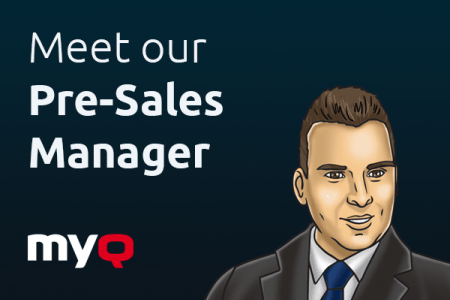 To keep customers happy — and meet their needs — software companies must update their products to keep them fresh and innovative. Once that's done, employees and partners need to know precisely how these new updates work — and this is where product training is most critical.

Michal Deml's role as MyQ's Pre-Sales Manager requires him to do many tasks, both at the office and abroad. Sales support, product training, and product presentations are his three main responsibilities. Just as MyQ's print management software evolves, so do Michal's training materials and methods. He focuses on achieving perfection in his work — which can be challenging in a changing environment. This is probably why his philosophy is: "if there's a wall, you sometimes have to hit with your head at full power, just to try."
What are some of your responsibilities as the Pre-Sales Manager of MyQ?
Quite a lot of stuff. The main part is training, both on-site for every new colleague and externally for partners. We're also preparing a new training portal with complete e-training. Another responsibility is pre-sales support: competing for tenders, making presentations, and basically being the bridge between sales and the technical part. Pre-sales must understand how to sell and explain the features and understand the technical aspect of MyQ; its features, how to set it up, and the technical language.
Which aspects of your job do you enjoy the most?
Training and presentations. When I was at university I hated presenting something. I was shaking, I didn't like it. But when I started doing it at MyQ, something switched and now I like it. I can go in front of hundreds of people and just do it. I like interacting with people during the presentation: explaining what MyQ is, what it's about, how to sell it, and how it will benefit them. When it comes to advanced training, it's more specific and the preparation is like a puzzle.
Do you prefer having partners come to Prague for training or travelling to them?
I love travelling. Thanks to MyQ, I have travelled to countries that I would have never gone to, like Taiwan and China. I liked going to the UK, especially Scotland or Wales; anything around the UK. I like those people. They are very reserved but are fun if you know how to go under the crust. And going there also gives me the opportunity to improve my English.
What's been the most memorable trip for you?
Definitely Taiwan. The people are nice and are trying to help you with whatever they can, even at the expense of their personal time. Even if they don't speak English, they want to show you what is unique about their country. On one trip to Taiwan, I was shown around the city by one guy who didn't speak a word of English. He brought his family and his six-year-old daughter was explaining everything to me because she was the one who spoke English. It's a beautiful country.
When you're not training and perfecting your presentation material, what is your ideal day away from the office?
Sitting in a room with a lot of Lego bricks and just building something. I like building things without the instructions because I can create anything I want. Right now, I'm building a coliseum. It's taken me ages to build it and it's been quite expensive.
MyQ is hiring!
Check out our new positions

here