Thriving with a Multivendor Printer Fleet
04/04/2023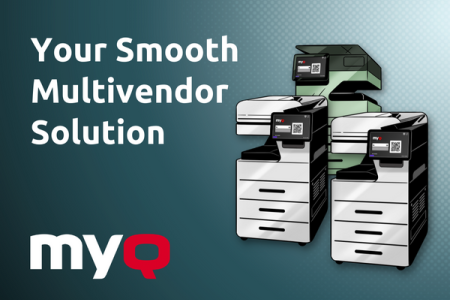 Over a third of printer fleets are composites from multiple OEMs – and they have special challenges.
In the optimal world, office equipment sales representatives would be happiest doing a complete replacement of their client's entire fleet of multifunctional printers – and the print management solution – all from a single favored vendor or OEM. On paper at least, this would be the simplest, cleanest solution. And, according to analysts, this is what both firms and the vendors of print management solutions would prefer to do.
But often that does not happen. We live in a sub-optimal world where budget constraints and limited hardware availability shape choices and IT infrastructure – and this includes multifunction printers (MFPs) and their managing software.
Let's talk about those multifunction printers
While many organizations have a mixed fleet of MFPs, it's just not clear exactly how common these multivendor fleets are. Back-of-the envelope calculations have put the number around 40% – and it could be much, much higher.
Much of this mix is attributed to how printer fleets are built up over time. "Most organizations evolve organically and so consequently a typical fleet comprises printers and MFPs sourced from multiple vendors," said Sharon McNee, Research Manager, IDC Europe. "Such hardware has been acquired by various methods and on contracts lasting different periods resulting in the co-existence of legacy and new devices."
In addition, the global shortage of semiconductor chips also rocked the printer industry. Manufacturers were forced to allocate their limited supply between product lines, specific models were not available, and prices overall jumped. "It was an unexpected opportunity to build a mixed fleet environment based on device availability from different manufacturers," stated Louella Fernandes, director of the Quocirca consultancy.
It's not like either firms or vendors are trying to create diversity within their printer fleets. "They are striving to rationalize fleets by reducing the overall number of brands and models, but even after that exercise most fleets will still comprise hardware from at least two vendors," McNee added. "Throw into the mix that no single print provider can supply all the required hardware types and you get a situation whereby a completely homogeneous fleet is a very rare thing."
Mixed fleet issues go beyond the hardware
Having a diverse printer fleet is more than a mixed-grab bag of hardware. "A mixed fleet environment often requires a patchwork of software and drivers across multiple brands and devices – and don't forget the IT administration challenges, security vulnerabilities, consumables, and the increased environmental impact," explained Quocirca's Fernandes. There are also social forces that companies have to contend with. "The shift to remote working and a distributed workforce is creating more challenges in managing a multivendor print infrastructure," she said.
By the numbers, a Quocirca survey found that a majority (61%) of surveyed firms did have a unitary printing setup – a standardized fleet with a single-managed print solution. However, (31%) of firms had a multivendor printer fleet with a single print solution. In addition, a small section of firms (8%) had an operational goulash of more than one print solution provider.
Regardless of whether it is directly sourced from the OEM or is an independent, brand-agnostic solution – a managed print solution needs to be effective in dealing with at least two or more brands of printers. "The goal here is to mitigate the hardware diversity with a central print management platform which can support a multivendor environment with a consistent user experience regardless of device or brand," said Fernandes.
Day-to-day issues with a multivendor fleet
In many cases, the emergence of a multivendor fleet is usually an ad hoc, the nonstrategic planned result of business and economic reality. That said, operating a multivendor fleet has its own specific set of challenges that can be characterized as benefits, costs, and impacts.
On the positive side, there are three primary benefits pointed out by Fernandes. It can save expenditures as it might be simply too costly for a company to move to a single OEM brand. Some specialist printing and scanning devices might not be available from a company's primary vendor. Third, brand diversity can free a company from being overly tied to a single vendor.
While most of these benefits – planned or not – are financial, many of the operational costs are placed directly on the system admins. These costs can be via additional workloads or higher maintenance budgets as they juggle the competing demands of end users and diverse hardware. From the accounting perspective, these costs are relatively much easier to tally. Some of the most important – and difficult to calculate – impacts from a multivendor fleet are the limitations in how an organization and its people can create effective workflows with their print and digitized documents.
Here are the top problematic areas as identified by analysts and MyQ technical experts:
Incompatible devices and drivers – Getting printers from various OEMs to communicate together within a single company network is the single largest challenge. The response often requires trial and error experimentation with several universal print drivers. The specific types of drivers can also vary according to the specific mix of OEMs within the printer fleet. "Implementing a universal print driver and release mechanism can circumvent compatibility and administration problems related to having differing levels of security across multiple driver configurations," explained IDC's McNee.
Confusing user experience – The login and workflow process can vary significantly between devices. Each OEM has a unique MFP display interface and operational sequence for copy, print, fax, and scan actions due to their proprietary operating platforms. This can make it difficult or impossible for people to automate and synchronize workflows across MFPs. "Operating devices in a mixed fleet can be a very confusing experience as employees often have to learn how to understand and interact with more than one single user interface. Knowing which device to use for different types of print jobs is also a steep learning curve that requires initial and ongoing guidance," added McNee.
Required hands-on management – A mix of OEMs can result in system admins being required to have direct hands-on access to individual MFPs to install drivers, calculate consumable use, and provide needed maintenance. "Integration can be complicated. There can easily be a lack of control unless a centralized reporting system is in place," pointed out Quocirca's Fernandes.
Limited end-user mobility – Today's mobile and hybrid workforce expect to operate unchained from the office desk and the MFP – and use a simplified and secure solution on their smartphones. Differing MFP capabilities between OEMs make mobility options limited and inconsistent when an organization has multivendor fleets.
Increased security risks – Maintaining system security is more difficult when there are increased numbers of updates and patches. In addition, installing hundreds of individual printer drivers increases the likelihood of system admins misusing Microsoft's Print Spooler to exchange drivers and creating a PrintNightmare situation.
Multivendor fleets have a solution with MyQ X
The ultimate goal in a multivendor environment is to ensure a seamless user experience that remains consistent across all devices and brands, regardless of any variations or differences. This is where MyQ has grown into its role as a premier independent print management solution. The newest rendition of MyQ X brings an array of benefits that are especially valuable for those with a mixed or legacy printer portfolio – and these benefits accrue across the spectrum to resellers, IT admins, management, and end users. Here are a few of these MyQ advantages:
Flexible and fast installation – Automatic printer discovery makes it easier to install MyQ X across a mixed vendor fleet. It's efficient and secure too. MyQ doesn't require admins to install hundreds of individual printer drivers.
Single point of management – Get oversight over all connected MFPs – daily operation, proactive maintenance, consumable use, and user accounts – from a single UI for your system admins. This saves time, reduces equipment downtime, and lowers costs.
Unified user experience – MyQ X serves as a unifying solution that allows users to perform daily tasks with ease, regardless of the make or model of their MFP. With a single, user-friendly interface, users can navigate a wide range of multivendor MFPs without any difficulty.
Workflow automation and digitization – Get rid of repetitive tasks with MyQ X's personalized and automated workflows. Admins can easily create customized workflows for daily copy, fax, and scan tasks, such as automatically saving scans to predefined destinations. This frees up time and reduces the need for manual input at the MFP.
Easy access and secure printing – Start up faster. MyQ X enables quick and convenient authentication via PIN, password, card, and QR code login via a smartphone. Not only do end users have a simplified login and user experience, but their security is also enhanced thanks to pull printing.
Mobile print for all – MyQ X Mobile Client empowers users to change print jobs, settings, and have secure pull printing on their own smartphones while away from their desk or the MFP – even for printers without an embedded terminal.
Look before you print – The print preview feature saves paper and cuts confusion by giving users a preview at the MFP embedded terminal or on their smartphones.
Advanced disaster planning – Don't worry about downtimes upsetting the printing, copying, and accounting processes. MyQ X's Desktop Client and device spooling feature – combined with local job parsing, fallback printing, and offline login – to keep operations in motion during unplanned network interruptions.
Enhanced MS universal print experience – Get a remote and secure printing experience thanks to the integration between Microsoft's Universal Print service and the MyQ X Universal Print Connector. The integration enables secure pull printing together with remote printing capabilities from any location, even in Zero Trust networks – a major benefit for legacy printers that do not natively support MS Universal Print.
For more information on how your multivendor fleet can work more smoothly with MyQ X, just contact us!
14/03/2023
Over sharing, print drivers, and unsafe admin behavior can create systemic risks.
News & Updates
3 min read