Product & Support
End-of-Life Policy
MyQ may decide now or in the future to discontinue the Maintenance, Support or Sales of a given product, module, feature or API. This page informs about how MyQ undertakes to communicate these circumstances to MyQ Partners and Customers.
End of Life Policy
The following factors may be behind discontinuing development and, at length, support:
There have been advances in computing, networking, and security which have made maintaining an old application impractical and uneconomical.

​

It is better to allocate development resources to new projects than to older products used by only a handful of customers.

​

Changes in the internal code may require a new version of modules and public APIs.

​
Any End-of-Life (EOL) announcements will be published below at least 60 days in advance for standard versions (180 days for LTS versions).
End of Life Process
"End of life" doesn't mean that the application stops working – users can continue using it. EOL simply indicates that MyQ may not dedicate resources to resolving support issues and instead will suggest an upgrade pathway to the Customer.
Existing software is:​
Maintained for at least 6 months and at least 24-months for LTS* (long term support) versions. ​
Supported throughout the entire validity period of Software Assurance​ purchased by the Customer.
Provided with an upgrade pathway when End of Software Maintenance is announced.
*LTS (Long-term Support) version is maintained for a longer period of time than the standard version, guarantees the availability of all features and components, including up-to-date security patches, and is recommended for projects that are not expected or cannot be upgraded.
​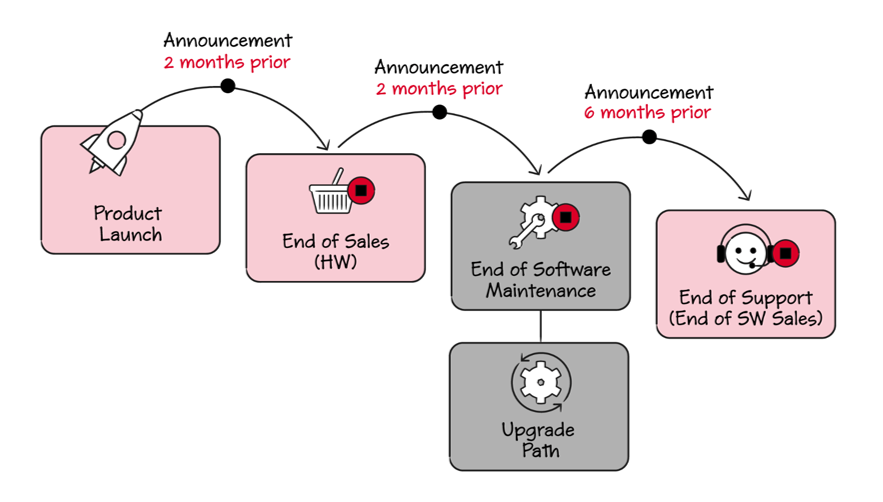 Software Support during EOL​
MyQ provides Support to MyQ Customers through MyQ Certified Partners. ​
Support for recent versions includes:​
Operation support

– helping questions about running the MyQ Product and performing desired actions.

​

Troubleshooting

– tips on how to overcome issues with the MyQ Product.

​

Software Maintenance

– releasing bug fixes, hotfixes and patches* for the current software version.
When a product reaches the End of Software Maintenance stage, MyQ can provide only limited support for the product or software version. If a Customer encounters problems, it is mandatory for them to upgrade to the most recent version. ​
Support for older versions includes (the Customer needs valid SW Assurance):​
Operation support

– helping the Customer with upgrading to the latest supported version.

​

Troubleshooting

– tips on how to overcome issues that may arise.
​*We strongly recommend Customers keep their MyQ software updated to the latest available patch.​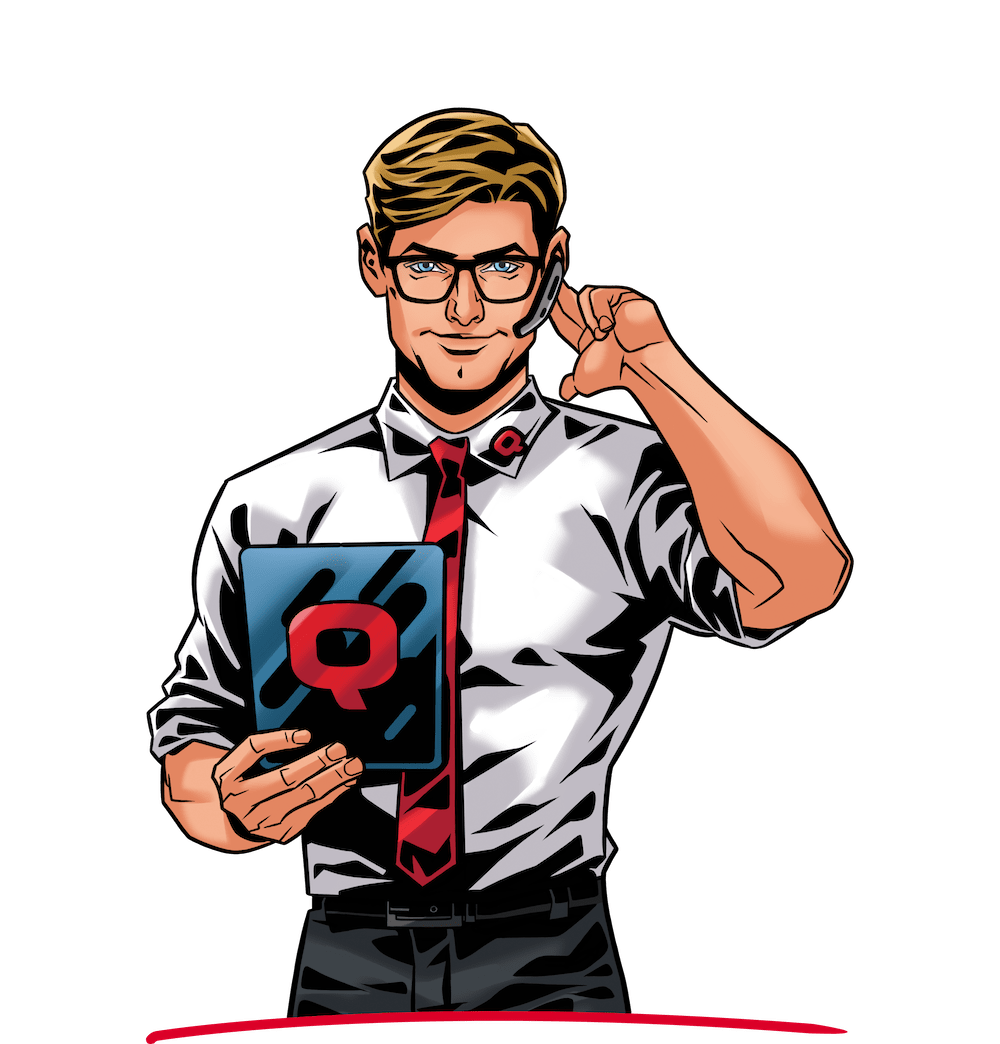 MyQ Products currently facing EOL
An up-to-date table with MyQ products to which the EOL Policy detailed above applies.
Currently supported RTM versions
Date
(YYYY/MM/DD)
Product
Version
EOL Date
LTS
Compatible Server Version
2021-01-04
Print Server
8.2
N
Y
-
2021-01-04
Central Server
8.2
N
Y
-
2022-01-30
Print Server
10.1
N
N
-
2022-01-30
Central Server
10.1
N
N
-
2021-06-22
MDC
8.2.2
N
Y
8.2
2022-12-09
MDC
10.0
N
N
8.2, 10.2
2023-07-17
Ricoh Embedded
8.2
N
Y
8.2, 10.2
2022-09-12
Kyocera Embedded
8.2
N
Y
8.2, 10.2
2021-04-09
HP Embedded
8.2
N
Y
8.2, 10.2
2023-03-21
HP Embedded
10.1
N
N
10.2
2022-06-09
Epson Embedded
8.2
N
Y
8.2, 10.2
2022-06-09
Epson Embedded
10.1
N
N
8.2, 10.2
2022-06-01
Xerox Embedded
7.6
N
Y
8.2, 10.2
2021-06-22
Sharp Embedded
8.1
N
N
8.2, 10.2
2021-07-19
Toshiba Embedded
8.2
N
Y
8.2, 10.2
2020-08-26
Lexmark Embedded
8.2
N
N
8.2, 10.2
2022-04-26
Canon Embedded
8.2
N
Y
8.2, 10.2
MyQ Products currently facing EOL
Date
(YYYY/MM/DD)
EOL Announcement
Product
Version
Affected date
Upgrade path
Last Compatible LTS Server
2023-10-02
End of Software Maintenance
HP Pro Embedded
7.5
2023-12-31
N/A
8.2
2023-07-17
End of Software Maintenance
Ricoh Embedded
7.5
2023-09-16
8.2
8.2
2023-03-02
End of Software Maintenance
MyQ Print Server
10.0
2023-05-31
10.1
-
2023-03-02
End of Software Maintenance
MyQ Central Server
10.0
2023-05-31
10.1
-
2023-03-01
End of Software Maintenance
HW Recharge terminal
8.2
2023-05-31
3rd party restAPI compatible HW
8.2
2023-02-01
End of Software Maintenance
Ricoh SDK/J Embedded
6.0
2023-04-30
N/A
8.2
2023-02-01
End of Software Maintenance
OKI Embedded
7.4
2023-04-30
N/A
8.2
2022-09-12
End of Software Maintenance
Kyocera Embedded
8.1
2022-12-12
8.2
8.2
2022-06-03
End of Software Maintenance
Epson Embedded
8.1
2022-03-09
8.2
8.2
2022-02-18
End of Software Maintenance
Kyocera Embedded
7.5
2022-05-18
8.1
8.2
2020-07-21
End of Sales
Terminal Pro w/ display
2021-12-31
N/A
8.2
2021-01-07
End of Software Maintenance
Smart Print Services (SPS)
8.1, 8.2
2021-09-30
Desktop Client 8.2
8.2
2021-01-07
End of Software Maintenance
Smart Job Manager (SJM)
8.1, 8.2
2021-09-30
Desktop Client 8.2
8.2
2021-01-07
End of Software Maintenance
Toshiba Embedded
8.1
2021-09-30
8.2
8.2
2021-01-06
End of Software Maintenance
MyQ Print Server
8.1
2021-08-31
8.2
-
2021-01-05
End of Software Maintenance
MyQ Central Server
8.1
2021-07-31
8.2
-
2021-01-04
End of Software Maintenance
MyQ Print Server
7.x, 8.0
2021-06-30
8.2
-
2021-01-04
End of Software Maintenance
MyQ Central Server
7.x, 8.0
2021-06-30
8.2
-
2021-01-04
End of Software Maintenance
HP Embedded
8.1
2021-06-30
8.2
8.2
2021-01-04
End of Software Maintenance
Smart Print Services (SPS)
7.x, 8.0
2021-06-30
Desktop Client 8.2
8.0
2021-01-04
End of Software Maintenance
Smart Job Manager (SJM)
7.x, 8.0
2021-06-30
Desktop Client 8.2
8.0
2021-01-01
End of Software Maintenance
Samsung Embedded
5.x
2021-03-31
N/A
8.2