MyQ Roger: The Platinum Report
14/12/2022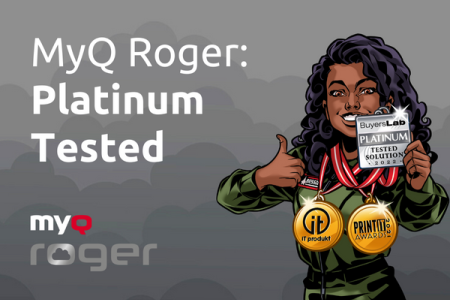 MyQ Roger couldn't have asked for a better gift for its second birthday! The Buyers Lab (BLI) 2022 Lab Test Report, in which MyQ Roger earned the highest Platinum rating from Keypoint Intelligence, is now available for download. It explains what brought our Digital Workplace Assistant their highest achievable rating.
"MyQ Roger is intended to be a digital personal assistant that helps workers in remote, hybrid, and hot-desk environments transition from traditional working environments to a modern, intuitive digital workplace." -Keypoint Intelligence
MyQ Roger: A+
Nearly two years after the launch of MyQ Roger, our 100% cloud-based Digital Workplace Assistant, the report is out.
Keypoint Intelligence, the leading test lab for print and smart workplace technology, has published its detailed report showing what made our cloud assistant worthy of the company's highest Platinum rating.
During months of heavy testing, Keypoint Intelligence picked MyQ Roger apart and examined every feature and functionality. We are proud to report that our cloud solution excelled in most of the tested abilities and Keypoint Intelligence found it a powerful tool for simplifying print, scan, and copy processes for hybrid workers and for increasing their efficiency with its simple one-click workflows.
In the report, Keypoint Intelligence describes MyQ Roger in more detail in 5 different categories: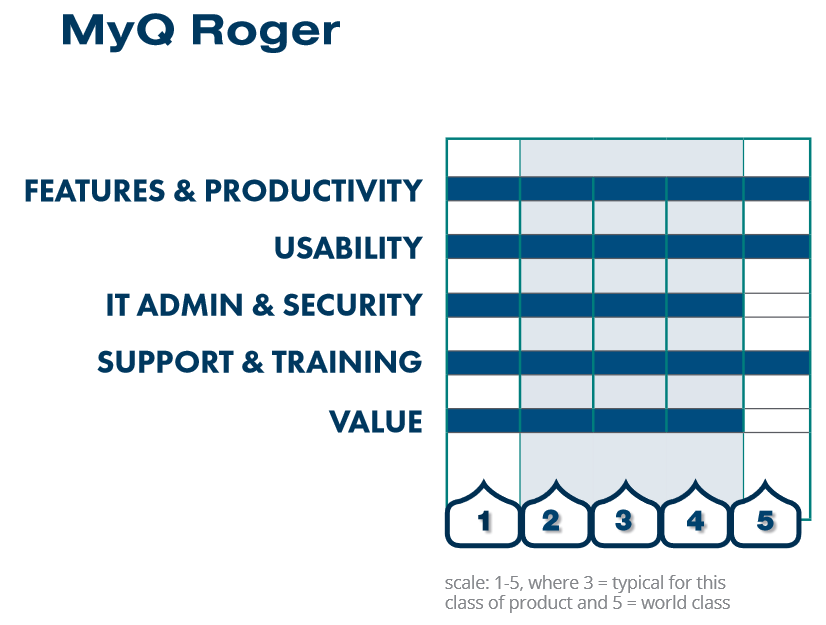 See MyQ Roger's score sheet in the main tested areas
A quick summary of the review
Features & Productivity focuses on the main features that help users perform their document tasks. It reviews the (mostly touchless) interaction with the MFP, Universal Print integration, and efficient personal one-click scan profiles with OCR. It also looks at MyQ Roger's cloud connectivity and granular print statistics.
Usability is primarily about the mobile app. The report shows how the app (MyQ Roger's primary tool) can be easily used for MFP login and to scan for personalized workflows. It also underlines the solution's intuitive administration web portal.
IT Admin & Security analyzes how secure MyQ Roger is. It shows how administrators can protect their print environment, incl. two-factor authentication, the four different MFP login methods, as well as the easy user self-login to the mobile app which saves time for the supporting IT department.
Support & Training describes the level of support customers get with the service. MyQ Roger comes with after-purchase support available from MyQ with the additional possibility of 24-hour support.
Value encloses the examined categories with a description of MyQ Roger's subscription model which is paid per device but with unlimited users. The lab underlines the solution's "pretty good value" as they evaluate the level of service businesses receive.
Key Benefits Mentioned
Engaging & well-designed UI
Authentication with Google, Apple, or Microsoft
Mobile app scanning to numerous destinations
Easy administration
Detailed user permissions
Seamless MFP accessing
Don't take our word for it. See for yourself how MyQ Roger did in the test. Get the report from Keypoint Intelligence below!
09/11/2023
MyQ X has secured the Platinum Seal from Buyers Lab for an impressive third consecutive year, reaffirming its status as a leader within the print management industry. This article delves into the qualities that have propelled MyQ X to platinum status and makes a compelling parallel with Apple's Titanium iPhones.