Embracing Diversification and Cloud-Based Print Technology
14/06/2023
MyQ, a member of the Business Technology Association (BTA), is committed to supporting the channel community by embracing diversification and cloud-based print technology.
Author: Robert Vardanyan
Business Development Director for Americas at MyQ

Reflecting on the recently concluded Business Technology Association (BTA) event, "Capture the Magic," held in Denver, it is safe to say that the experience exceeded all expectations. As a proud new member of the Business Technology Association, MyQ was warmly welcomed into the unique and collaborative atmosphere created by the BTA and the dealer community. This event provided dealers, exhibiting vendors, and industry professionals with a remarkable platform to showcase their expertise and knowledge of the imaging industry. The ultimate goal was to better understand how to adapt to a market that has been undergoing fundamental change. The event also served as a forum to brainstorm technological innovations and explore future business opportunities.
In addition to the valuable insights shared by attendees, the event featured a diverse range of educational presentations and breakout sessions. These thoughtfully designed sessions offered attendees invaluable insights into current market opportunities, empowering them with practical knowledge to explore new business prospects, reinforce their team culture, and optimize their business management processes. Furthermore, the event delved into the implementation of best practices in the emerging field of generative AI, shedding light on the technology advancements that are reshaping not only the industry we operate in but also our personal lives.
While there are numerous aspects of the event worth highlighting, we would like to place our focus on two specific topics that we believe MyQ can provide valuable support to dealers in navigating the dynamic landscape of digital transformation. At the heart of the discussions, two interconnected themes emerged as central points: the importance of diversification and the integration of cloud-based print technologies.
Amidst the fundamental transformations sweeping the imaging industry, amplified by the COVID-19 pandemic and supply-chain challenges, the dealer channel community finds itself compelled to embrace flexibility in response to evolving customer requirements for hybrid workplaces and digitization. Given this context, it comes as no surprise that the imperative for portfolio diversification emerged as a crucial strategy discussed at the event. Businesses have recognized the significance of expanding their offerings to tap into new revenue streams and maintain competitiveness in an increasingly digital market. By diversifying their product and service portfolios, organizations can effectively cater to a broader range of customer demands, securing long-term sustainability and fostering growth.
Simultaneously, the event highlighted the significance of cloud-based print technologies. It is no longer a matter of "if" the transformation to cloud-based print technology will happen, but rather a question of "when". With 46% of organizations striving to implement cloud-based print solutions, it is essential to recognize the business potential of expanding the product portfolio to include these solutions. Customers are swiftly abandoning on-premise technical hardware, recognizing it as an expensive relic, and shifting towards the cloud to achieve significant reductions in overall costs for IT infrastructure and maintenance. It is therefore imperative to be capable of meeting the growing demand for cloud technology and addressing the desire of businesses to simplify print infrastructure management.
However, developing a truly native cloud solution that doesn't rely on any technical infrastructure is a challenging task. As a result, many vendors take shortcuts and market their on-premise solutions as cloud-based. However, upon examining the underlying architecture of these solutions, you may discover that they aren't the right tools to support customers' cloud-driven strategies. It's crucial to discern between genuine cloud-based print solutions that align with customers' cloud strategies and solutions disguised as cloud-based. By choosing the right solution, dealers can effectively support their customers in transitioning to the cloud and harnessing the full benefits of cloud technology in their print operations.
You might be wondering, "We understand the importance of diversification and adopting a genuine cloud solution, but how can we make it happen, and how can MyQ assist?" At MyQ, we offer a wide range of deployment options to meet the unique needs of every customer environment. MyQ Roger serves as a fully native public cloud solution for Ricoh, HP, and Kyocera devices, while MyQ X is a fully multi-vendor print management solution that caters to on-premise, private, and hybrid cloud scenarios.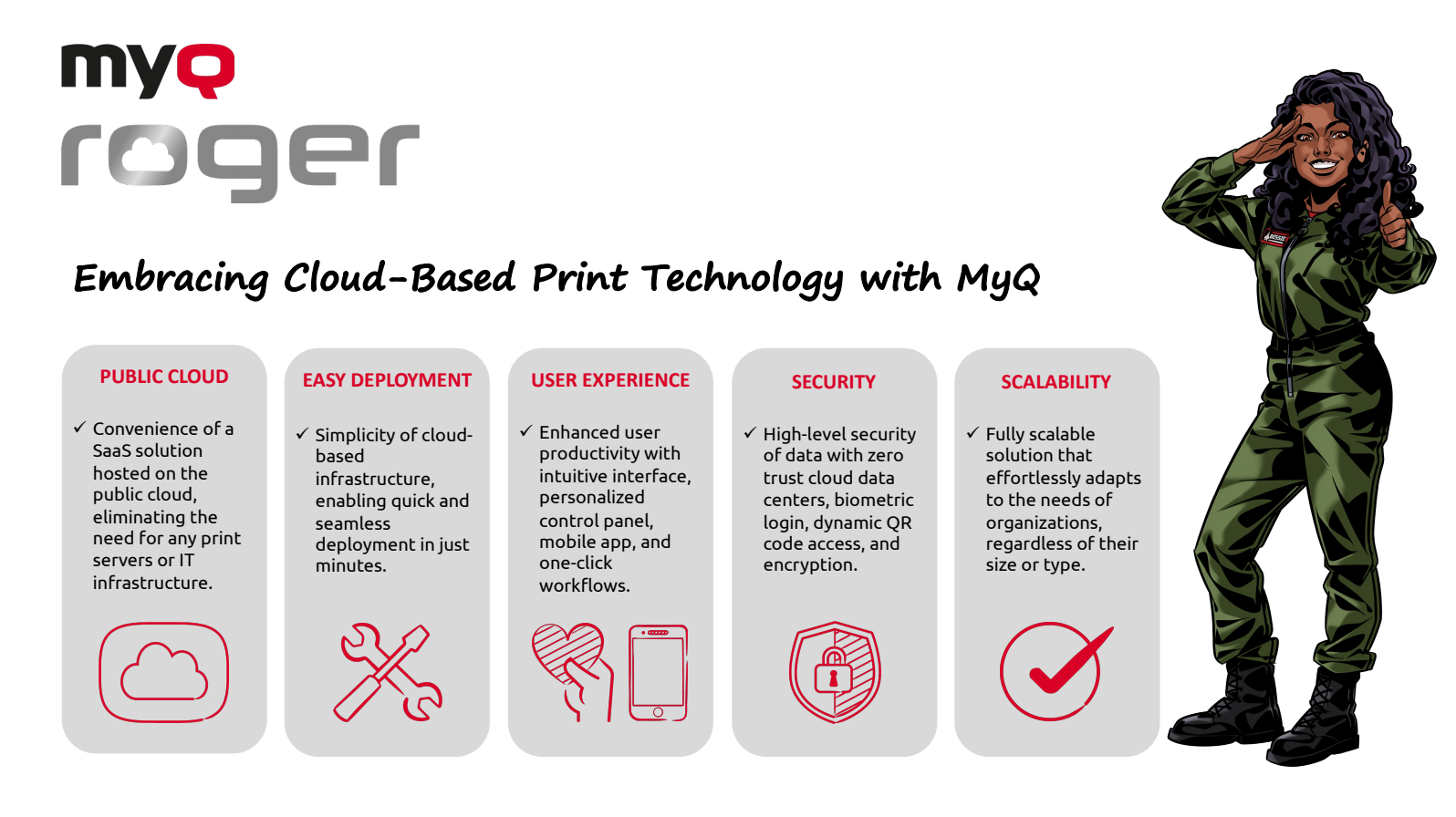 By diversifying their product portfolio with MyQ, the channel community can effectively address the crucial need to meet the growing demand for cloud-based print technology. Furthermore, MyQ's plan includes integrating both MyQ Roger and MyQ X into a universal platform that can seamlessly adapt to any environment. This exciting future integration holds great promise for dealers, as it will offer a unified and comprehensive software solution capable of catering to a wide range of deployment requirements while preserving the unique MyQ user experience.
In conclusion, the importance of embracing diversification and adopting true cloud-based print solutions cannot be overstated in today's rapidly evolving digital landscape. As businesses strive to meet the demands of hybrid workplaces and digital transformation, MyQ stands committed to supporting the channel community every step of the way.

Launch into the Cloud with MyQ Roger
14/12/2022
MyQ Roger couldn't have asked for a better gift for its second birthday! The Buyers Lab (BLI) 2022 Lab Test Report, in which MyQ Roger earned the highest Platinum rating from Keypoint Intelligence, is now available for download. It explains what brought our Digital Workplace Assistant their highest achievable rating.