The Impact of Digital Transformation to the Printing Industry
14/08/2023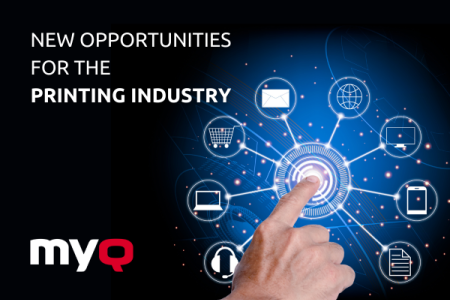 Changes in user behavior are forcing companies to adopt new approaches to printing and print management. This is creating unprecedented challenges to the industry, but also unique opportunities.
If there's one industry that has been impacted by digital transformation it is printing. The years of lockdown may be way behind us, but it marked a new era, making us print less. Either because many of us did not have a printer at home or because simply we could not deliver the printout. As a result, it became essential for paper documents to be digitized. Even government offices that historically demanded physical copies of any document, had to adapt and accept digital forms of communication. The printing industry faced its biggest challenge ever.
On the flip side, new opportunities came out quicker than the challenges. Scanning, digital extraction, and automated document processing gained traction, and as of today, in August 2023, these are areas experiencing a huge boom. However, there is still enough print volume (and there will be enough in the coming years) to continue to focus intensively on how the behavior and needs of its users are changing.

According to Quocirca's Cloud Print Services, 2023 Report, "21% of organizations expect their IT infrastructure to be completely in the cloud by 2025, up from 5% today. Another 36% expect it to be mostly in the cloud, up from 29% today. This is creating momentum in the cloud print services market as more organizations realize the benefits of eliminating or minimizing their reliance on on-premises print servers". In other words, cloud printing is now a critical component of the digital transformation strategy for countless organizations.
However, this scenario raises a few questions, such as: what does the future look like for the printing industry with the digital transformation changing the way organizations of all types and sizes deal with document printing?
The next level of printing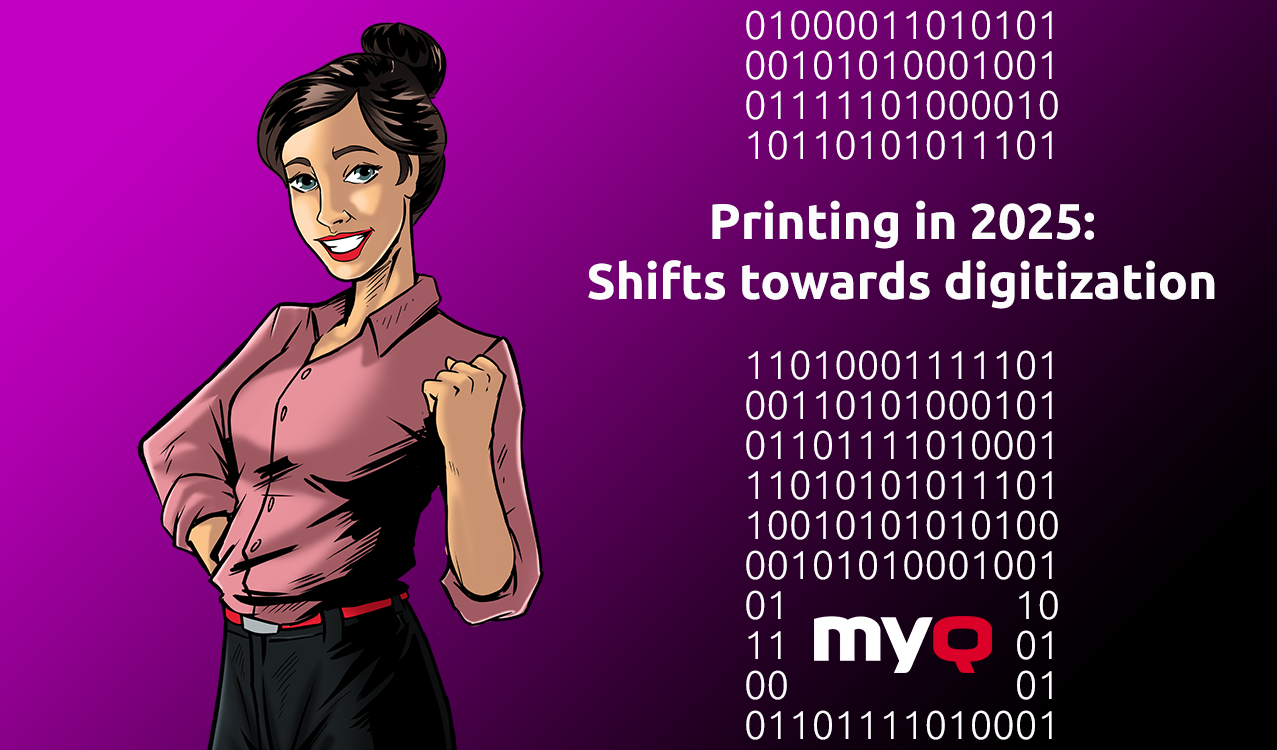 Now that we are all able to return to the office, we found out that tools that were designed to be used only in the office became obsolete. Employees demand the freedom to work from anywhere and most employers encourage that by adopting hybrid workplace policies. This accelerated the transition of on-premises services to the cloud. In the printing industry, it no longer matters who is printing or scanning (and how much), but whether employees can effectively do their job or not wherever they are.
With that in mind, MyQ launched a brand-new cloud-based product, not called Cloud Print Management, but Digital Workplace Assistant, to make it easier for businesses and individuals to work and transition from the traditional workplace to a more modern, efficient, and secure version of it. And to address the new megatrends of resilience and mobility.
By downloading MyQ Roger from the AppStore or Google Play, anyone can instantly and free of charge scan with a mobile phone camera and, thanks to the integrated OCR technology, create a PDF with a quality comparable to a corridor multifunction printer, but with additional recognized text ready for full-text search.
On top of it, anyone can make their job easier by using self-defined advanced scanning workflows with the ability to store and search the captured document in a variety of cloud-based repositories.
Furthermore, you can easily install the application on your printer for unprecedented synergy. From that point on, any user can securely log in to that printer and use the same workflows they created on their mobile device. It means that they can easily print to any printer from their mobile and personal computers. All without any knowledge of servers, VPNs, etc.
Unlocking new opportunities: going above and beyond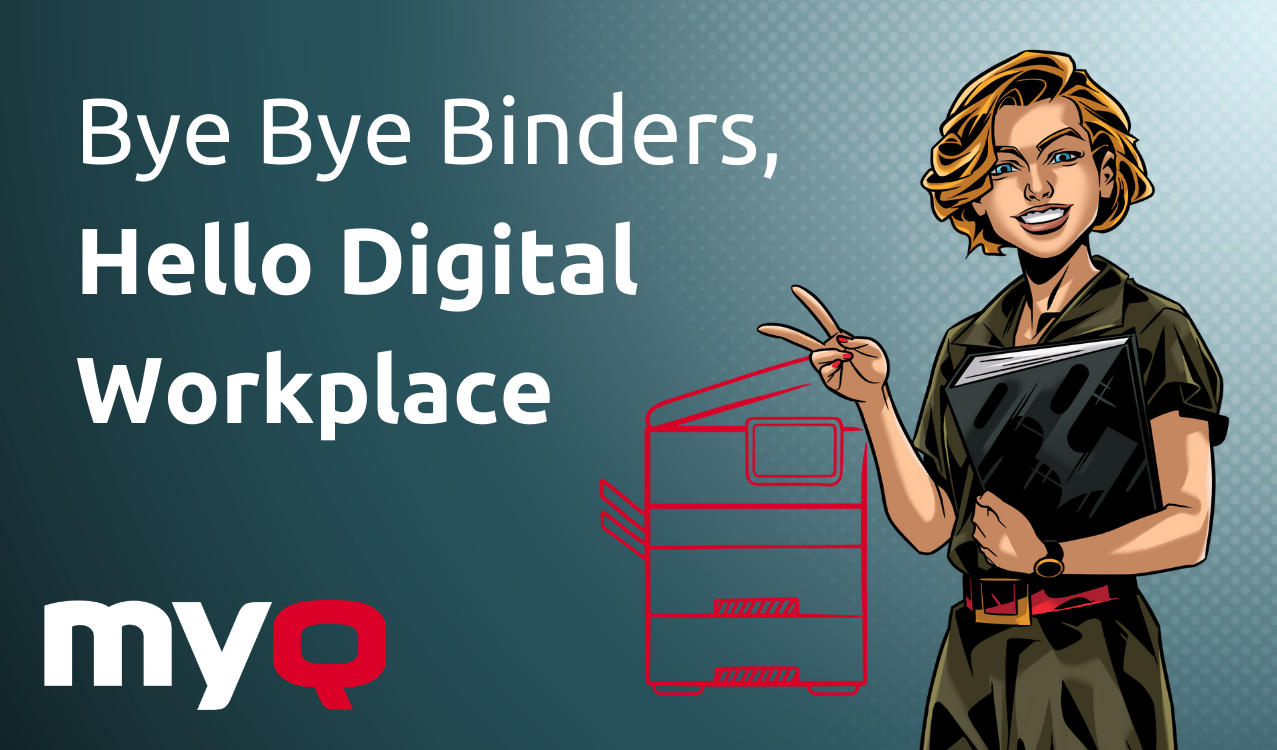 As mentioned before, the digital transformation created big challenges for the print industry but also brought opportunities. With people working from anywhere, they are constantly needing to print from anywhere.
That's why MyQ Roger is currently being tested with future plans to introduce the concept of print sharing, where any printer with MyQ Roger installed will be able to be accessed by anyone with a MyQ Roger app to print their documents using just their mobile phones. Payments are automatically processed via the app, generating extra revenue for business owners.
And this is just one business case. Additionally, office buildings are now able to share printers with multiple companies on the same site safely and conveniently, allowing small and medium-sized companies to have access to multifunctional printers at low cost.
This is an objective that will fundamentally streamline the use of printers while solving the problems of declining and very often unprofitable print volumes. People and businesses will soon be able to pay to use a printer as conveniently as sharing a scooter.
It's an unquestionable fact that the printing industry is going through a very challenging period with the digital transformation, however, cloud print, scanning, digital extraction, and automated document processing created major opportunities that are still to be exploited. Welcome to the digital workplace era!
gET A TRIAL OF DIGITAL WORKPLACE ASSISTANCE
Author: Andre Munhoz Pinto
Product Marketing Director
01/09/2022
Optical Character Recognition or OCR is a big deal in digitization. It brings the potential that printed analog information can be easily transformed into a digitized, electronic form. It's a huge potential – and one that's an essential bridge step in the digitization of daily life.