Mobile Document Processing: Fast and Convenient
28/07/2021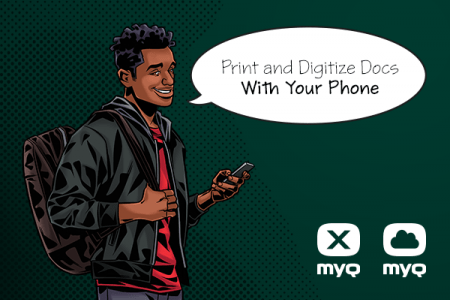 A couple of years ago, we witnessed a slow shift emerging in corporate environments – people started preferring laptops to desktop computers. Today the baton is slowly being taken passed on to other devices – smartphones. Thanks to the speedy advancement and optimization of office and collaborative apps for Android and iOS, employees can handle more and more of their daily agenda directly from their phone.
The smartphone at the heart of the action
It seems that despite accelerating digitization, the need to store documents in paper form (whether for legal or personal-preference reasons) will persist in organizations for some years to come. As a result, the tools that process print workflows are evolving – print solutions offer sophisticated mobile printing possibilities.
For example, the MyQ X Mobile Client, which is downloadable for free (for Android and iOS) as part of the MyQ X printing solution, is a useful extension to traditional printing and offers its users convenient and flexible document processing. When they need to print a handout for a meeting, they don't have to traverse the entire office floor to get back to their computer and send the file to the printer. They simply upload the file with the app, set printing options, use their phone to log in to the printer, and voilà.
Printing with a mobile app takes document handling to a new level of simplicity, which gives companies a nice productivity boost in the form of man-hours saved. The app's environment is highly intuitive. In addition, it's an instant-access printing tool without any lengthy setup that would burden the IT department.

Moving the office the cloud
However, traditional printing, especially in larger companies, places relatively high demands on the local infrastructure and its IT maintenance. Companies try to find ways to go easier on local hardware, and their eyes are beginning to lift to the cloud. Cloud technologies enable fast and secure sharing of company data and software, both inside and outside the office, so the growing popularity of the cloud is completely logical, considering the demands of the modern workplace and work culture.
Cloud migration is not about to skip print management either. The good news is that this particular shift can be very smooth. For example, if a company uses Private cloud Microsoft Azure, it can easily allocate some storage to the MyQ X printing solution and run it from there.
Instant document availability
MyQ 's flexibility doesn't stop at being compatible with the private cloud. It is now possible to also use MyQ purely as a software service in the public cloud. Software as a Service (SaaS) is a cloud model that allows customers pay as they go (i.e.,subscribe) and access their business apps at any given time.
The magic of SaaS lies in the fact that updates and infrastructure maintenance fall on the service provider, so clients only need to connect to the Internet and the software is fully available to them. As far as modern document collaboration goes, this is exactly where MyQ's smart digital workplace assistant MyQ Roger comes in.
MyQ's Digital Workplace Assistant
MyQ Roger is a platform fully located in the public cloud. As part of monthly subscription (which is exceptionally low), each company is assigned its own tenant, which guarantees data security and confidentiality. The basic building block of MyQ Roger is an application for smartphones, which connects directly to the user's cloud storage (e.g., OneDrive or Google Drive). Users can print from their cloud folder, browse and manage documents directly on the phone or printer panel, and even scan straight to the cloud – also either using the printer or their phone's camera.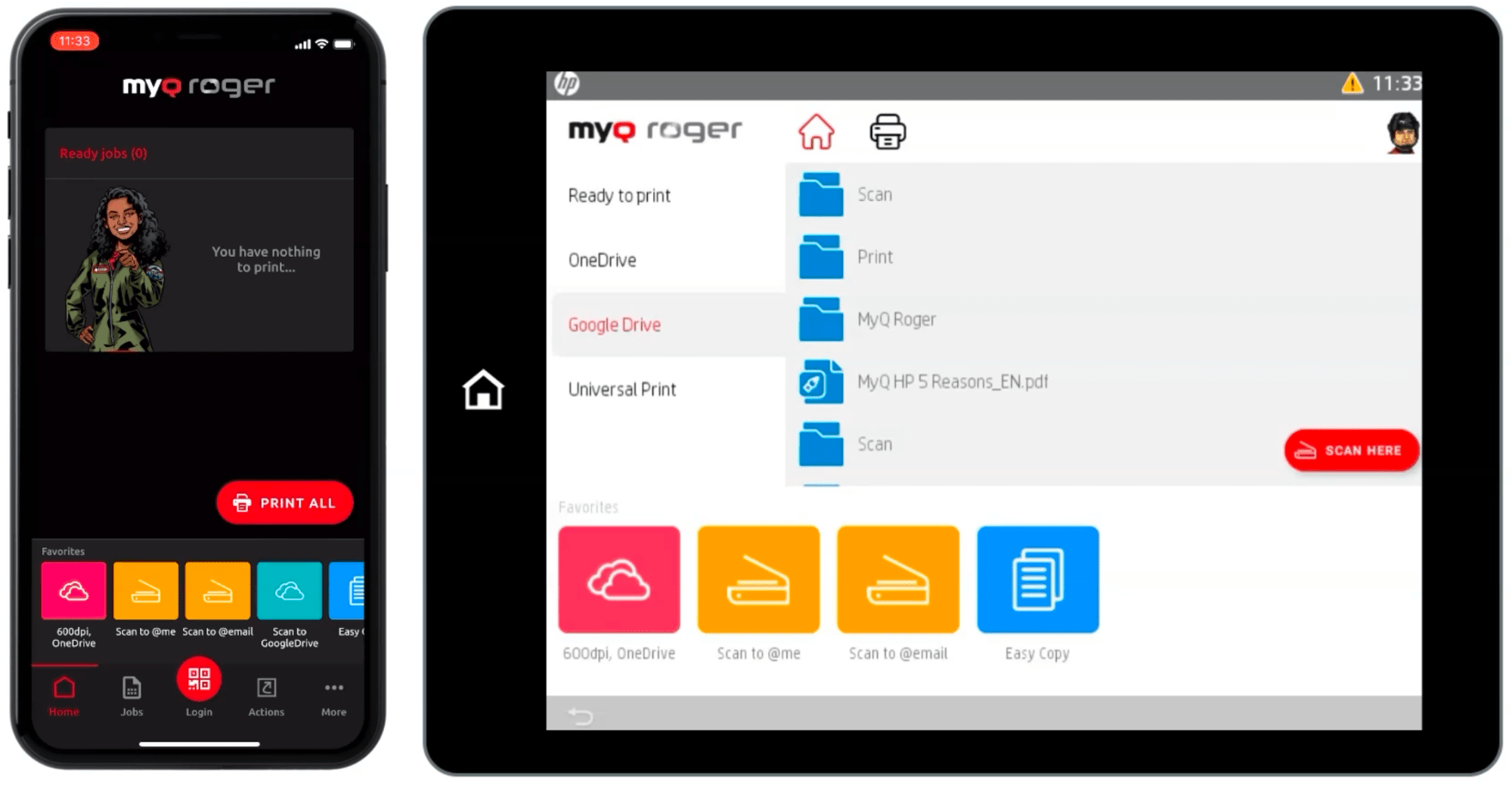 With MyQ Roger, there's no need to search for the nearest scanner to get important documents to clients or colleagues – users just open the MyQ Roger application on their smartphone, scan the material, edit it as needed and send it straight to a specific cloud folder. The app also doesn't need a connection to the company's local network or VPN, so users can work with documents – that is, queue them up for printing, scan them, and organize in the cloud – anywhere they are, whether on the way to the office or working from home.
Cloud collaboration with no worries or extra costs
Thanks to its true-cloud architecture, MyQ Roger only needs an Internet connection to function as a true SaaS solution. Everything else is taken care of by MyQ developers in the public cloud. This will not only save companies space in the server room, but will also take some weight off the shoulders of system administrators.
Mobile and cloud applications and services are powerful tools for modern workplaces. Capable printing solutions running in the cloud can prove to be remarkable assistants in processing and digitizing paper documents, but they also help reduce printing costs by moving on-premise infrastructure to the cloud. Not to forget that time is also money, cloud solutions like MyQ Roger save companies plenty of man-hours thanks to the intuitive and efficient use of mobile apps.