MyQ X Embedded Terminal 8.2 for Ricoh
24/07/2023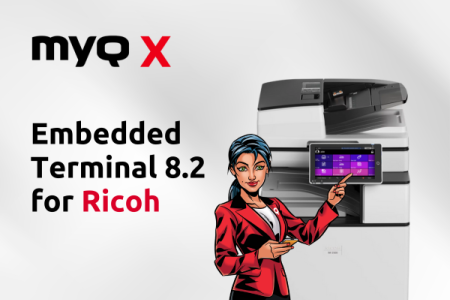 Meet the upgraded MyQ X embedded terminal 8.2 for Ricoh multifunction print devices (MFPs). This version significantly improves job accounting, expands job property options, and introduces new features, all while preserving the functions customers are accustomed to.
MyQ X's embedded terminal 8.2 for Ricoh multifunction printers (MFPs) enhances and expands upon the exceptional feature set of its predecessors. This version entirely supersedes the embedded terminal 7.5.3, introducing new features while retaining familiar functionalities.
Incorporating a redesigned architecture, it brings an enhanced level of detail to job accounting and bolsters overall optimization. The terminal continues to offer a unique, customizable UI that simplifies the workflow for copying, printing, scanning, and faxing. It also incorporates failover functionalities, such as device spooling and offline login, among many other features, maintaining a seamless and efficient user experience.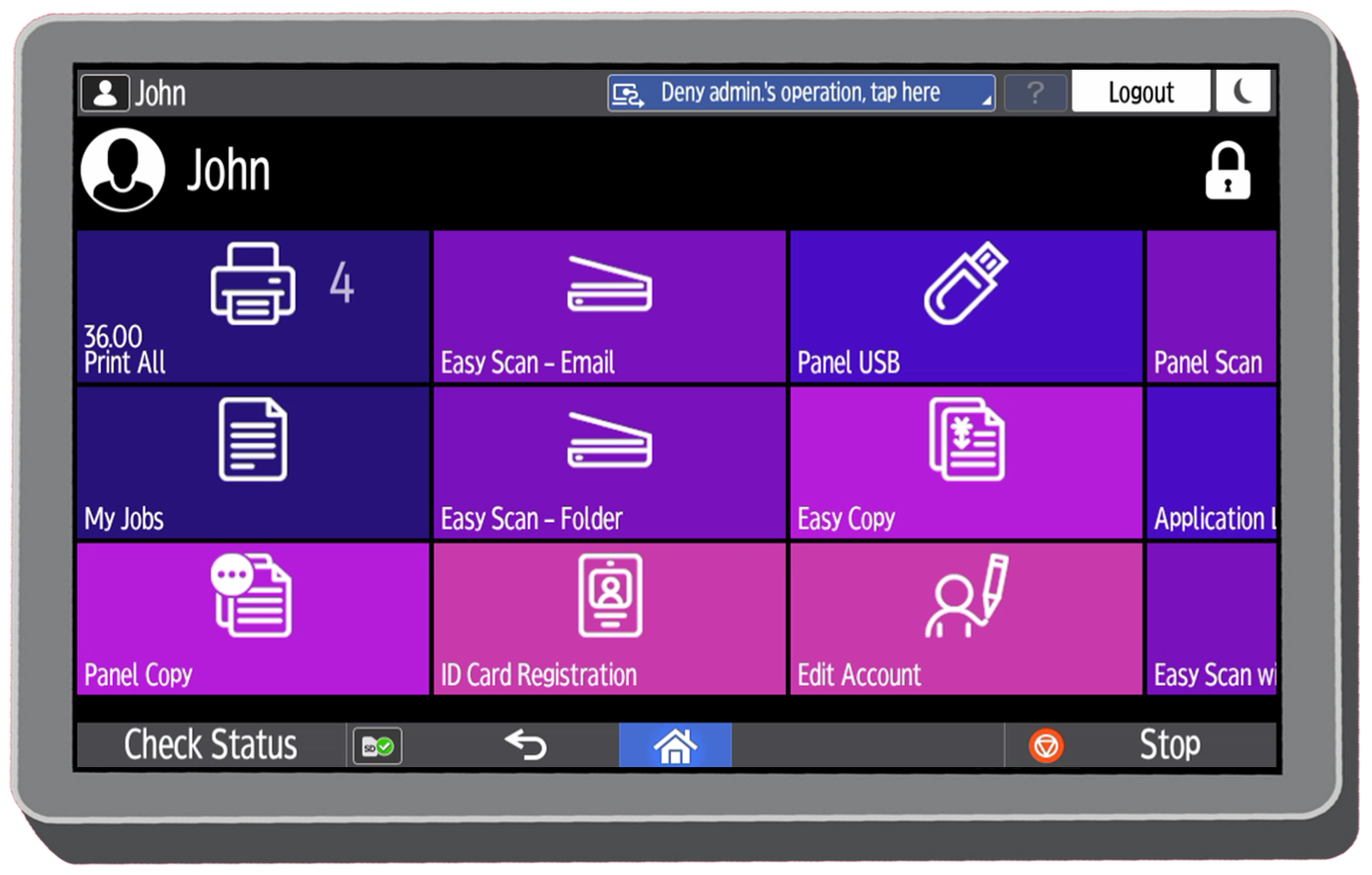 MyQ X embedded terminal 8.2 for Ricoh MFPs
Ricoh MFPs Enhanced with Per-Job Accounting
With embedded terminal version 8.2 we are extending MyQ X's advanced "Per-Job Accounting" functionality to Ricoh MFPs (Multi-Function Printers). Thanks to the redesigned architecture of the embedded terminal, MyQ X can now gather detailed information about each action taken by the user on the Ricoh MFP. The collected data includes comprehensive counter analysis for every individual print, copy, fax, and scan job performed by the user.
Captured Job Attributes Include:
Count by function (Print, copy, fax, scan)
Count by simplex or duplex
Paper format (A4, A3, Letter, Legal, etc.)
Count by color
This expanded data collection improves print management and cost accounting precision, offering organizations granular-level insights for more thorough cost analysis through MyQ X's robust reporting capabilities.
Example of a visual dashboard created via Power BI integration with MyQ X, providing data insights on cost analysis.
Enhanced Cost Centers Support
Version 8.2 provides greater flexibility with Cost Centers mode. Users can assign print jobs to specific cost centers upon release from the Ricoh MFP. This feature monitors and manages up to five distinct accounting options, enhancing transparency and control over print job allocations.
Accounting options include:
MyQ Credit: This could be a predefined credit or allowance assigned to the user for printing purposes.
External Credit Account: An account separate from MyQ where credits are stored.
Personal Quota: A personal limit or allocation set for the user.
Cost Center with Quota: A cost center with a preset quota or limit.
Cost Center without Quota: A cost center that doesn't have a set quota, providing unrestricted printing allocation.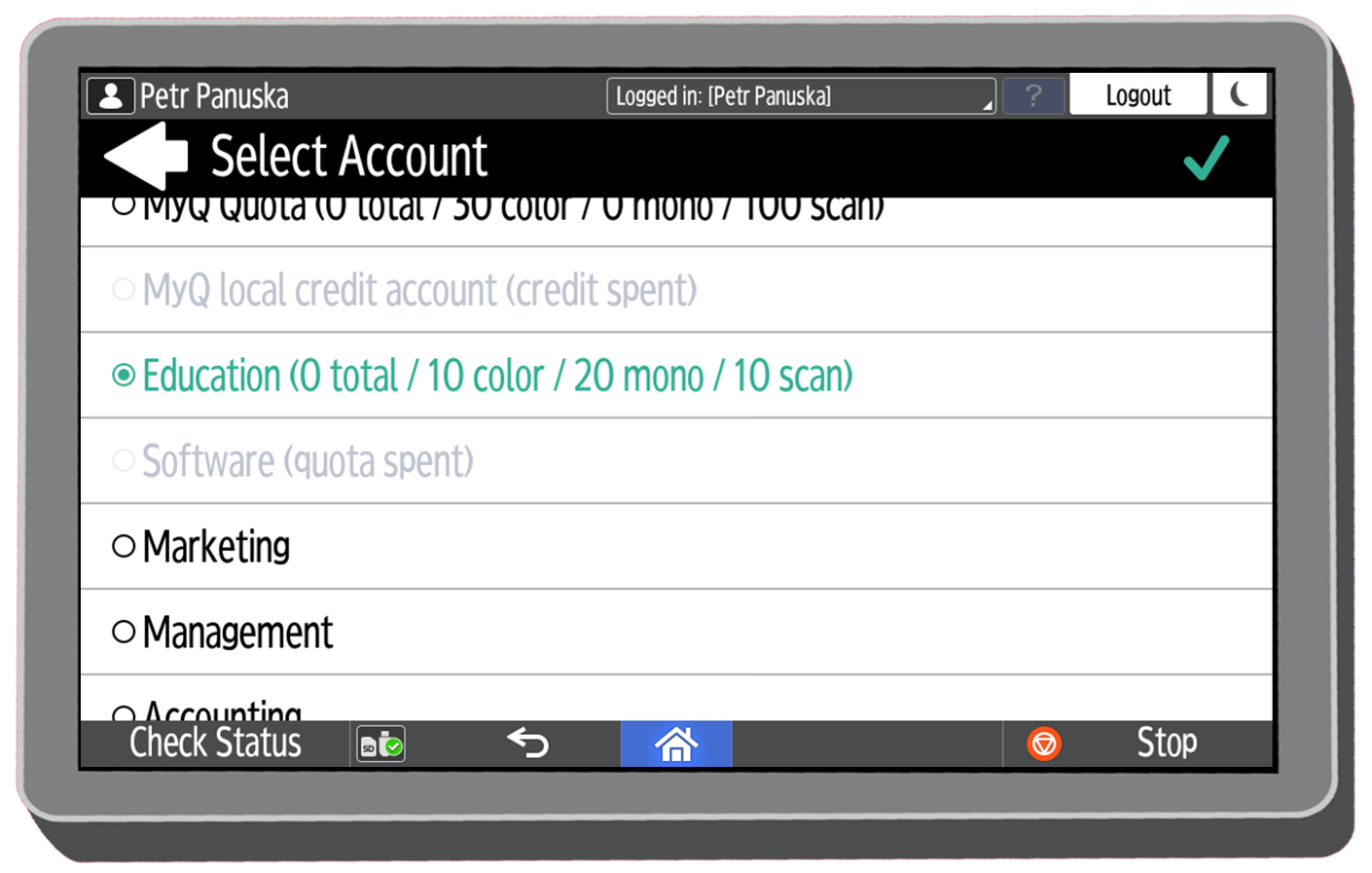 Users can select from a list of available cost centers before releasing their print job.
*Cost centers with no available credit or quota will be greyed out from the list.

Expanded Job Property Options
Version 8.2 broadens job property options, enabling users to adjust print job attributes at the MFP panel before release. Users can select from properties like BW/Color, Simplex/Duplex, Copies, Staple, Punching, and Toner saving.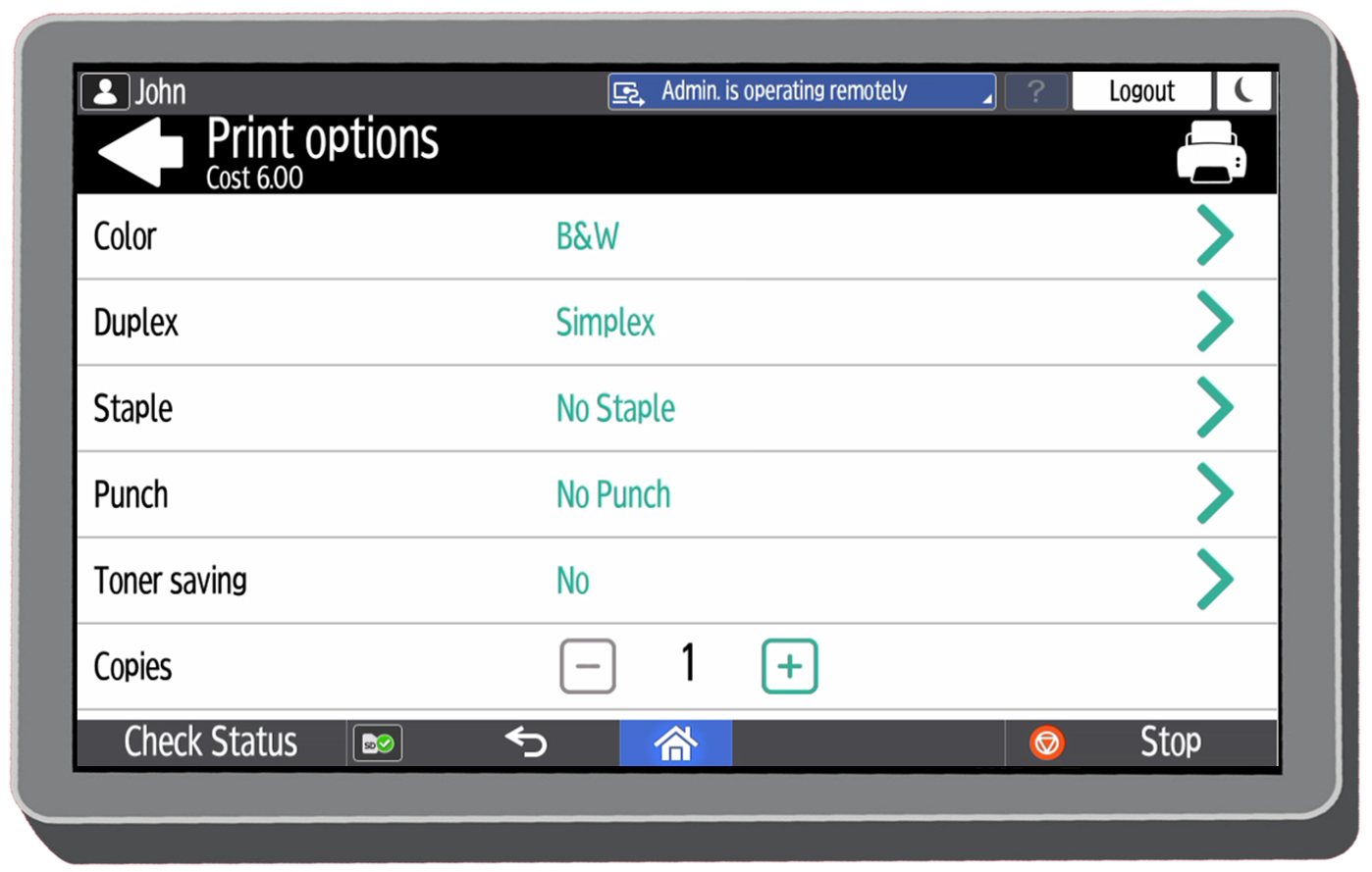 Users can change the properties of their print jobs from the MyQ X embedded terminal
Job Cost Display - Promoting Responsible Printing
Organizations can now display job costs on their Ricoh MFPs without the need to implement credit or quota accounting, promoting more conscious printing habits by showing users the cost impact of their print jobs at release. This feature encourages more sustainable printing practices.
Easy Export of Terminal Logs
The embedded terminal 8.2 for Ricoh MFPs allows administrators to export terminal logs directly from the MyQ X dashboard. Eliminating the need for physical visits to print devices, easing troubleshooting.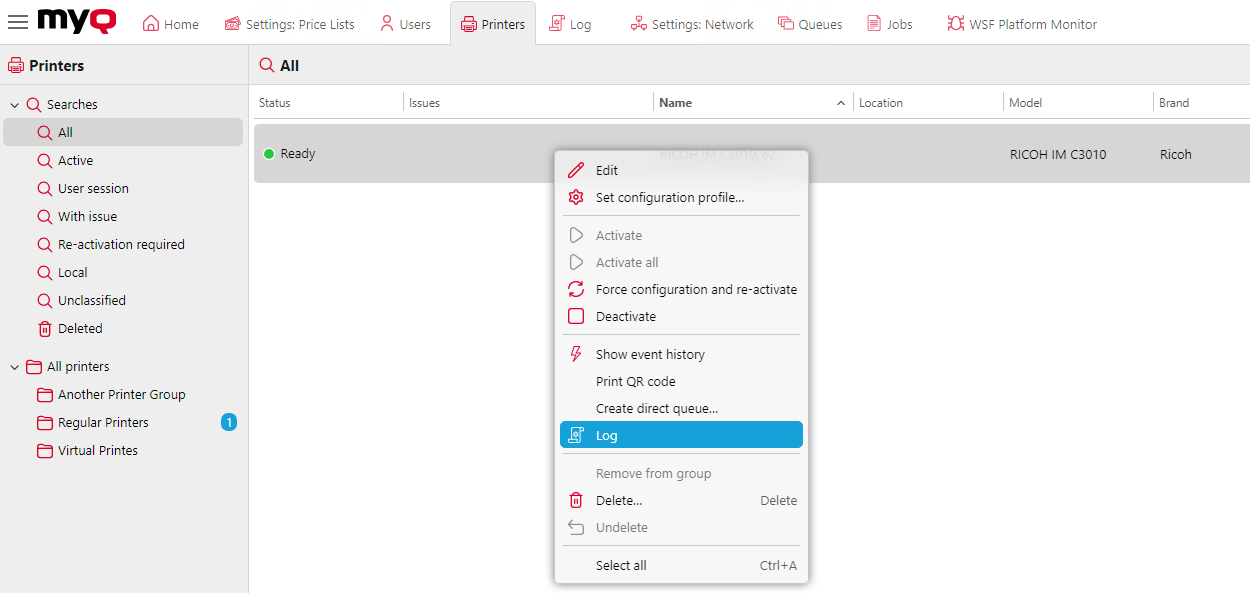 Administrators can conveniently export terminal logs for troubleshooting purposes from a central location.
Optimized Embedded Terminal Operation
Significant improvements in stability and operation have been made, providing a smoother user experience, especially during tasks like authenticating at the embedded terminal, logging out, and performing simultaneous actions.
*For a comprehensive list of improvements, check our online Release Notes


Discover the Full Potential of MyQ X Embedded Terminal 8.2 for Ricoh
Visit our dedicated MyQ X & Ricoh page to explore all the enhancements MyQ X brings to your Ricoh MFP fleet. Utilize MyQ X to increase efficiency, cost-effectiveness, and environmental sustainability in your printing environment.
04/04/2023
Over a third of printer fleets are composites from multiple OEMs – and they have special challenges.