MyQ X and High Availability 
15/11/2022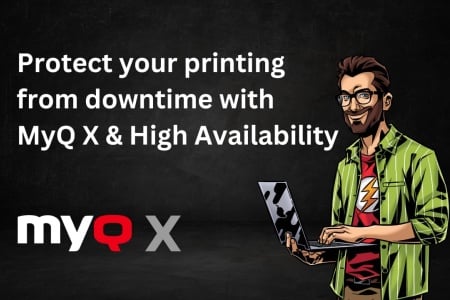 IT, data and services, including print management, are critical to the day-to-day operations of a business. High availability aims to protect these applications and services by eliminating individual points of failure in an IT system. By using MyQ X's unique failover capabilities in combination with a high availability strategy, businesses can be protected from interruptions and maintain user productivity.
Why do we need a High Availability strategy?

Access to IT, data, and services – including print management services – is essential in an organization's day-to-day activities and their disruption may lead to adverse business impacts like loss of revenue. There are often multiple potential single points of failure in print networks, and the installation of IT systems on physical hardware alone is not enough to provide resilience against planned or unplanned downtime.
Who may get affected
All organizations, regardless of size or location, are susceptible to planned or unplanned downtime in their IT systems. Downtime can occur due to several factors, whether planned (system maintenance, hardware upgrades, etc.) or unplanned (hardware failures, loss of network connectivity, etc.).
It is therefore essential to have a strategy and a set of solutions in place to minimize the impact of IT system downtime. Providing for the continuity of print and document minimizes the risk and impact from downtime on the individual employee and the organization. It enables users to have access to these services, protects against the loss of data, and helps them remain productive during downtime. For organizations, it protects against the loss of business operations which may result in financial loss.
How can we solve it?
IT system continuity for print management can be achieved by combining high-availability concepts with MyQ X software. As a comprehensive print and document management solution, MyQ X provides users with a set of failover features that can be used on their own or combined with other high availability technologies to provide an added layer of failover. MyQ X can be deployed within several network architectures, on-premises, and private cloud.
MyQ X's Proposed Solutions
As there is no "one size fits all" solution, MyQ recommends two overlapping sets of solutions, one for SMEs with limited IT resources and staffing and the second for larger organizations with greater high availability needs and resources.
Organizations with smaller IT staff or more restrained resources.
Protect the print environment with MyQ X's free set of failover features;
Client Spooling with local job parsing

by MyQ X Desktop Client
Print jobs are spooled and parsed locally on the end user's workstation and only job metadata is sent to the server. Print jobs are sent directly to the multifunction printer when the end user authenticates and selects release. Reduces server resource requirement and reduces network load to the server.
Fallback Printing

with MyQ X Desktop Client




MyQ X Desktop Client automatically detects when the connection to the print server is lost and defaults to print directly to a predefined printer or will prompt the user to select from a list of printers. When the connection is re-established, the standard operation will be resumed. Users can continue printing during downtime with full job accounting maintained.

MyQ X Device Spooling with Offline Login
MyQ X embedded failover features are provided directly by the multifunction printer. With MyQ X's device spooling feature, users print directly to the MyQ X embedded multifunction printer. The embedded terminal application manages the print jobs and accounting when the connection to the server is lost. It can function independently and maintains job accounting. MyQ X's offline login feature caches user login details and provides secure device authentication and copy services with job accounting during downtime.
Benefits
These features are already available to all MyQ X customers free of charge. They provide continuity of print and copy services to end-users during downtime and maintain job accounting.
Organizations with high availability implementations
The MyQ X server can be protected with an application clustering solution such as Microsoft Failover Cluster or VMware's virtual clustering. Compute resources are distributed over several server nodes and combined with a shared storage solution like a high-speed network attached storage.
In addition, the high availability solution should also be complemented with MyQ X's set of free failover features – client spooling, fallback printing, device spooling, and offline login.
Benefits
High availability application clustering solutions protect the MyQ X print server and its services against downtime. There is an added layer of failover protection provided by MyQ X's own set of features. All services provided by MyQ X are subsequently protected and available with little to no impact during a failure, planned, or unplanned downtime.
Final Thoughts & Next Steps
Organizations rely on the availability of IT systems, including print and document services, to be available for daily operations. Downtime of these systems can result in a negative impact; therefore, IT systems need to be protected by implementing a high availability strategy.
There are different technologies available that can be used to achieve high availability for print services. In addition, the features already included with MyQ X provide an accessible way to provide failover and continuity.
For your better orientation in this topic, MyQ has prepared the "MyQ X High Availability Whitepaper", which provides more detailed conceptual issues and describes how to achieve high availability with MyQ X. Who is this whitepaper mainly for? IT System Administrators, System Integrators, Professional Service Providers, or Solution Consultants.