Unlocking Advanced Functionality: MyQ X Integration with Canon
10/03/2023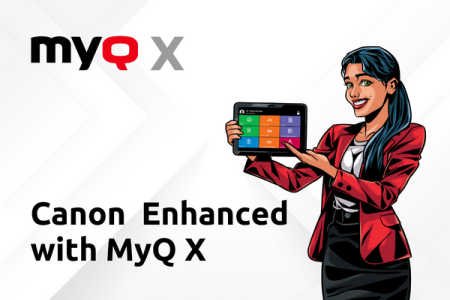 MyQ X's user-friendly embedded terminal, efficient document workflows, end-to-end security measures, and cost-saving capabilities can now be used in full on Canon MEAP devices.
We are excited to announce that our leading print and scan management solution, MyQ X, is fully compatible with Canon multifunctional printers (MFPs). This compatibility marks a significant milestone in our commitment to supporting multiple vendors and providing organizations with the flexibility they need to optimize their print fleet management. By integrating MyQ X with Canon MFPs, providers can enhance their market competitiveness and offer their customers an innovative solution that streamlines printing and document-capturing operations.
MyQ X quickly enhances Canon devices
MyQ X offers extensive compatibility with various multifunction printer vendors, including Canon. The seamless integration of MyQ X and Canon's MFPs unlocks a world of new business opportunities, making Canon devices a vital component of large multi-vendor fleets. By incorporating MyQ X, Canon MEAP devices benefit from a broad range of advanced features that enhance their functionality. These unique features ensure that end-users remain engaged with their systems for a long time, making Canon MFPs an even more attractive option for businesses seeking to optimize their printing and document management workflows.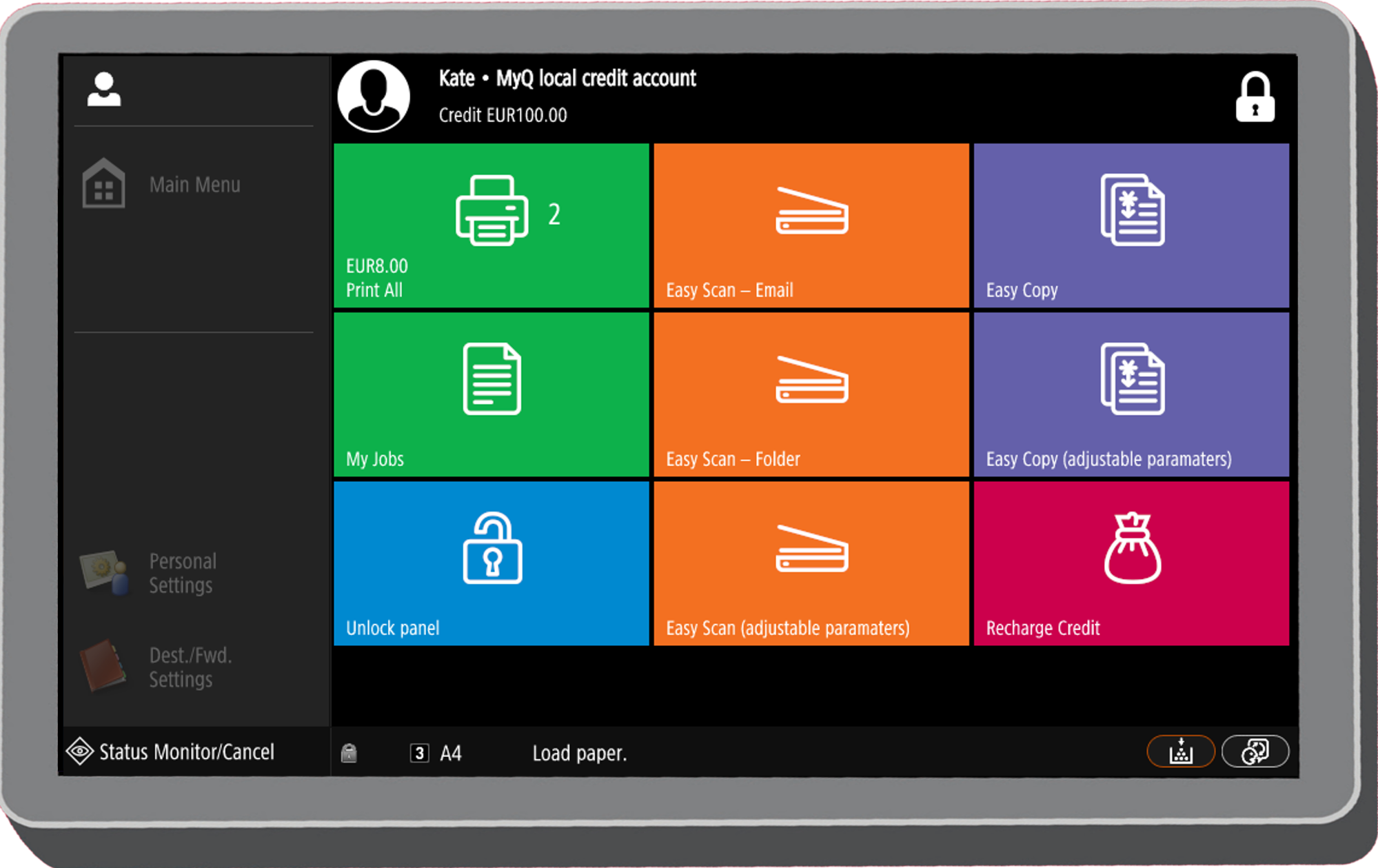 The intuitive and user-friendly MyQ X embedded terminal for Canon MFPs.
Main advantages of MyQ X compatibility with Canon MFPs
Easy deployment and centralized fleet management
MyQ X's compatibility with Canon MFPs offers the advantage of easy deployment and centralized fleet management. With MyQ X, deploying the software on multifunctional print devices can be accomplished remotely from a single location, thanks to the Automated Printer Discovery function. This feature automatically scans for new print devices on the network, adds them to the MyQ X system, and configures the devices based on preset configurations.

After deployment, administrators can effortlessly access their printer fleet and monitor the status, alerts, and consumables from a centralized dashboard. MyQ X can also predict toner depletion, allowing administrators to proactively plan and manage their printer consumables. This centralized fleet management provides a streamlined and efficient way to manage multiple printers, resulting in significant cost savings and improved productivity for businesses.
Canon CPCA support
MyQ X now supports Canon CPCA (Common Peripheral Controlling Architecture), enabling it to detect advanced print properties, including finishing options such as stapling and punching, directly from the Canon print driver language. Additionally, users can effortlessly customize the finishing properties of their print jobs at the Canon MFP through the MyQ X Embedded Terminal before releasing them, significantly improving the overall printing experience.
Print Security
Security is a top priority for MyQ X, and the Embedded Terminal offers multiple authentication options to ensure that only authorized users have access to sensitive documents. Users can log in using two-factor authentication, including an ID card, username and password, PIN, or QR code access via the MyQ X Mobile Client app. In addition, MyQ X's pull print functionality ensures the security of sensitive printed documents. This feature works by requiring a user to successfully authenticate at the MFP before releasing their print job, thus preventing unauthorized access to confidential information. The entire user-server-MFP document process is encrypted, providing maximum security for confidential information.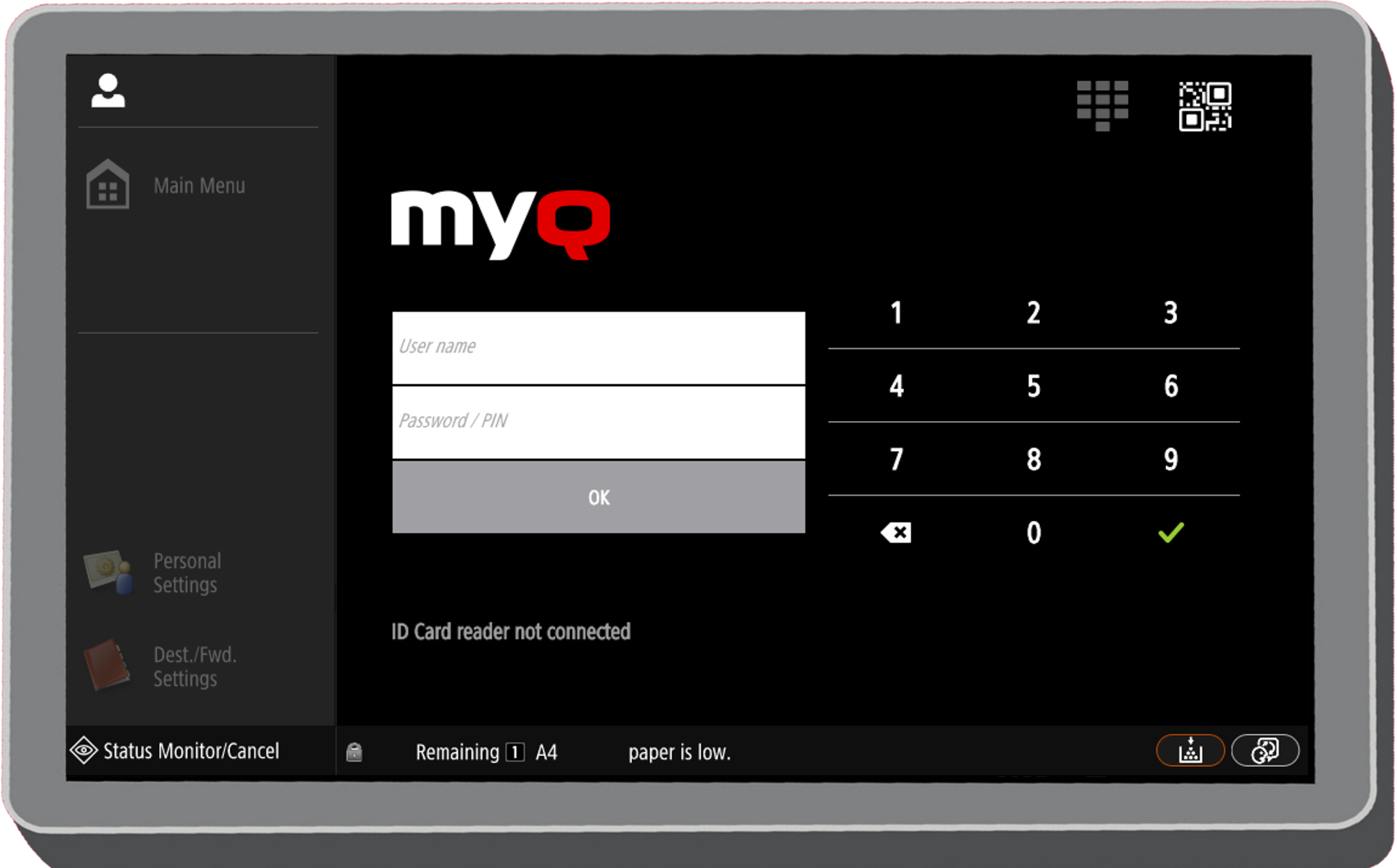 With MyQ X, Canon terminals can be secured with two-factor authentication.
Accounting, cost management & reporting
With MyQ X, administrators can easily manage printing behavior and cost by setting up policies based on individual users, groups of users, or printers. The software provides a detailed overview of users' and printers' processed documents via the intuitive MyQ web UI dashboard, MyQ X standard reports, or via a Power BI visualized dashboard. MyQ X's flexible accounting features, such as cost centers, group accounting modes, quota, credit, and project accounting, allow organizations to control their printing costs effectively. In addition, MyQ X provides environmental reporting and green printing policies to help organizations reduce the environmental impact of their printing activities.
Personalization
The MyQ X Embedded Terminal for Canon MFPs is highly customizable and can be tailored to meet the specific needs of individual users and departments. With MyQ X, users can have their own set of icons with linked one-click actions based on their daily print, copy, and scanning tasks, thereby increasing efficiency and productivity. Furthermore, organizations can adjust the appearance of their MyQ X embedded Canon MFP panels by selecting from a set of pre-designed themes or by creating their own themes using MyQ X's Theme Editor. This enables businesses to brand their MFPs with their own unique logos, colors, and icons that reflect their corporate design.
Seamless Scanning and Copying
MyQ X simplifies complex daily copy and scanning workflows by enabling administrators to pre-define advanced parameters for one-click actions. This feature is particularly beneficial for users who need to scan documents to different destinations with specific scanning parameters, such as media type, file format, metadata, and OCR options. With Easy Scan, users can select a pre-defined action and execute the advanced workflow with one click, saving valuable time and enhancing the user experience. Easy Copy allows for similar predefined parameters for copy actions. MyQ X also offers an ID card copy action on Canon MFPs, making it easy for users to copy ID cards with a simple click.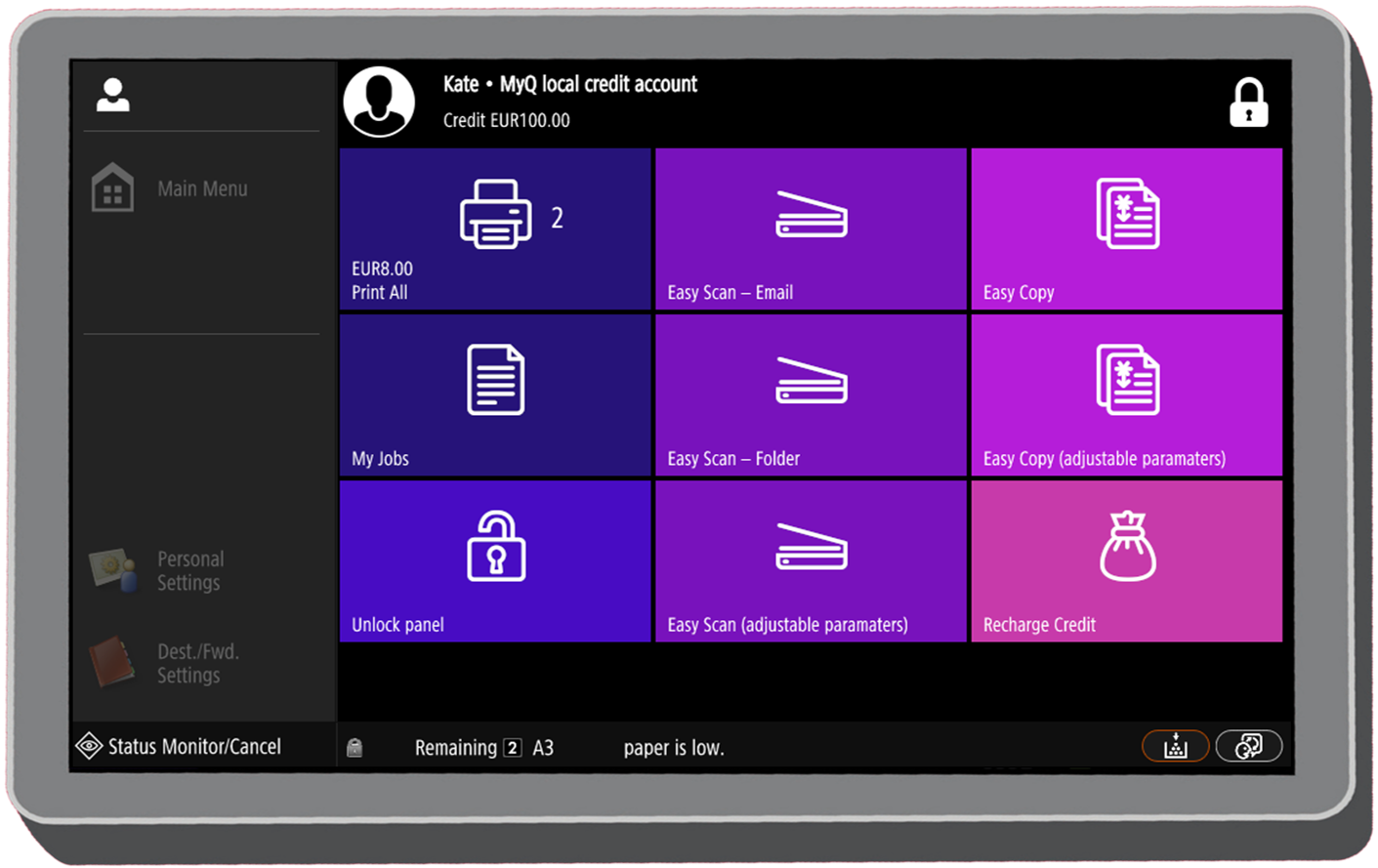 Users can save time with MyQ X's one-click Easy Scan and Easy Copy actions.
Mobility and Accessibility
The MyQ X Mobile Client app for IOS and Android smart devices allows for easy mobile printing and touchless authentication at MFPs. In addition, users can manage print jobs, recharge credit, preview prints before releasing them, and report service-related issues to IT administrators from their mobile devices. MyQ X's web UI is WCAG 2.1 AA certified, ensuring accessibility for users with disabilities.
For a detailed overview of the extensive range of features and functionalities of the MyQ X embedded terminal for Canon MFPs, click on the link below.
Wrap-up with MyQ and Canon
The combined power of MyQ X and Canon MEAP devices brings secure, personalized, and accessible document processing to the modern workplace, making it the perfect unifying solution for mixed-vendor installations.
*MyQ X is currently only available for Canon within the EMEA region.

I WANT TO EQUIP CANON WITH MYQ X
01/09/2022
Business fleets comprising multifunction printers by Sharp can now run MyQ X to its full potential, thanks to the recent optimization and release of MyQ X Sharp Terminal 8.1.